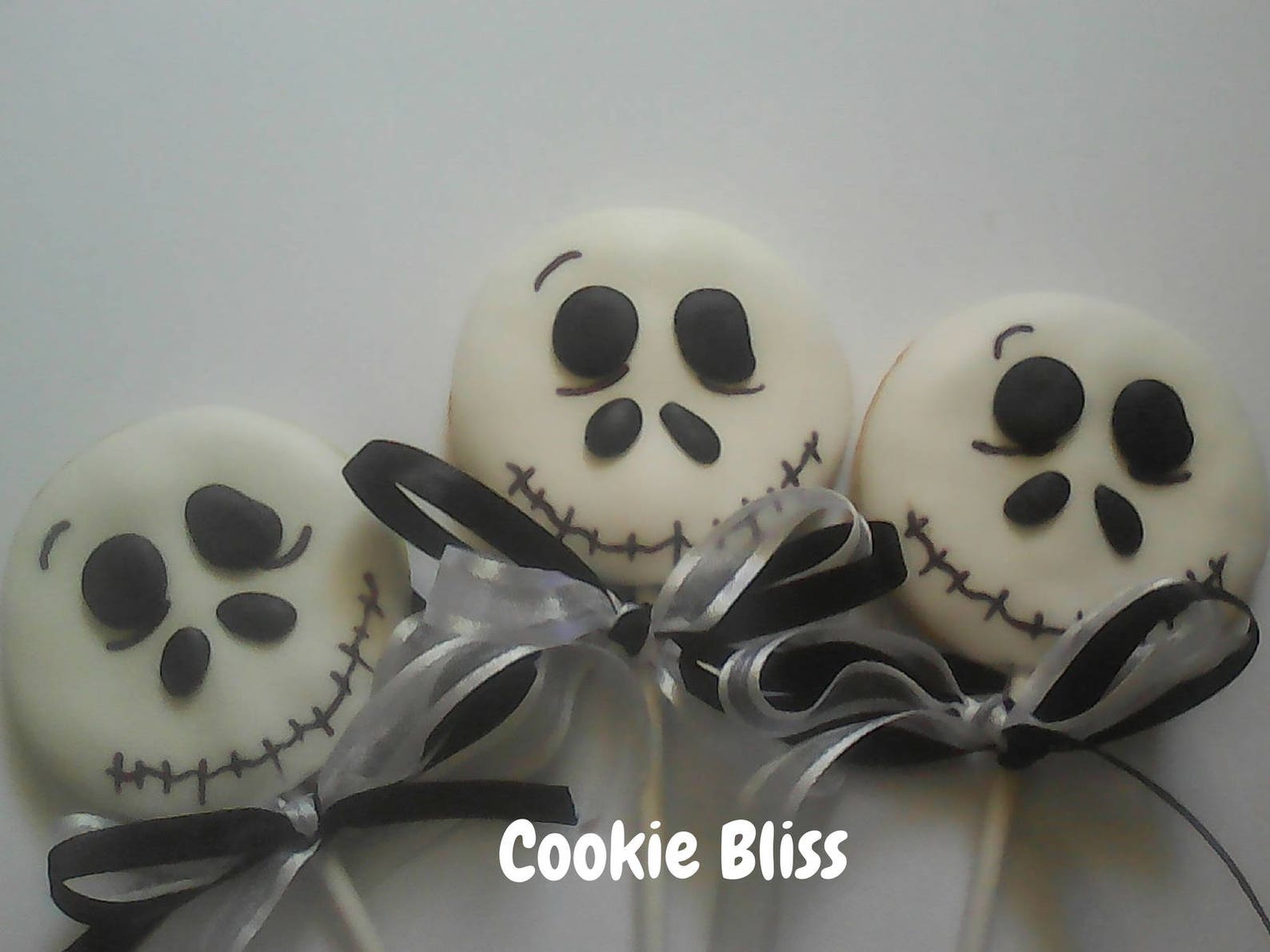 6 Skeleton Cookie Lollipops Halloween Cookies Party Favors Baked Goods Sugar Cookies
6 Skeleton Skull Cookie Lollipops hand decorated sugar cookies. These 3″ (8cm) cookies are individually wrapped in cellophane bags and tied with a ribbon and ready to serve. Great kid's Halloween party favors!
These Old Fashioned Sugar Cookies, Belgium Chocolate, or Lemon Cookies are made from scratch! They are prepared using the finest ingredients. Eggs, unsalted butter, flour, sugar, light brown sugar, salt, baking powder, pure and natural vanilla bean and a touch of orange zest which fuses great with the brown sugar for that perfect bite. Our Belgium Chocolate Cookies are made with real Belgium chocolate and are soft and chewy. There are no artificial flavors.
Each sugar cookie is hand decorated with sugar paste (fondant) and has my hand signature designs on top. These do not taste like a hard dried out iced cookies, but instead, it gives ultimate flavor and an enjoyable bite into the cookies that everybody will love.
All my cookies are baked fresh with every order, decorated, and packaged right away to seal in the freshness. Each cookie will be individually wrapped and tied with a ribbon in a cello bag. All the bags will be packaged in a box, securely fully packaged in single layers for total protection during shipment.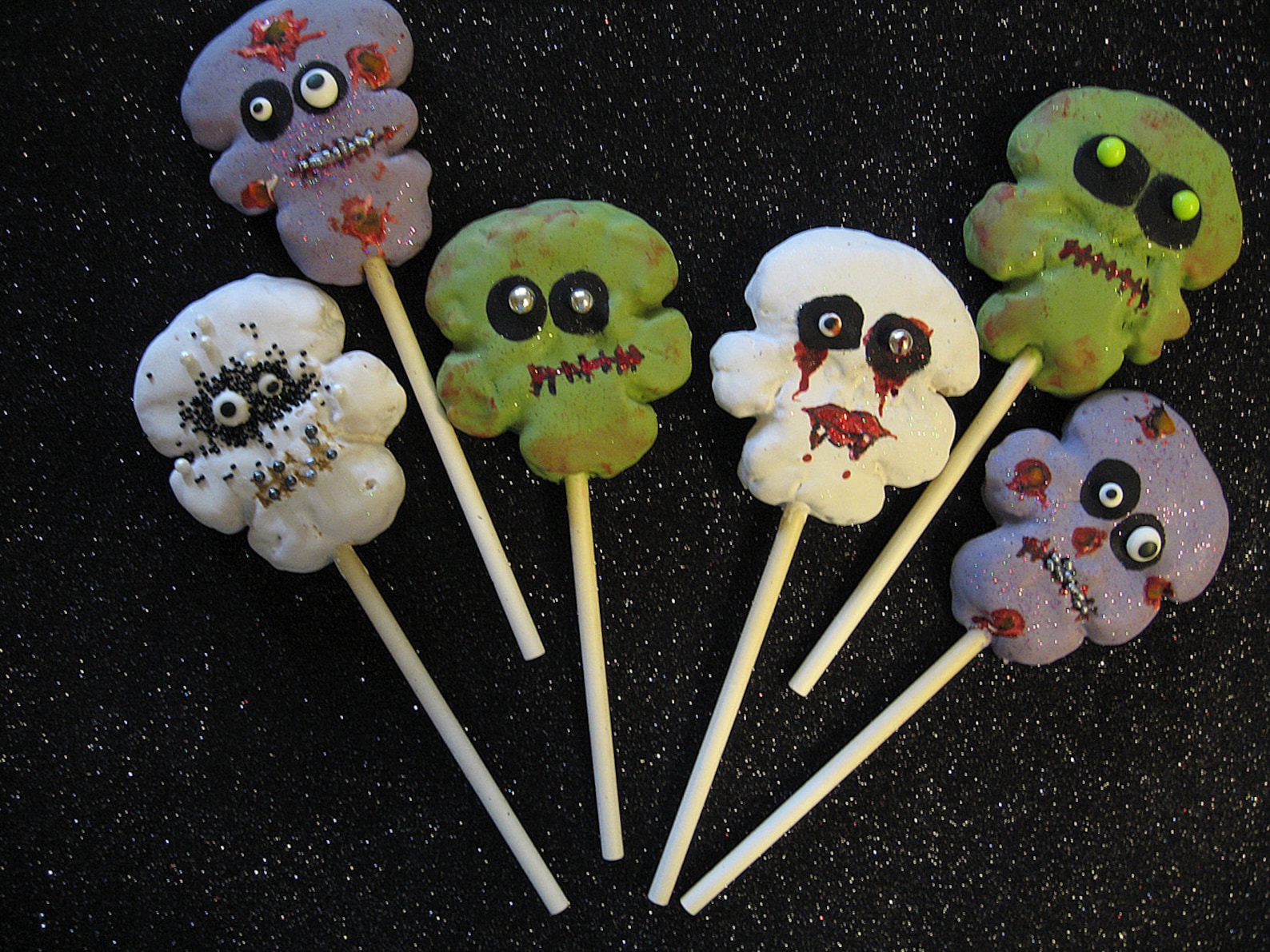 My extraordinary cookies are made of my mouth watering shortbread recipe, with only the purest of ingredients. Shortbread cookies have a long shelf life, and remain fresh. The cookies are wrapped in a food approved, cello bag, sealed and tied with a raffia bow. For special occasions, I will use ribbons, and can take requests for flavors, colors and themes.
My skulls on stix measure 1.6 – 2.0 oz. They are available for your parties, gift bags, favors, your kids and families. All varieties of my cookies are available on stix including: seasonal, pirates, other skulls listed, and custom designs.
Here Are More Halloween Cookies!
Halloween Cookies
Bat Cookies
Eyeball Cookies
Frankenstein Cookies
Ghost Cookies
Halloween Cat Cookies
Halloween Witch Cookies
Haunted House Cookies
Jack O Lantern Cookies
Skeleton Cookies
Skull Cookies
Spider Cookies
Zombie Cookies
Halloween Oreo Cookies
Halloween Oreo Cookies
Brain Oreo Cookies
Eyeball Oreo Cookies
Halloween Oreo Cookies
Ghost Oreo Cookies
Halloween Cat Oreo Cookies
Halloween Witch Oreo Cookies
Jack O Lantern Oreo Cookies
Mummy Oreo Cookies
Skeleton Oreo Cookies
Skull Oreo Cookies
Halloween Fortune Cookies
Halloween Fortune Cookies
Eyeball Fortune Cookies
Skull Fortune Cookies
Halloween Cookie Pops
Halloween Cookie Pops
Ghost Cookie Pops
Jack O Lantern Cookie Pops
Mummy Cookie Pops
Skull Cookie Pops
Halloween Nutter Butter Cookies