Bigtime Signs No Trespassing Metal Tombstone – Yard Warning for Private Property – Scary and Funny Gravestone with Easy Ground Stake Installation – Cool Graveyard Halloween Decoration – 16 x 11 Inch
LARGE SIZE: 16" x 11" sign reading RIP HERE LIES THE LAST TRESPASSER, BEWARE is easy to read without taking over your whole yard
STRIKING GRAPHICS: Stunning 3D effects give this sign a true in-your-face feeling. High quality printing and experienced design come together to create a unique and believable tombstone.
CONTOUR CUT SHAPE: Not just a square with a printed image! This sign is cut to the tombstone shape for getting your message across in a decorative way! Great for truly pesky every day people or for a Halloween decoration.
LONG LASTING, STURDY MATERIAL: Made for outdoor use, this dibond stake is weather proof.
EASY TO INSTALL no assembly required, just stake into the ground and you're done. Really, that's it!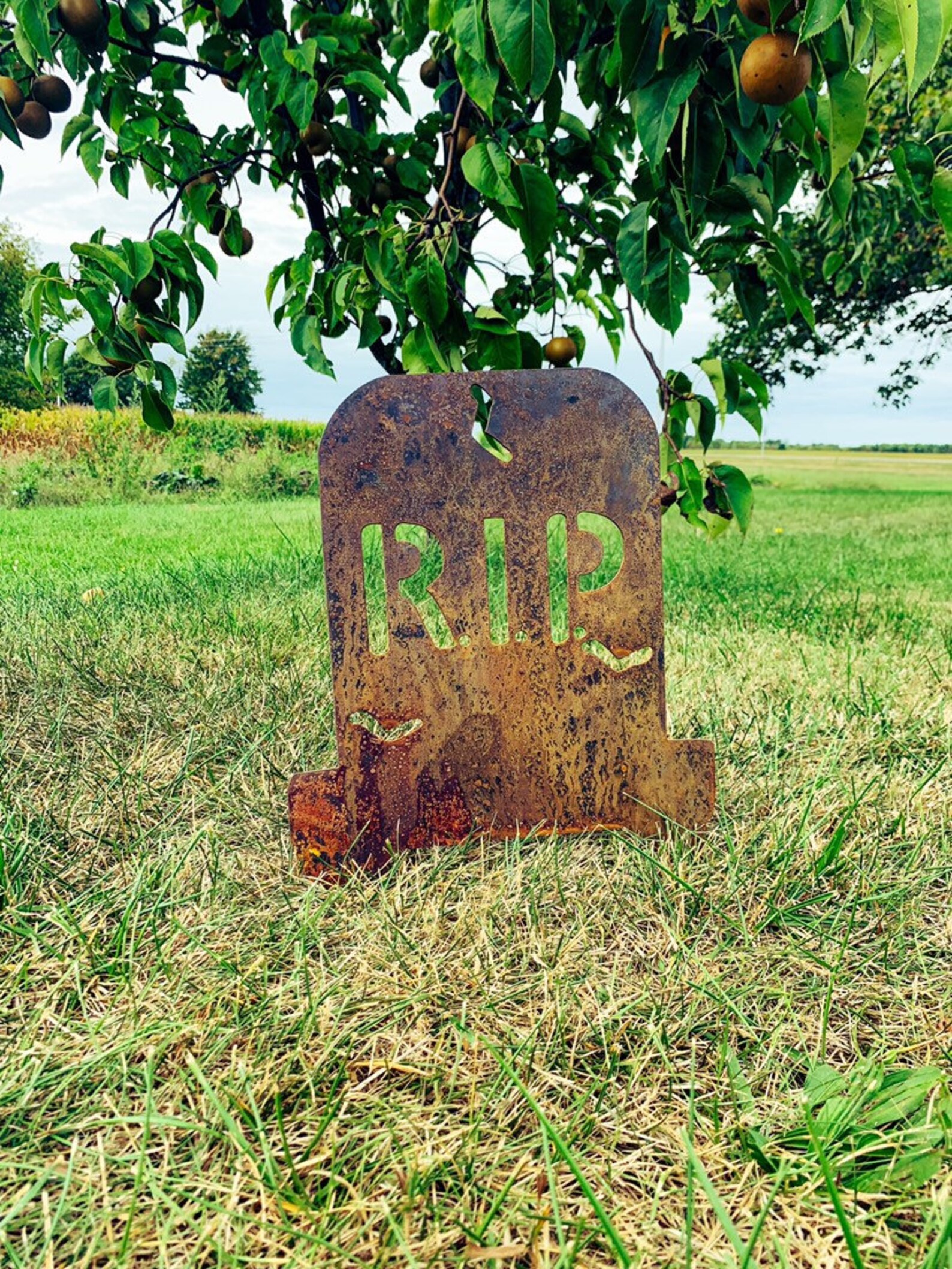 Gravestone Yard Stake – Halloween Yard Decor
The perfect creepy touch for your Halloween yard decor.
This gravestone is cut from 14 gauge steel and then allowed to "decay" to get a nice grungy rusted patina.
If you prefer a different finish then just the rusted, options are as follows.
Flat Black – After the art is cut out it is then sandblasted to prepare the surface, removing any rough edges. Then painted a flat black.
Rust – Just what it sounds like. After being cut out we allow the sign to get a beautiful coat of rust, that will continue to rust and transform over time. This finish will rub off on hands/clothing and is not recommended for indoor use. As rust is a natural process final look will vary from piece to piece.
Rusted & Clear Coated – Same as the rust finish, except after being allowed to rust to a beautiful natural patina the sign is then clear-coated. The clear coat will stop the rusting process and will allow for indoor use without the worry of rust rubbing off on hands, clothing or walls.
Gravestone measures approximately 16" tall with roughly 4" of that being the stakes – for an above ground 12". Approximately 11" at the widest and 8.5" for the main portion of the headstone.