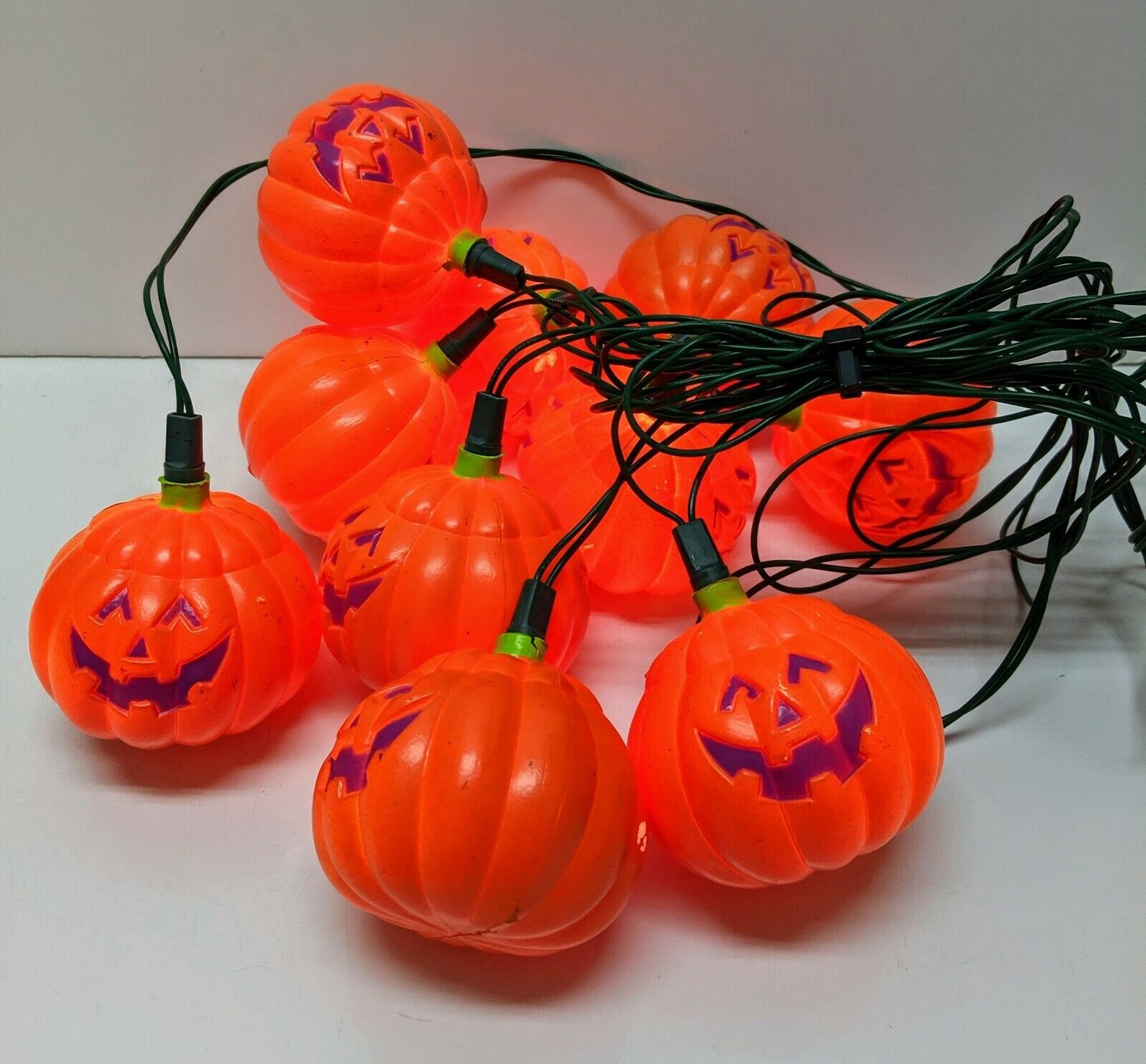 Vintage SILVESTRI Blow Mold HALLOWEEN Pumpkin Light String 10 Lights Retro Fairy Lights Jack O Lantern Faces
Vintage Halloween Silvestri String of 10 Lights!
Set contains 10 lights – each with grinning pumpkin faces
All lights are in good working condition – no burnt-out bulbs or flickering lights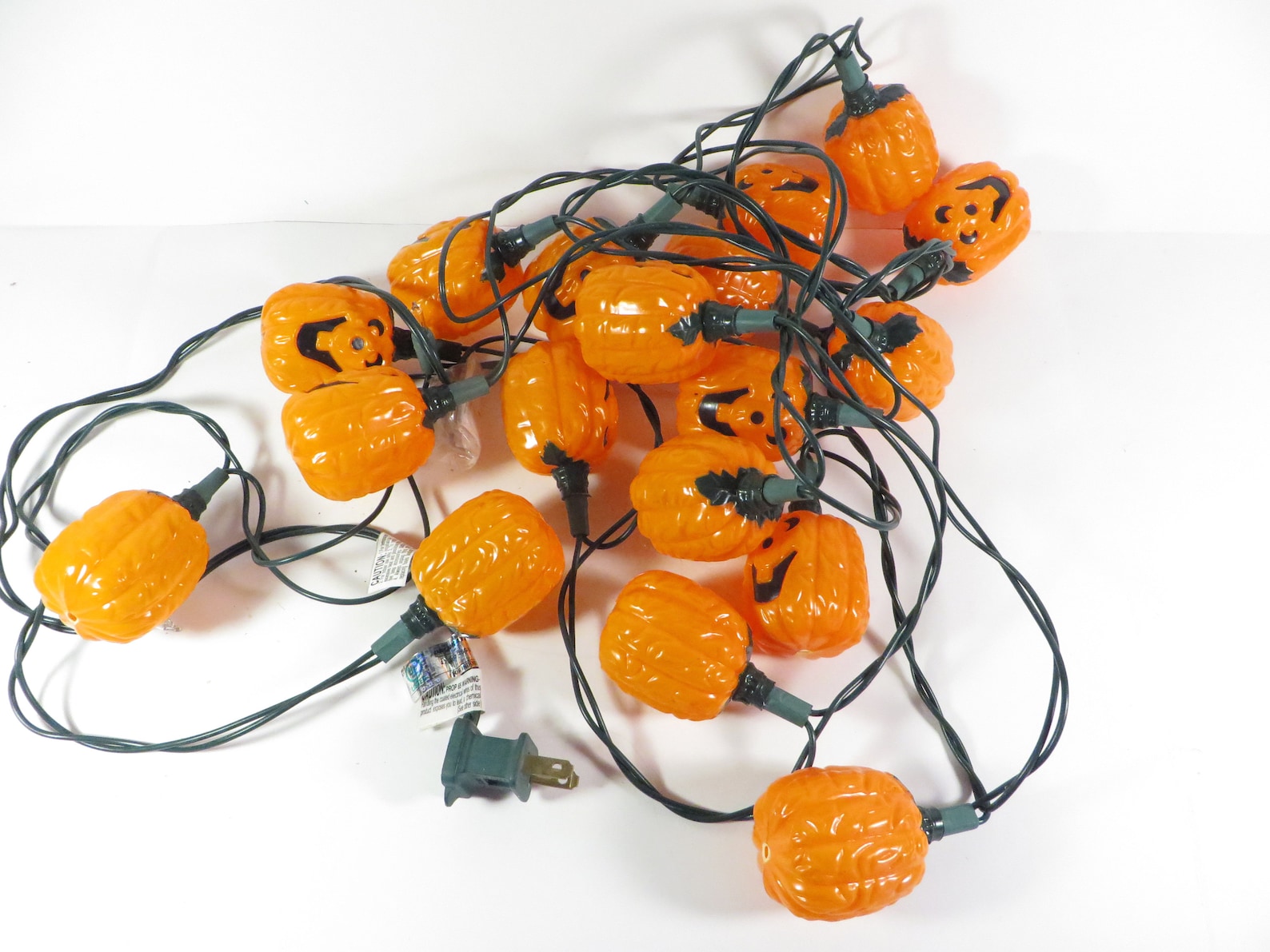 Vintage Halloween Jack O Lantern 18 Light Set – String of Plastic Jack O Lantern Lights
Great set of 18 plastic Jack O Lantern lights. The plastic jack o lanterns are 2″ long, 1 3/4″ in diameter. The jack o lanterns are 6 1/2″ apart, the strand is 13 feet long. The lights work well. There are 2 jack o lanterns missing so there are 2 bare lightbulbs.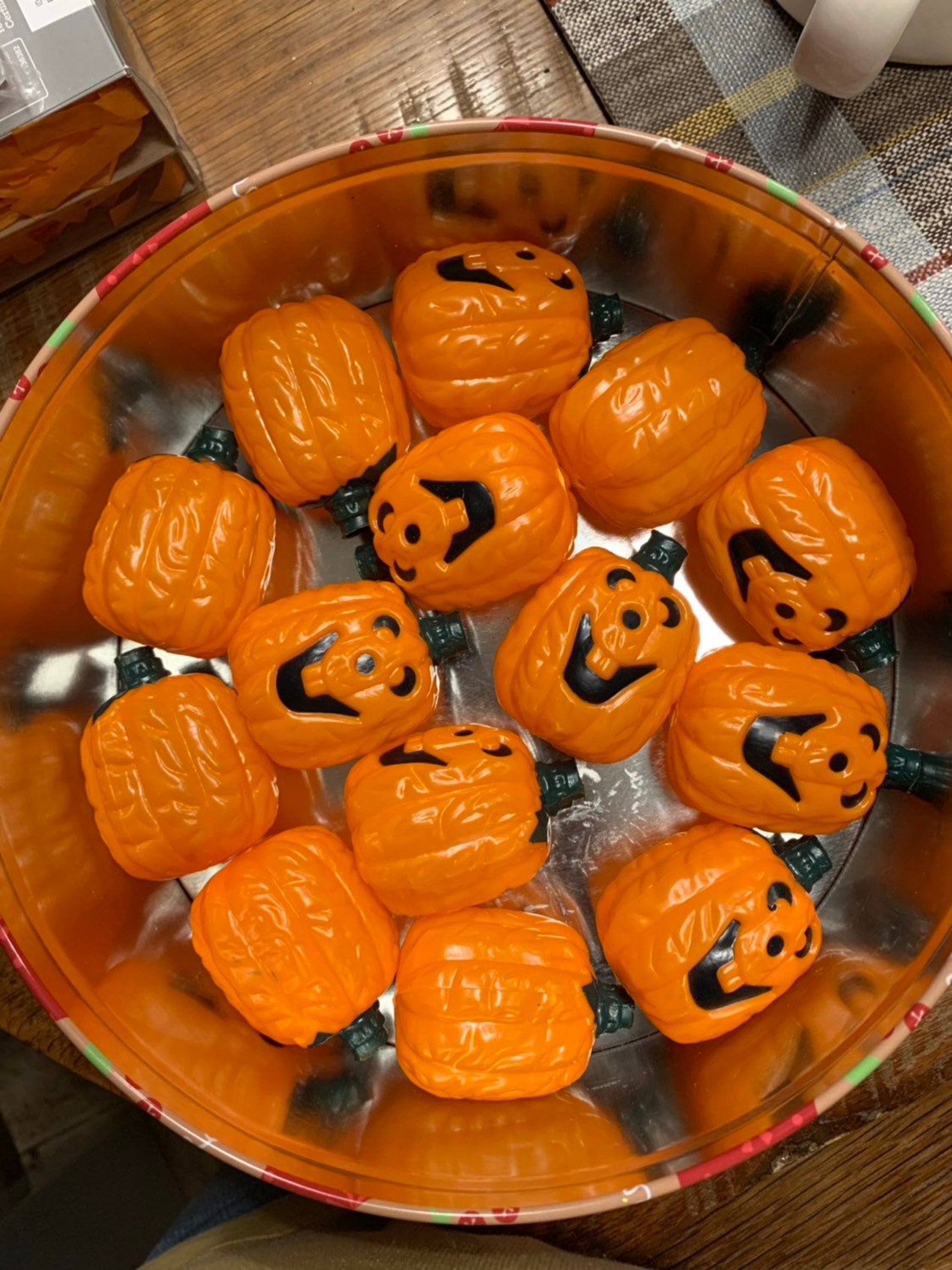 Jack o lantern string light covers Halloween pumpkin
14 adorable jack o lantern light covers perfect for your Halloween decorations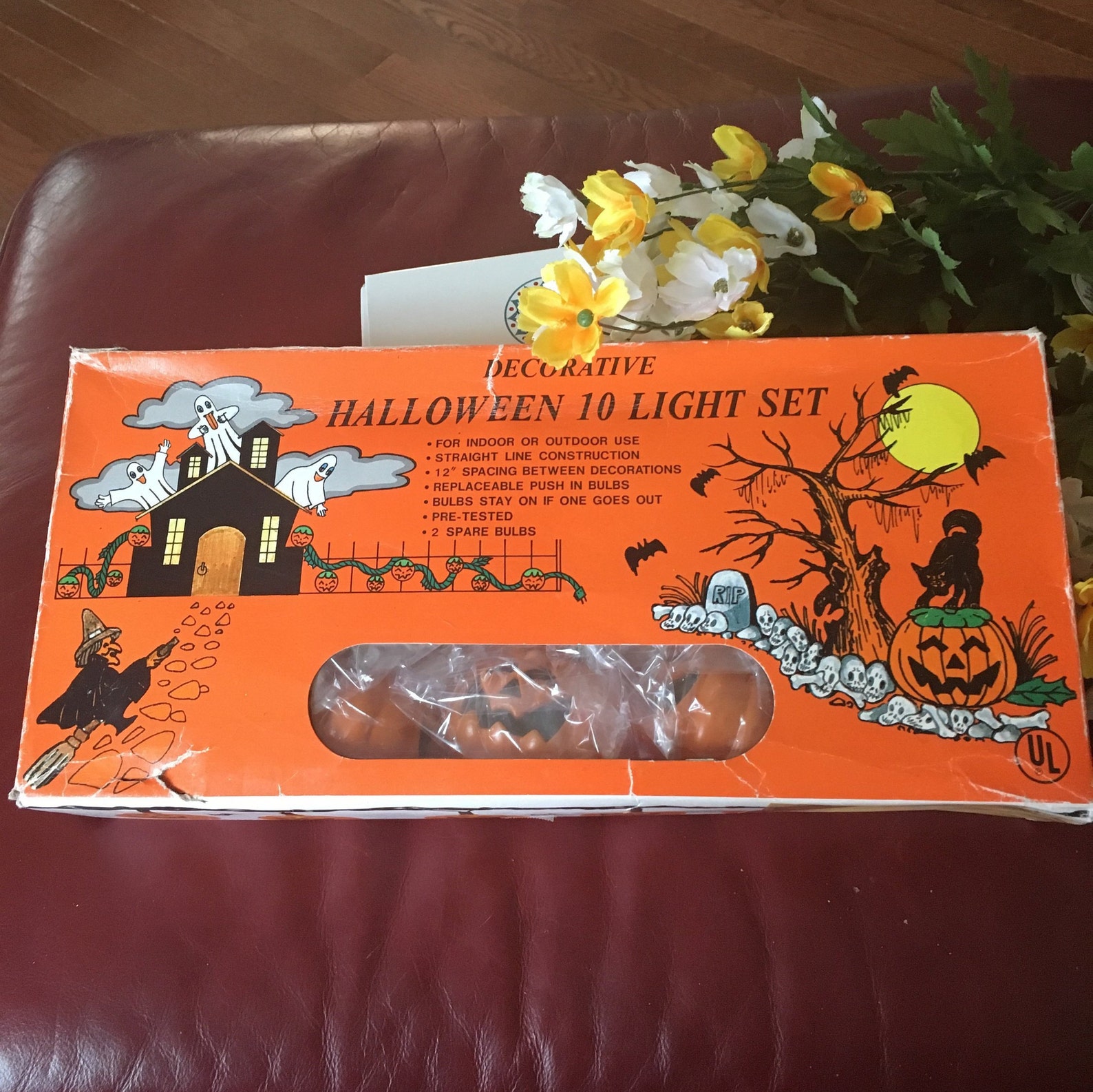 Vintage Jack O'Lantern String Lights
Great Sets of Jack O'Lantern String Lights… Ten 🎃 on each set… Work perfect! Pumpkins measure a nice 2" X 2"…. They appear to be unused… can be used inside or out…. A fun item!
2 Sets Available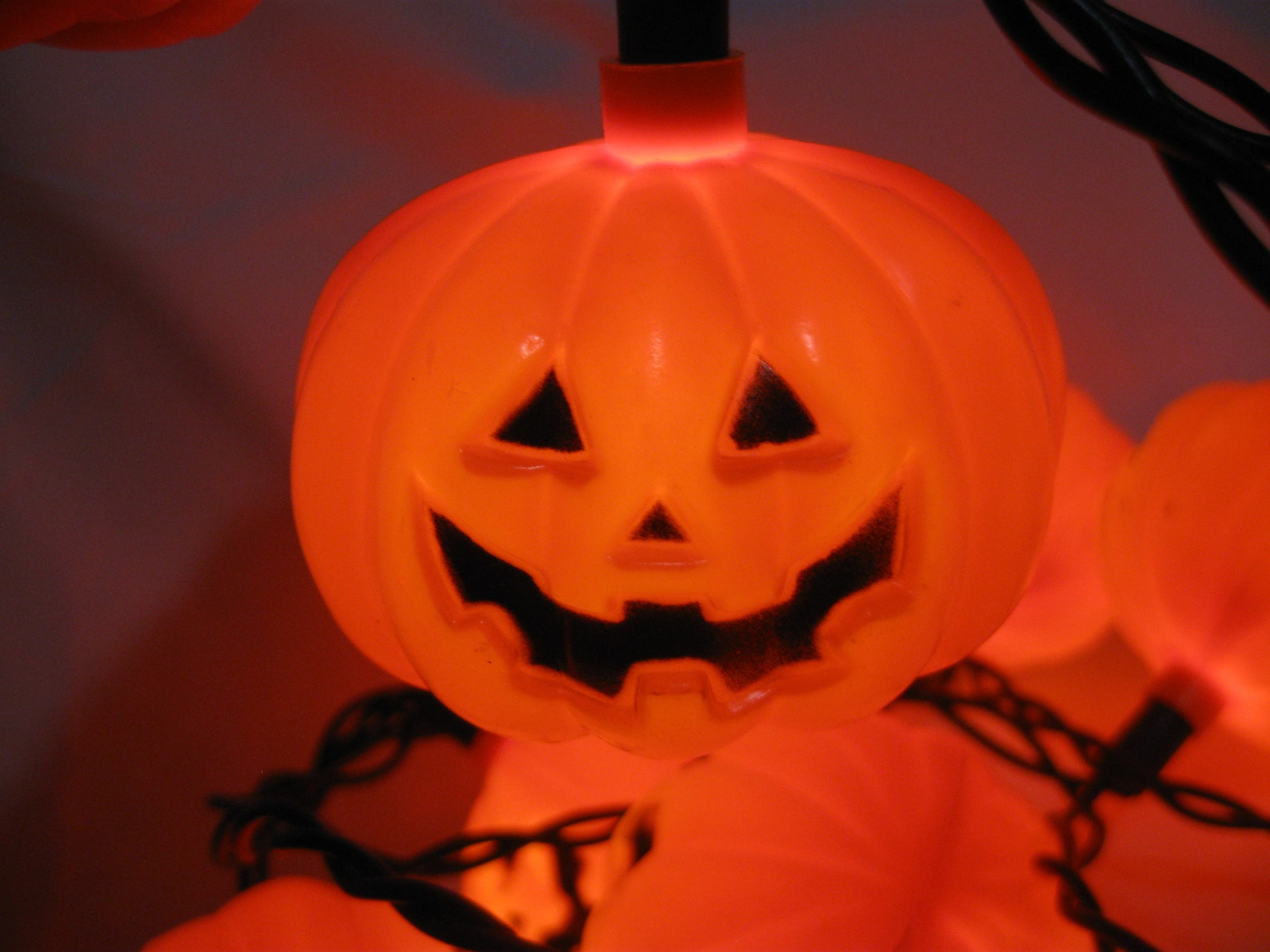 Hard Plastic Blow Mold Halloween PUMPKIN Jack O Lantern 10 LIGHT Set Indoor Outdoor 9.5′ String Decoration Vintage Electric Lighting 2137
Height: 2.5 Inches; Width: 2.5 Inches; Depth: 9.5 Feet
This is a Vintage Indoor or Outdoor BLOW MOLD HALLOWEEN PUMPKIN JACK-O-LANTERN SET OF 10 STRING LIGHTS. This string of Pumpkins can be used anywhere, inside or outside, to decorate and create a FANTASTIC Halloween Display and Decoration.
This string of lights has 10 PUMPKINS MADE FROM HARD PLASTIC BLOW MOLDS, AND THESE GUYS ARE ESPECIALLY CUTE BECAUSE THEY HAVE THE SAME IMAGE ON FRONT AND BACK!! No wrong direction for the pumpkins to be facing, or trying to get them all lined up appropriately…easy peasy!! This all but impossible Fall/Autumn/Halloween Decoration is painted molded plastic (blow mold) construction with original electric wiring to light it up. It has an clear candle bulbs, and black electric cord. The Pumpkins are 2″ tall and 2.5″ wide. The total length of the string is approx 9.5 feet long. These do NOT come with the original box.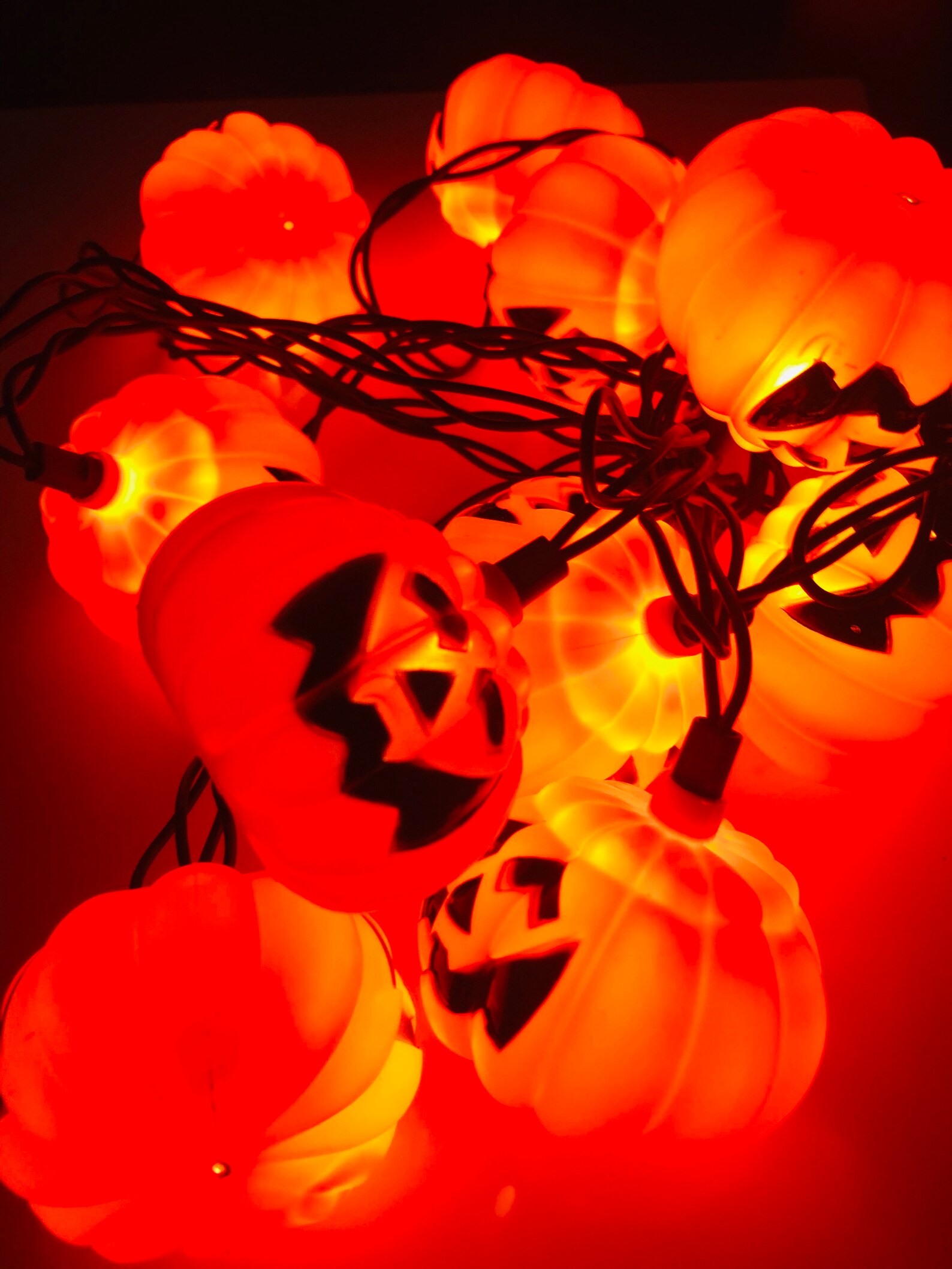 Halloween 10 Orange Jack O Lantern Pumpkin Lights Indoor/outdoor Black Wire NIB
Halloween
10 Orange Jack O Lantern Pumpkin Lights
10 clear lights
Indoor/outdoor
Black Wire
Lighted length 9 ft
Total length 10 ft
New in box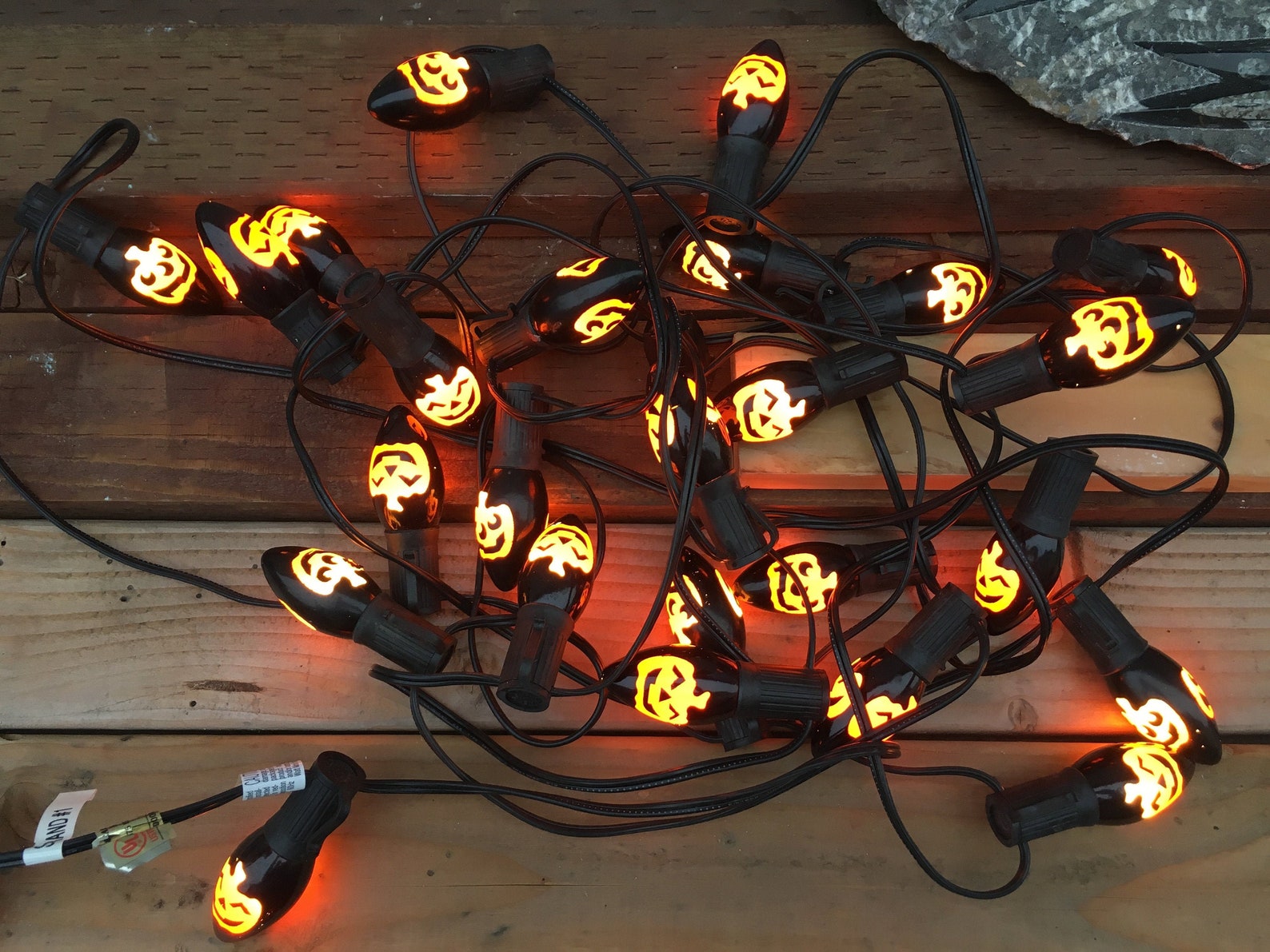 Vintage C9. Pumpkin Halloween Jack-O-Lantern Face Lights, – 25 Light Set, Pumpkin, 25 Feet – 3 Available
These are beyond cute! There are 3 full strands and they all work. A couple have an extra fuse in the plug. Full strings of 25 in each. Not in the box-box picture is from the internet research I did. Orange color is faded on some bulbs from use, but the faces are all vibrant on both sides of each bulb
STRAND #1: ALL 25 BULBS WORK
STRANDS #2 : 19 OF 25 BULBS WORK. I DID NOT TRY NEW BULBS IN THOSE BURNED OUT SO SOME MAY WORK WITH A DIFFERENT BULB. THESE ARE SO LONG, THEY COULD BE HUNG SO THEY LOOK LIKE A COMPLETE STRING WHEN PLUGGED IN.
Vintage Ceramic Halloween Jack-o-Lantern Face Lights, C9 Indoor Outdoor Light 25 Set
Nice Set of Large Ceramic Halloween Lights, New old Stock 1998, Features C9 Bulbs, Heavy Duty Construction, Weatherproofing Qualities, Flame Resistant, Total 300 inches(762cm), Indoor/Outdoor, Remains Lit if one bulb burns out, Steady Burning, Plugs at both ends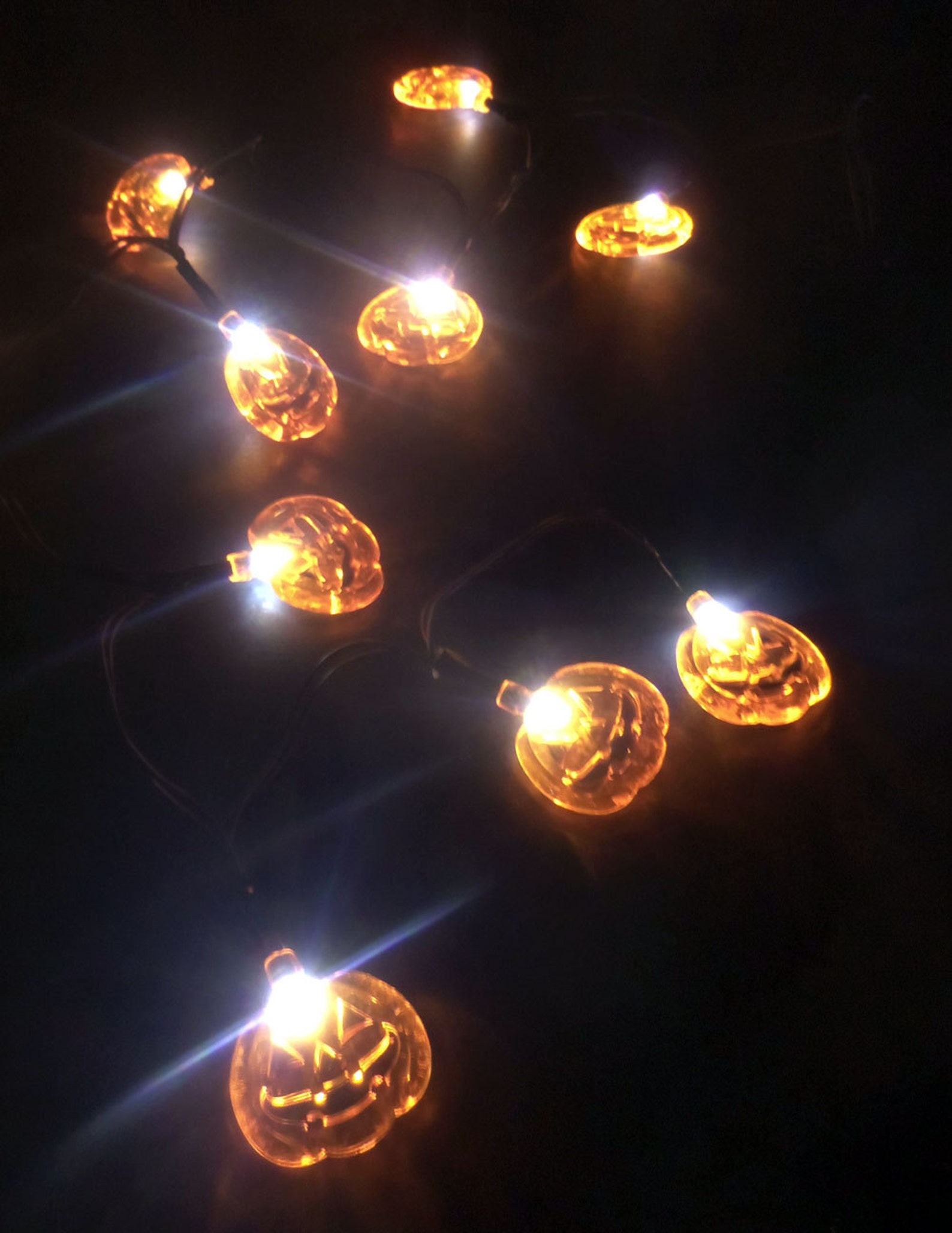 Jack O' Lantern Pumpkins Lights 10 LED String Battery Power 2AA Halloween Decoration DIY Crafts
Perfect for decorating or lighting up your art project. This string of orange Jack O Lantern LED lights is battery powered. The strand is approx 3 feet long with 10 pumpkin shaped lights. They operate on 2 AA batteries (not included). This listing is for one set.
Each Jack O Lantern measures approx 1 1/4 inch wide
Every light set is tested to ensure it works and is complete. We even include a free small screw driver for the battery pack!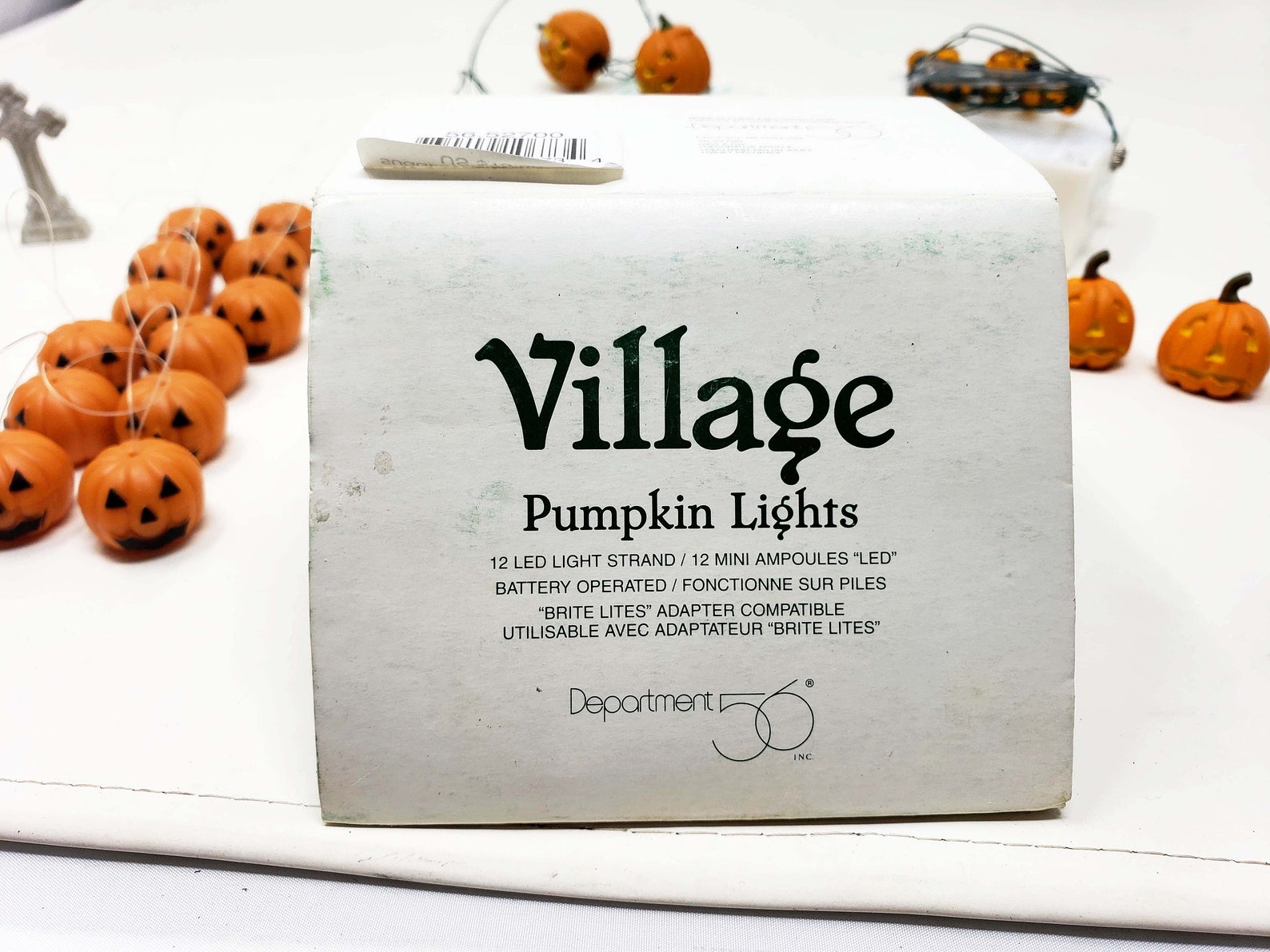 Vintage Department 56 Halloween Village Pumpkin Lights Jack O Lanterns Ornament
Vintage Department 56 Halloween Village Pumpkin Lights Jack O Lanterns Ornament, Tombstones Figurines, Halloween Decor, Spooky Accessories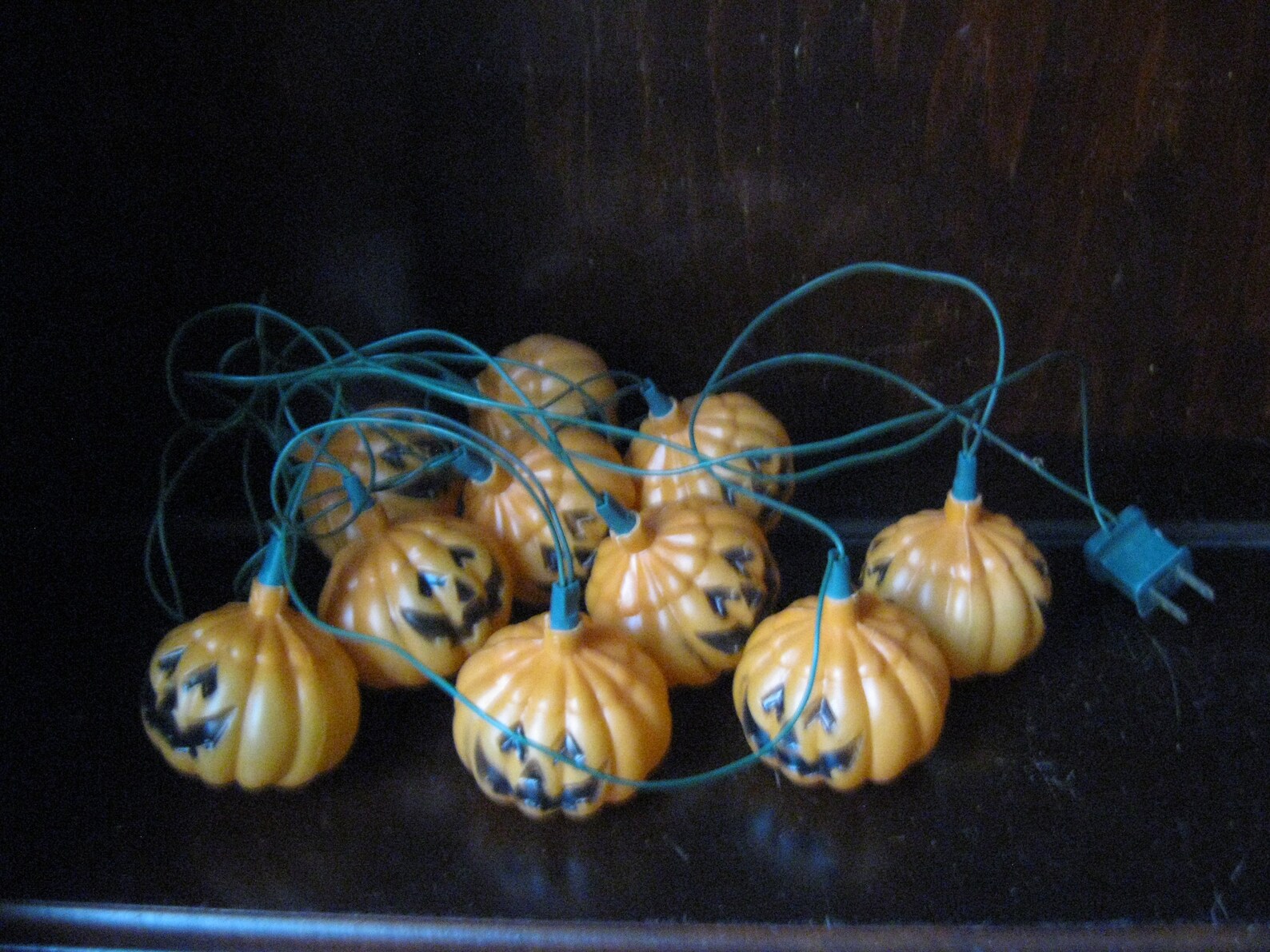 Vintage Set of Ten Halloween Pumpkin String Lights Smiling Jack O Lanterns
Vintage set of Halloween lights.
Set of ten pumpkin lights.
Smiling jack o lanterns.
About 4′ of pumpkin lights on the string of lights.
About 2 1/2′ of extra wire on the set.
Orange with black facial features.
In very good vintage condition.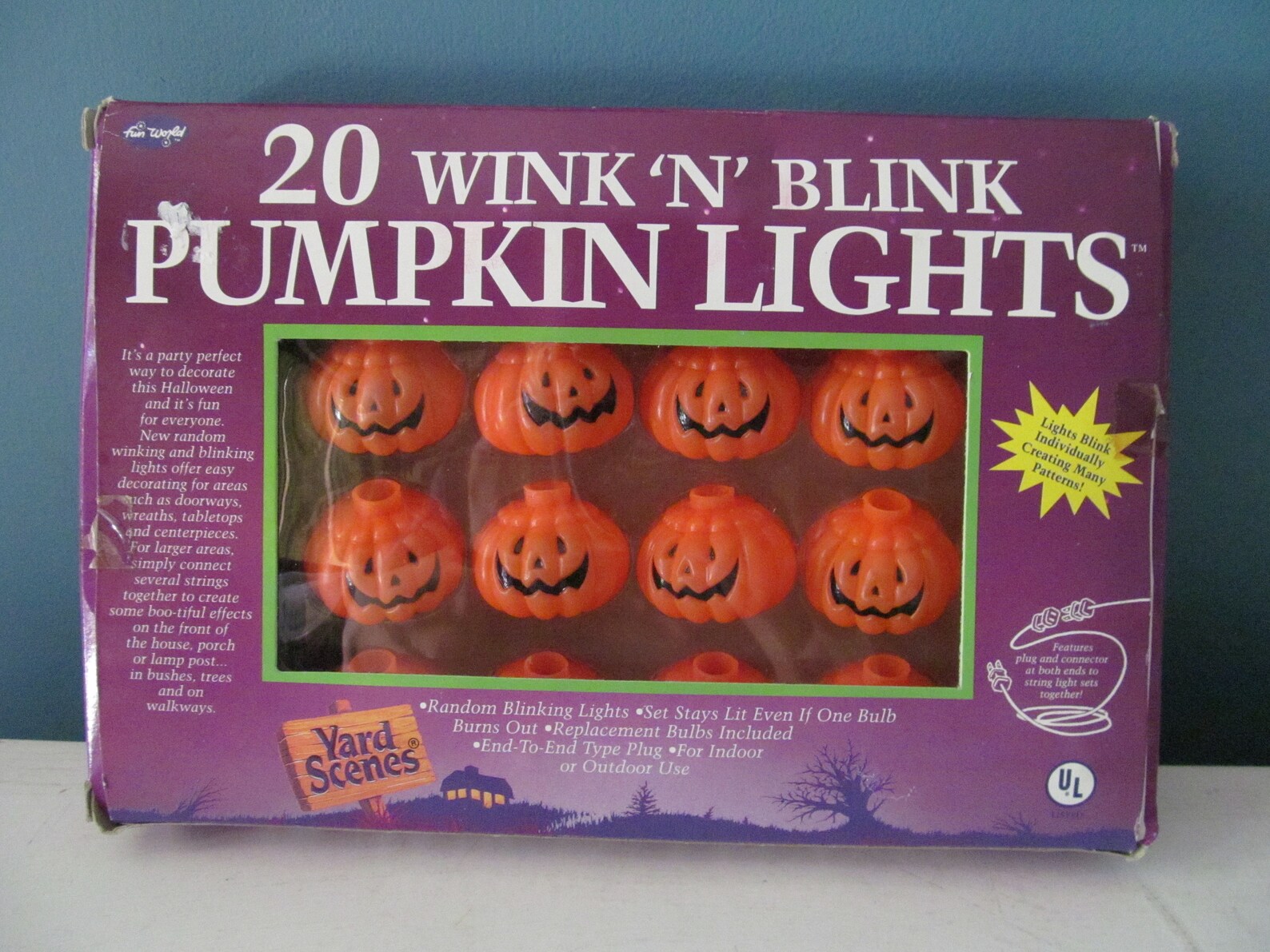 New Vintage / Retro Wink 'N' Blink Pumpkin 20 Indoor Outdoor Twinkle Light String Happy Halloween
Here we have a Vintage / Retro Wink 'N' Blink Pumpkin 20 Indoor / Outdoor Light Set. This strand features 20 blow mold plastic pumpkin lights on a string. The plastic pumpkins cover white lights. Any home would love to have these Halloween lights. These lights are getting harder and harder to find in new condition. These are random blinking lights.
It is the perfect gift for any Halloween collector. Ideal for anyone who loves to decorate for Halloween with a retro flair.
This set of 20 Wink 'N' Blink Pumpkin Blow Mold Plastic Indoor / Outdoor Lights is brand new. They have been tested and all of the lights do work. The replacement bulbs are here as well. These lights are rare because they are smaller blow mold plastic pieces. Each pumpkin measures approximately 1.5″ wide.
[ebayfeedsforwordpress feed="http://rest.ebay.com/epn/v1/find/item.rss?keyword=jack+o+lantern+string+lights&sortOrder=BestMatch&programid=1&campaignid=5337153418&toolid=10039&listingType1=All&descriptionSearch=true&feedType=rss&lgeo=1″ items="25″]
Here are MORE Halloween String Lights!:
Bat
Eyeball
Frankenstein
Ghost
Halloween
Halloween Cat
Jack O Lantern
Mummy
Skeleton
Sugar Skull
Skull
Spider
Witch