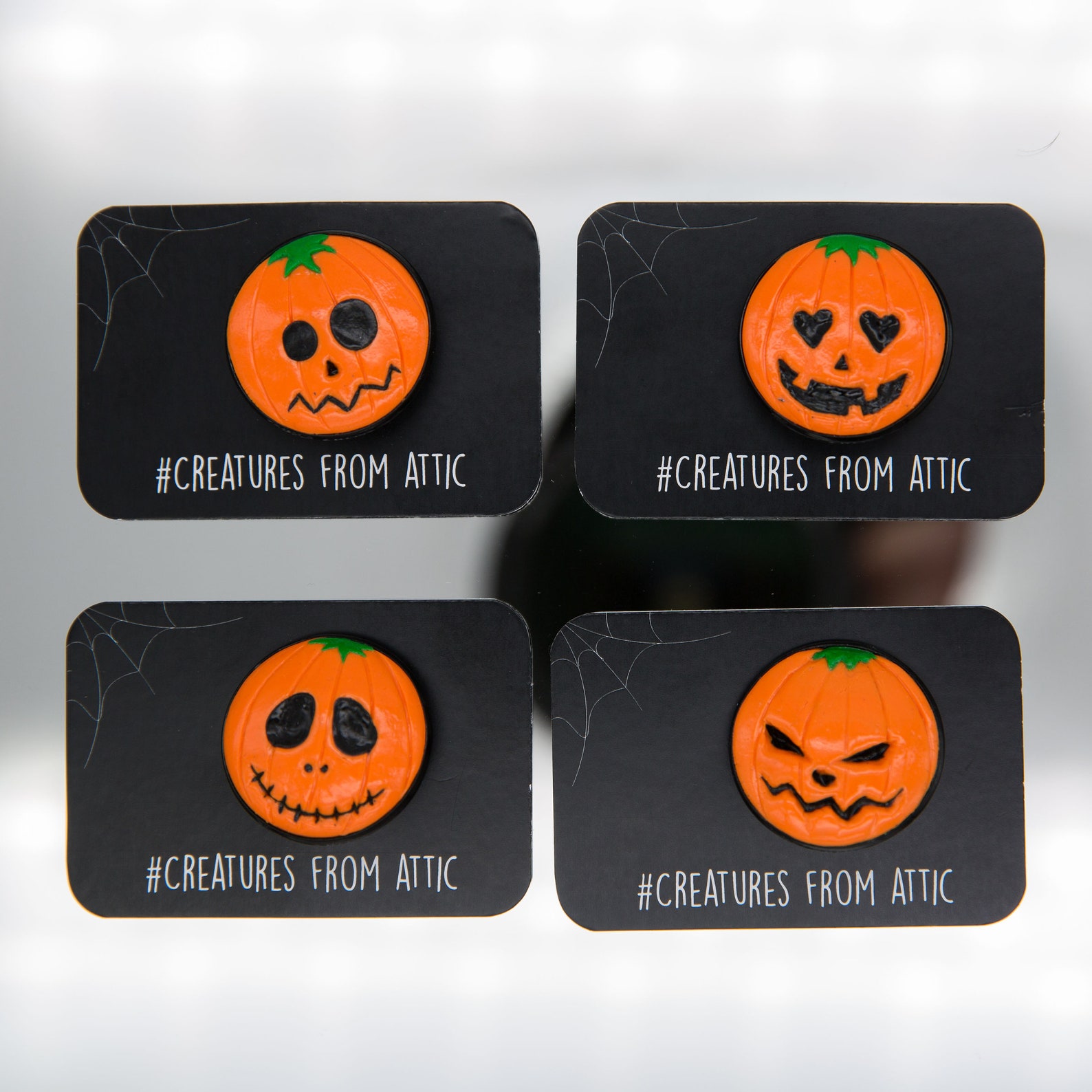 Halloween pumpkin pin/ brooch (hand-sculpted from polymer clay)
Length: 2.8 Centimeters; Width: 2.8 Centimeters
Description
✔ABOUT PIN
Halloween pumpkin pin – is original hand sculpted piece, inspired by our favourite holiday – Halloween!
This pin is made using NO mold or casting, pumpkin expressions were hand-sculpted from clay.
Super easy to accessorise – just pin it on everyday clothes, bags or hats (it's up to Your imagination)! Be prepared for questions and compliments!
Price is for 1 pin! If You'll purchase two items in our store – You'll get free Halloween card ("A merry scary Halloween!).
Only 4 pins are available!
✔S I Z E
Height: 1.10″ / 2.8 cm
Width: 1.10″ / 2.8 cm
Thickness: 0.16" / 0.4 cm
✔ MATERIALS
Materials: Polymer clay, varnish, black metallic pin.
Small imperfections are a guarantee of craftsmanship and uniqueness of the product.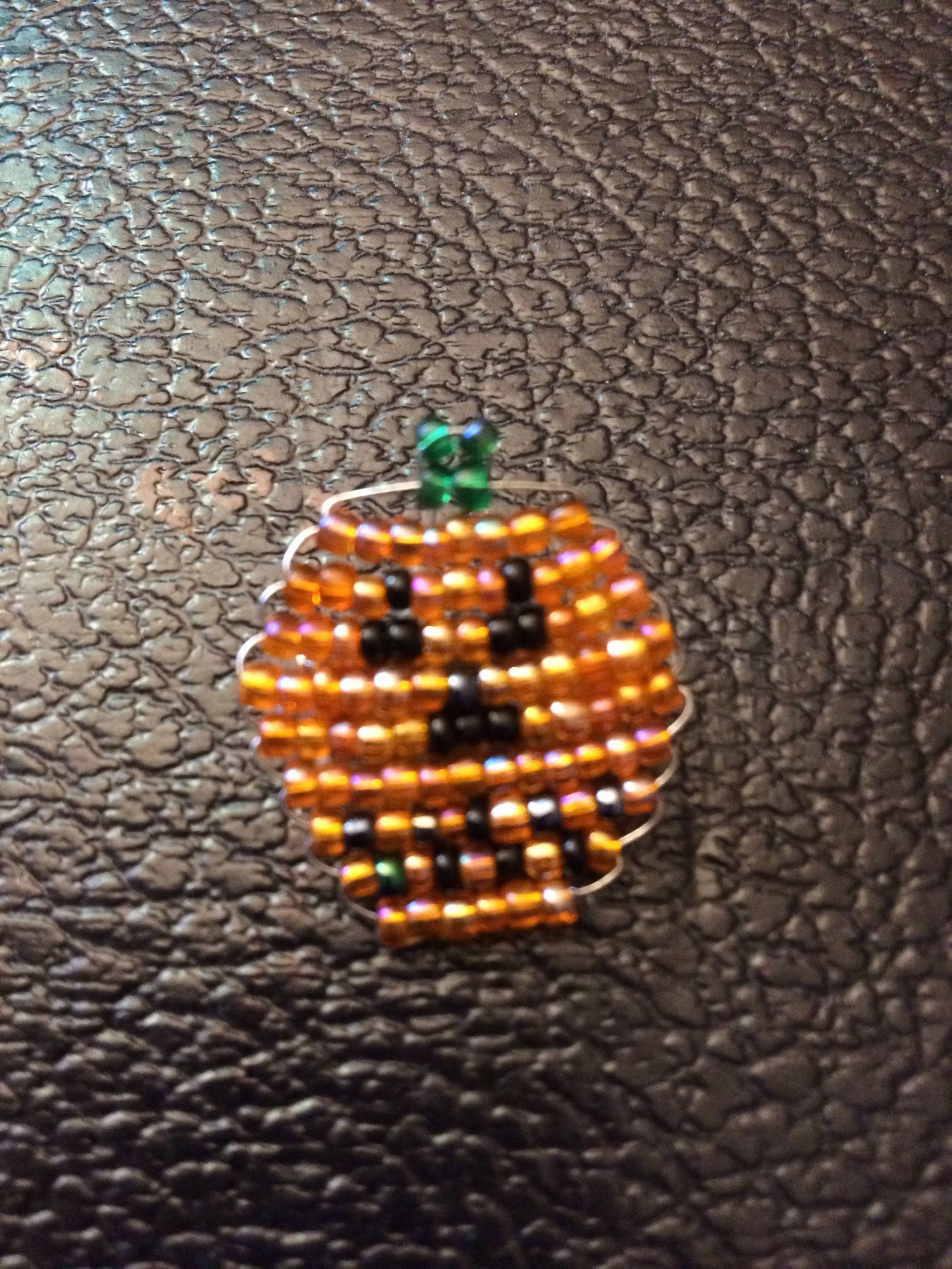 Seed bead Jack-o-Lantern pin for Halloween!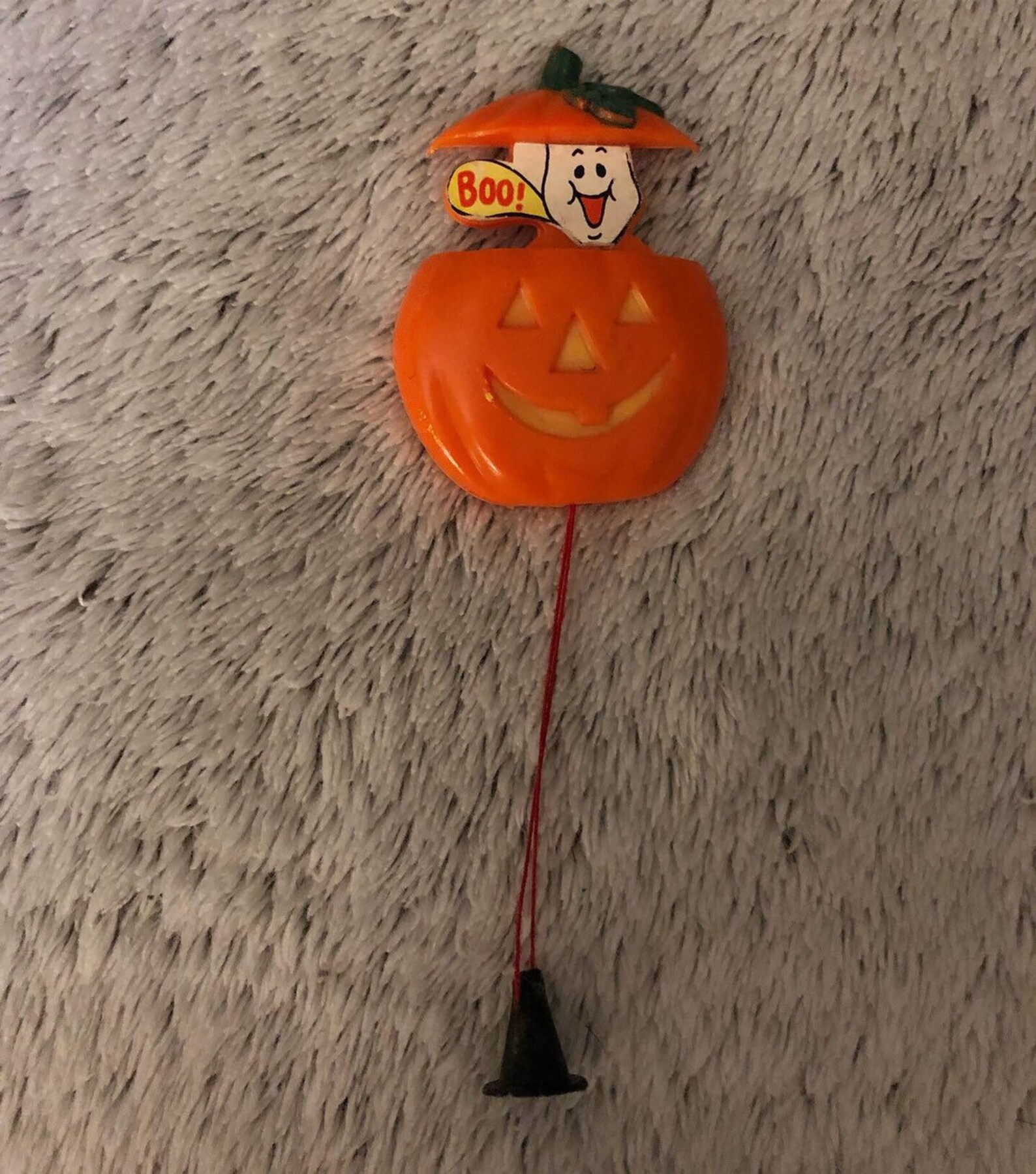 Vintage pull string Halloween pin
Vintage pull string Halloween pin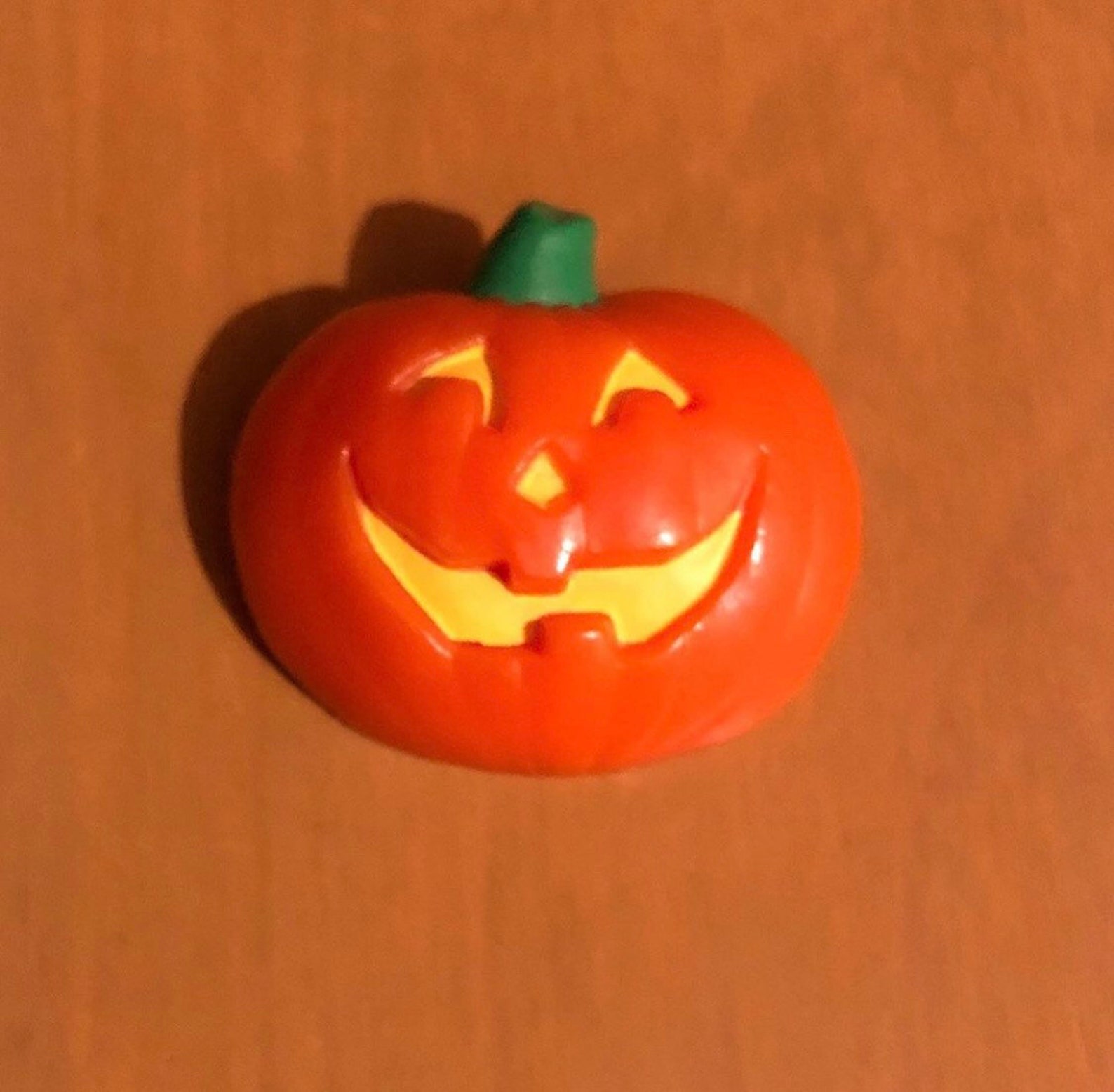 Vintage 1987 Hallmark Halloween pin
Vintage 1987 Hallmark Halloween pin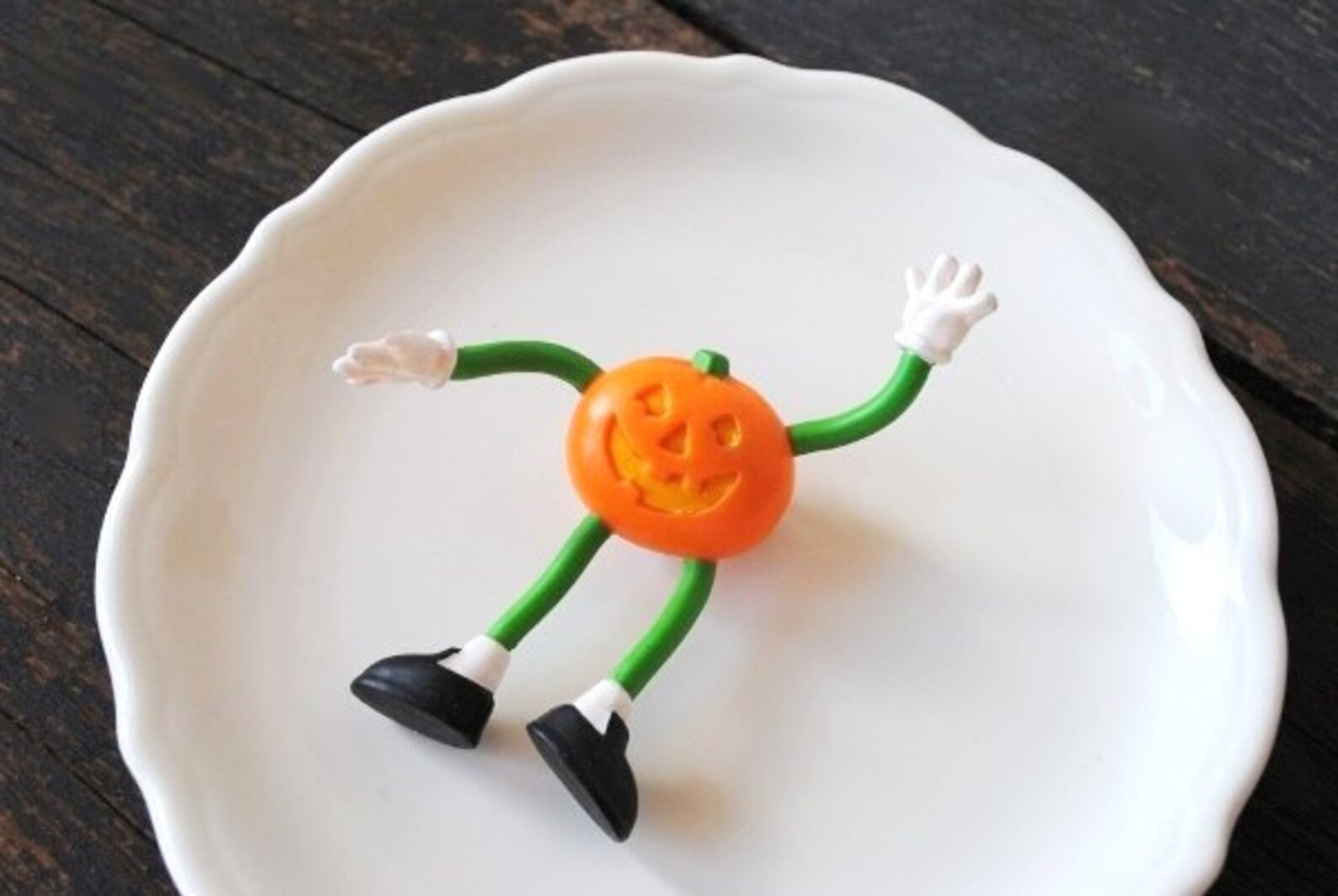 Anthropomorphic Halloween Lapel Pin
Vintage Halloween Hallmark lapel pin brooch orange jack-o-lantern from 1991. This whimsical anthropomorphic pumpkin man has bendable green arms and legs, yellow eyes nose & mouth, and is wearing white gloves and black shoes. He is in fabulous condition with secure clasp.
Measures approx: 2″ from top of head to bottom of feet & 2-1/2″ from the tips of his fingers when arm is extended
Marked as shown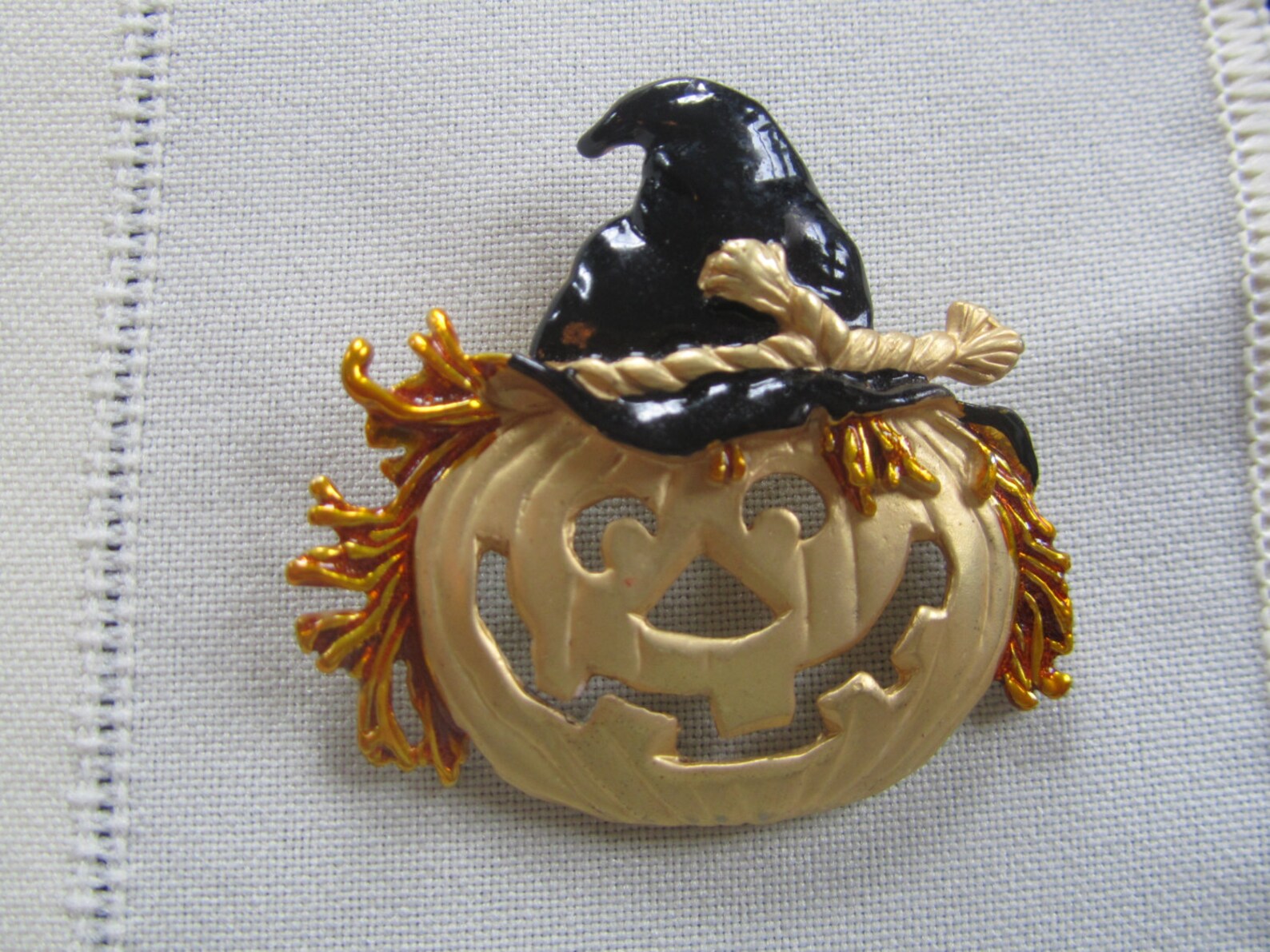 JJ Jonette Vintage Gold Tone Enameled Jack-Lantern with Scarecrow Hat
This vintage JJJonette Smiling Jack-o-Lantern made of enameled pewter sporting a scarecrow hat Signed JJ.This brooch is in excellent condition.Closure is a standard back bar pin.A must have for the Halloween season to wear on your lapel or use as a scarf pin.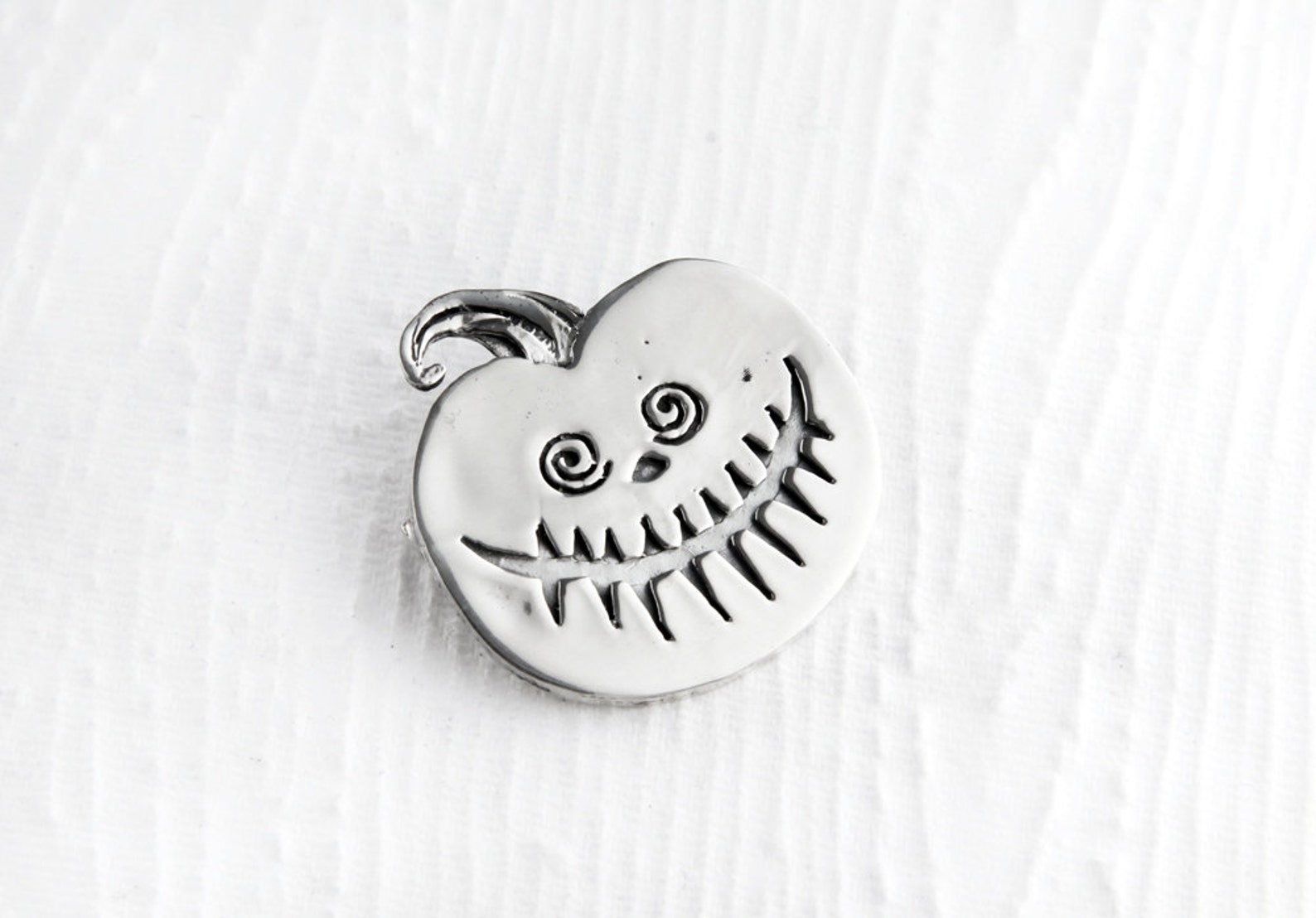 Funny Pumpkin Sterling Silver Brooch
This Sterling Silver pin is perfect for this coming Halloween season. You can also enjoy it all year round for those who want to feel the spooky spirit of Halloween!
Dimensions:
27x26mm (over 1" inch)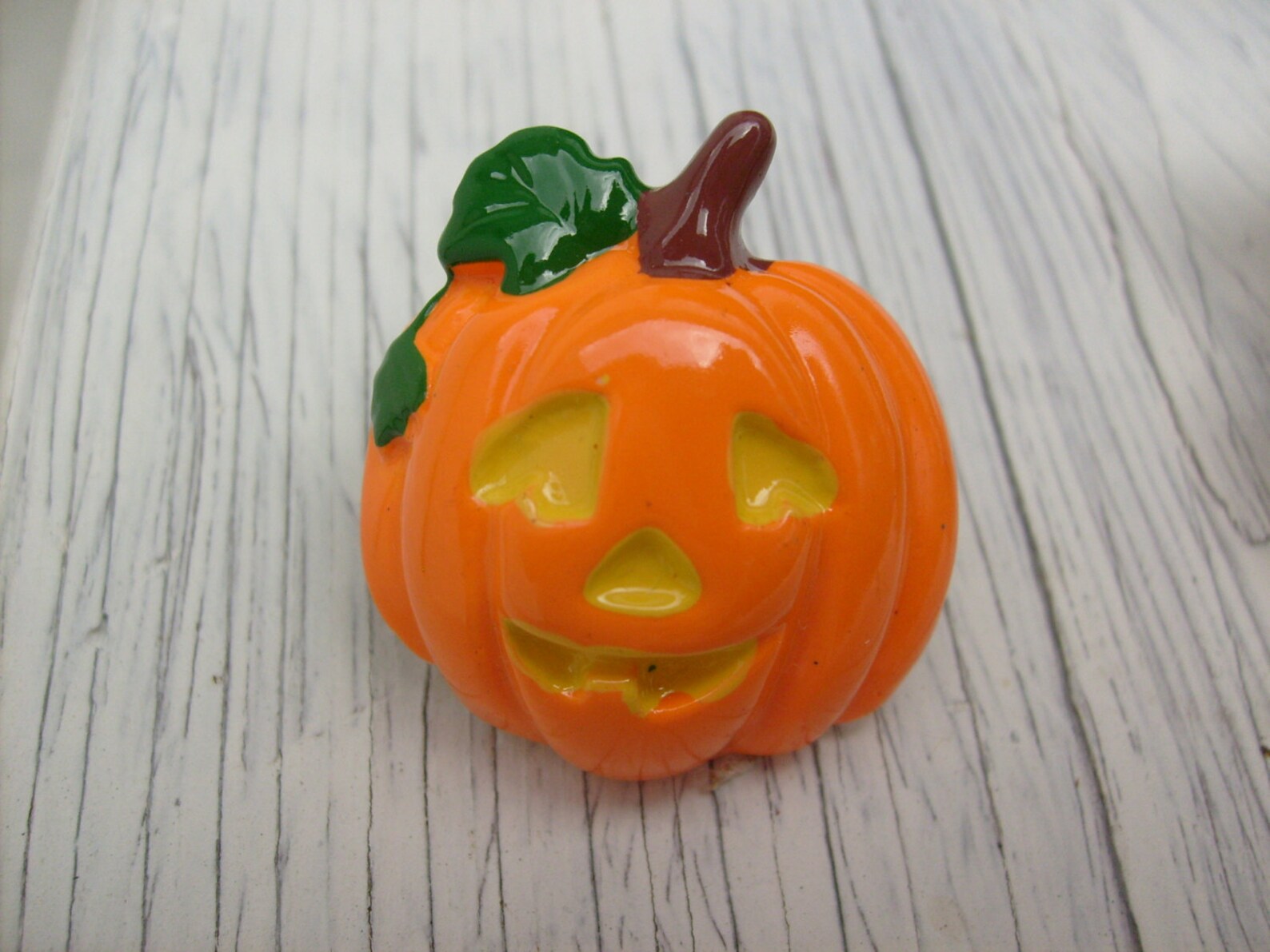 JOL PUMPKIN SCARE pin brooch hand made halloween jewelry
this is for one hand made item from our 14 year old Tessa. this measures approx. 1 1/2″.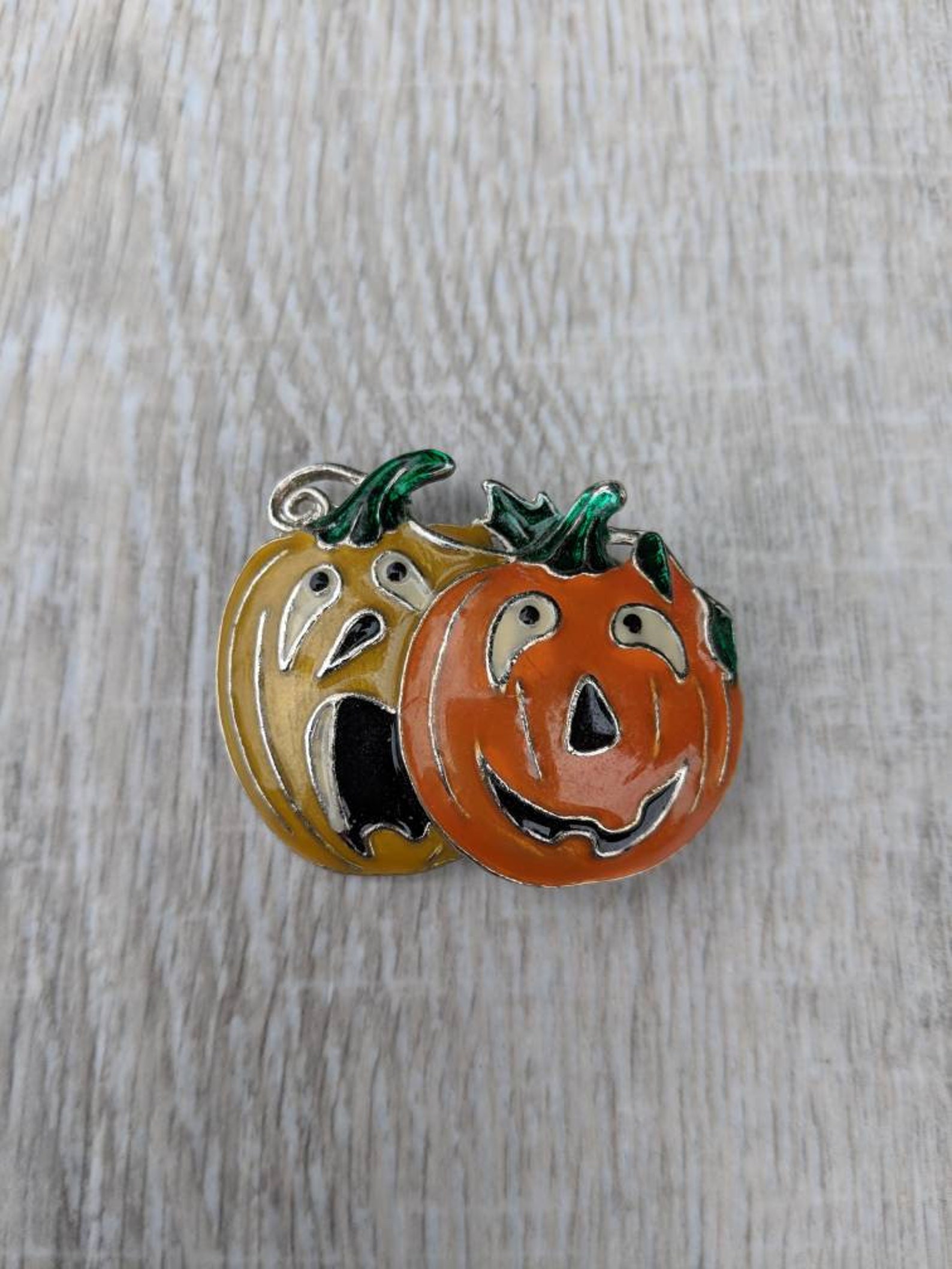 Pair of Happy and Scared Orange and Yellow Enamel Jack-o-Lanterns Brooch
This cute Halloween brooch features two enameled jack-o-lanterns. The yellow one is carved to appear frightened, while the orange one has a smile on its face. The pumpkins' stems and vines are bright green enamel.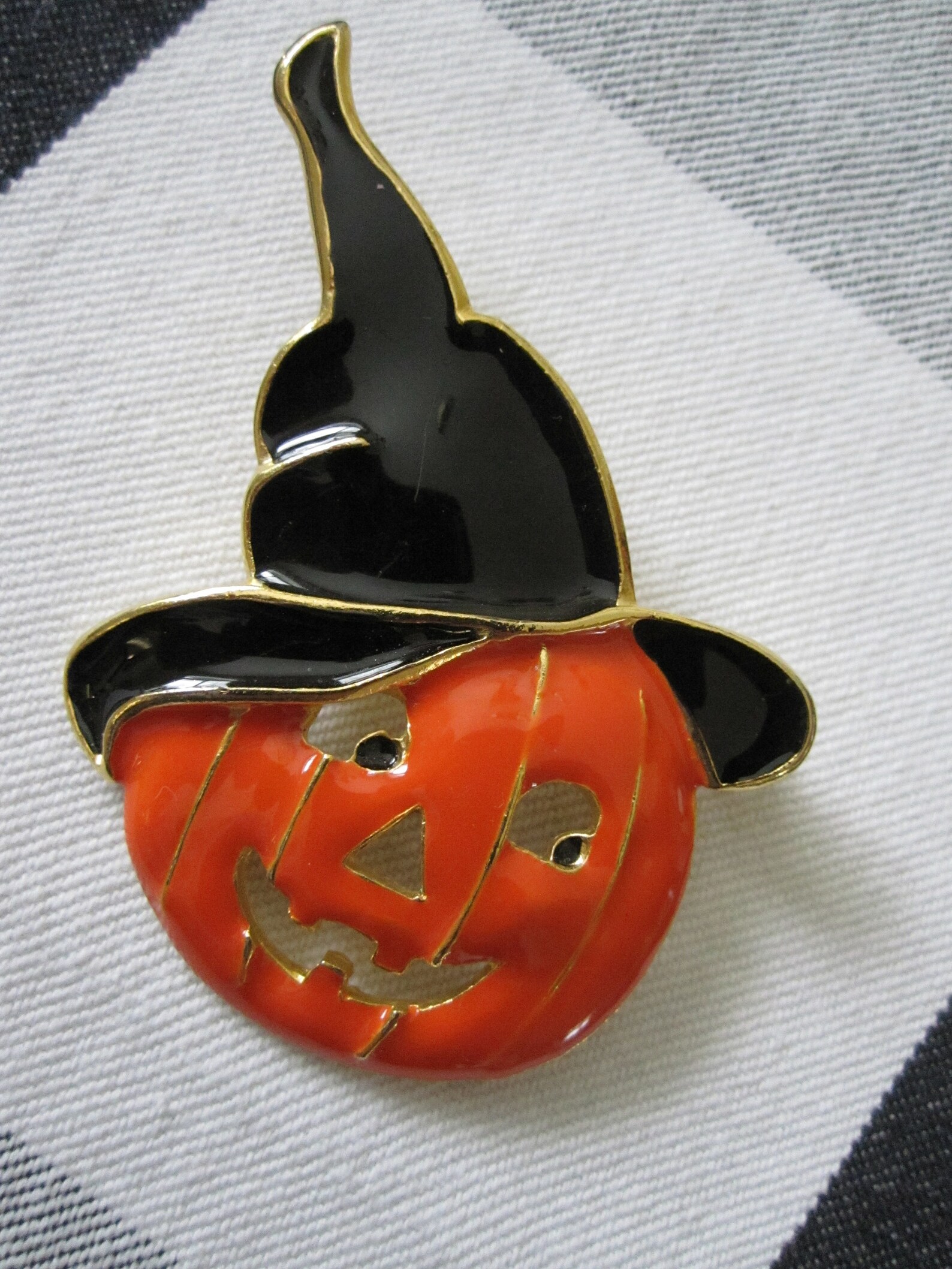 ENAMEL PUMPKIN BROOCH With Black Hat
ENAMEL PUMPKIN BROOCH With Black Hat
Found in my pumpkin patch. Jaunty orange enamel jack o' lantern wearing a black witch's hat!
Brooch measures 2.5 by 1.5 inches.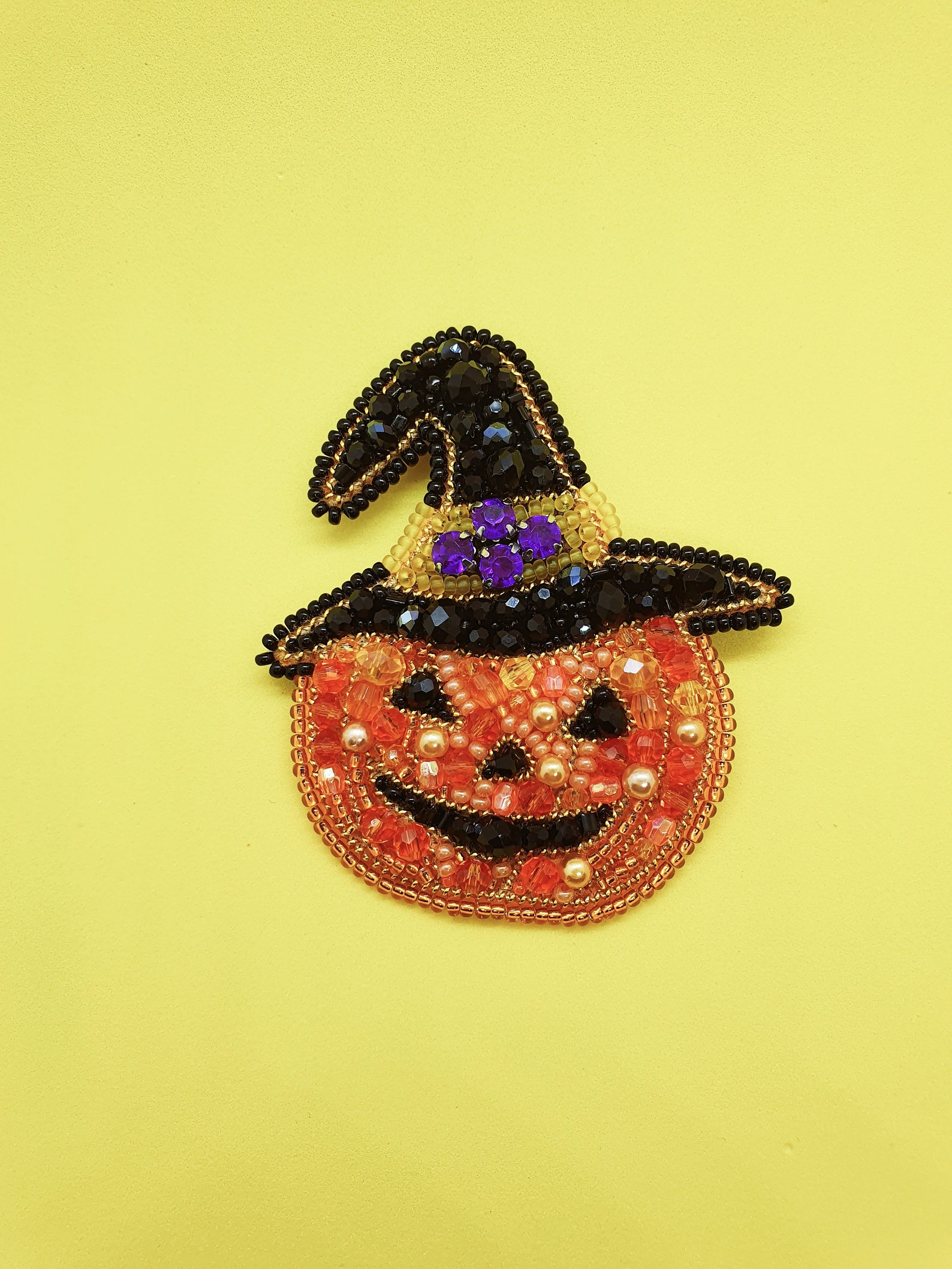 Creepy cute pumpkin jewelry-horror pin-halloween jewelry.Burnt orange pumpkin great halloween pin-halloween brooch
Creepy jewelry – embroidered brooch – Halloween brooch for a Halloween wedding will look beautiful like a custom lapel pin. Halloween jewelry – jack o lantern pumpkin jewelry is one of the main spooky decor. A horror pin – Halloween pin – burnt orange pumpkin and at the same time creepy cute is good queer pin.
—————————————————–
A pumpkin pin is made of crystal beads. There are yellow crystal beads, orange, black and purple crystals. The reverse side is made of genuine leather.
—————————————————–
APPROXIMATE BROOCH SIZE:
2,5 inch * 2,9 inch or 6,5 cm * 7,5 cm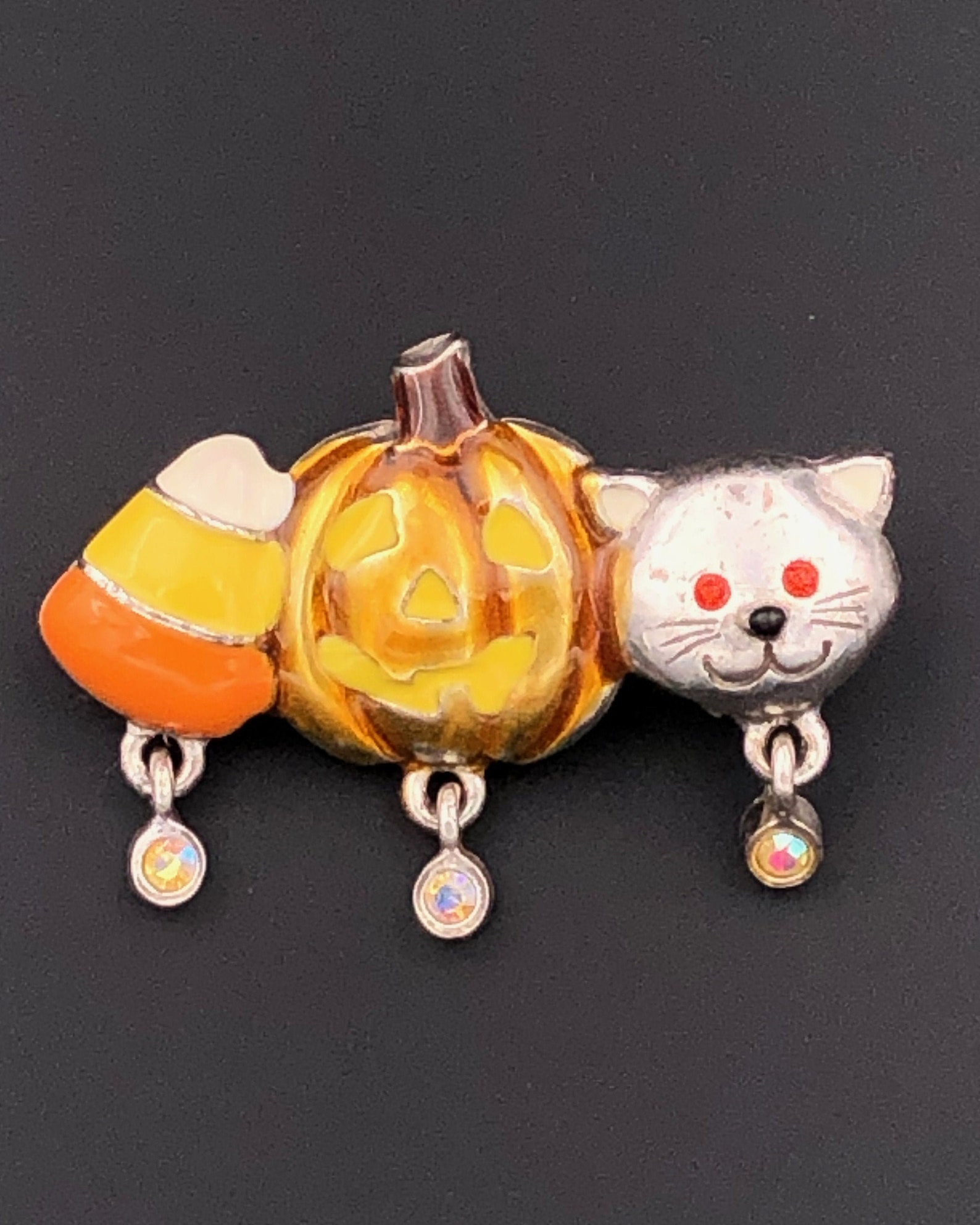 Vintage AJMC Halloween Candy Corn, Pumpkin, Cat with Aurora Borealis Charms Brooch Pin
Approximate Dimensions: 2″ wide x 1″ tall
Weight: 0.5 oz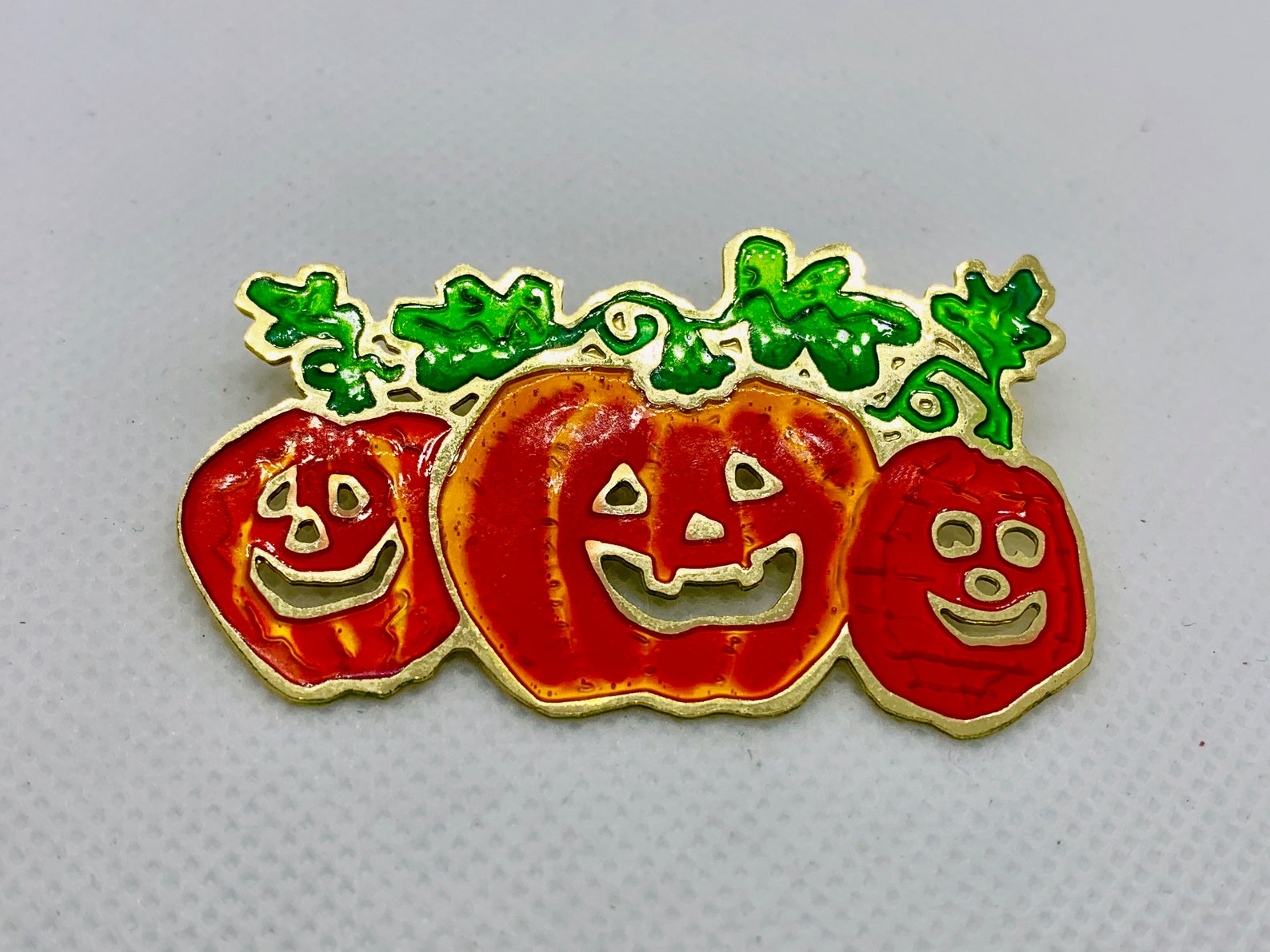 Retro Enameled Halloween Pumpkins Pin Item K
Retro enameled Halloween pumpkins pin
– Three cutwork pumpkins
– Openwork design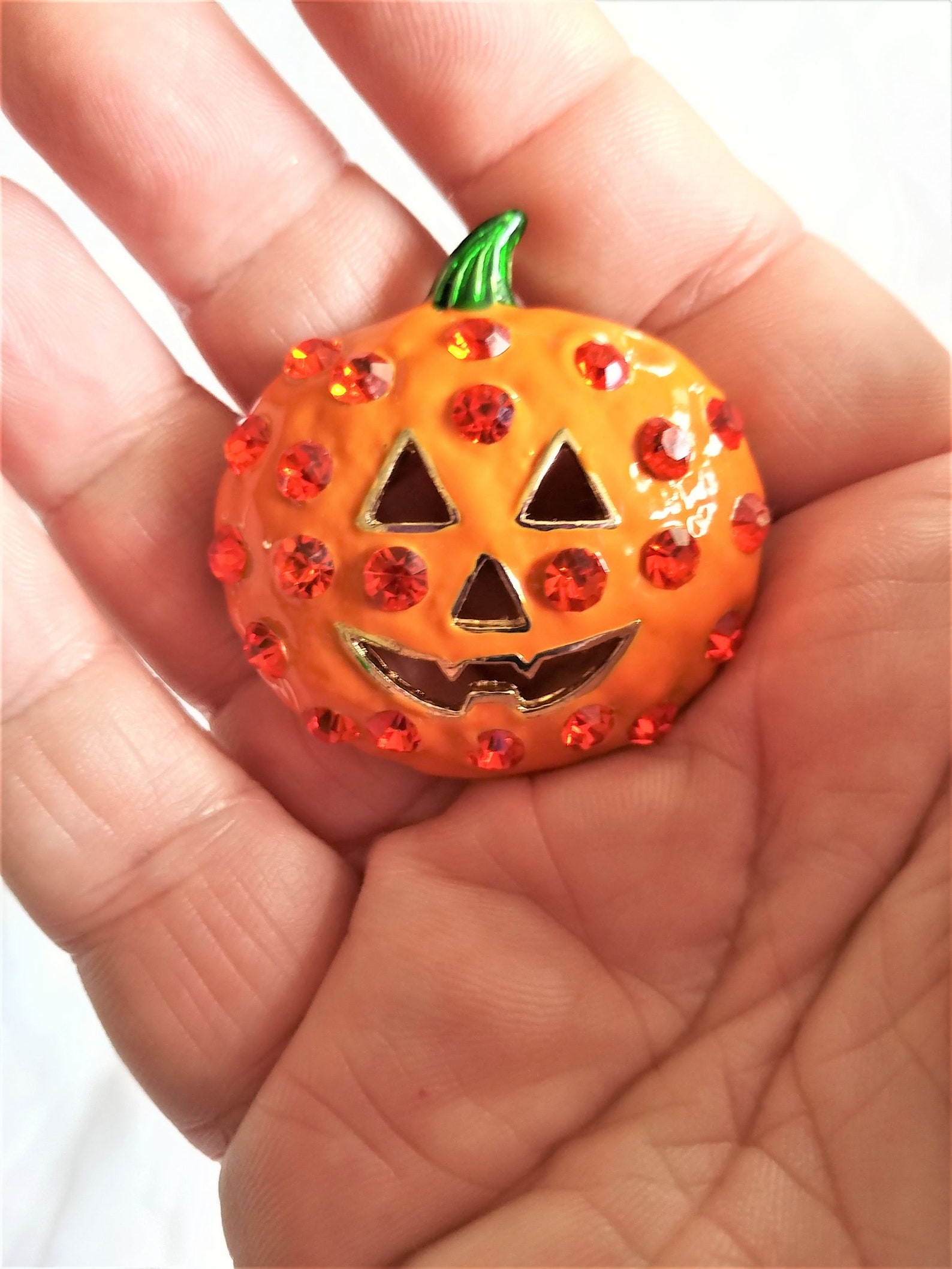 Jack O Latern Brooch / Pin / Jack o Latern Jewelry
This jack o lantern is set in a gold tone with clear bright orange rhinestones. Heavy, nice quality! Never worn, 1970's. Amazing Halloween piece!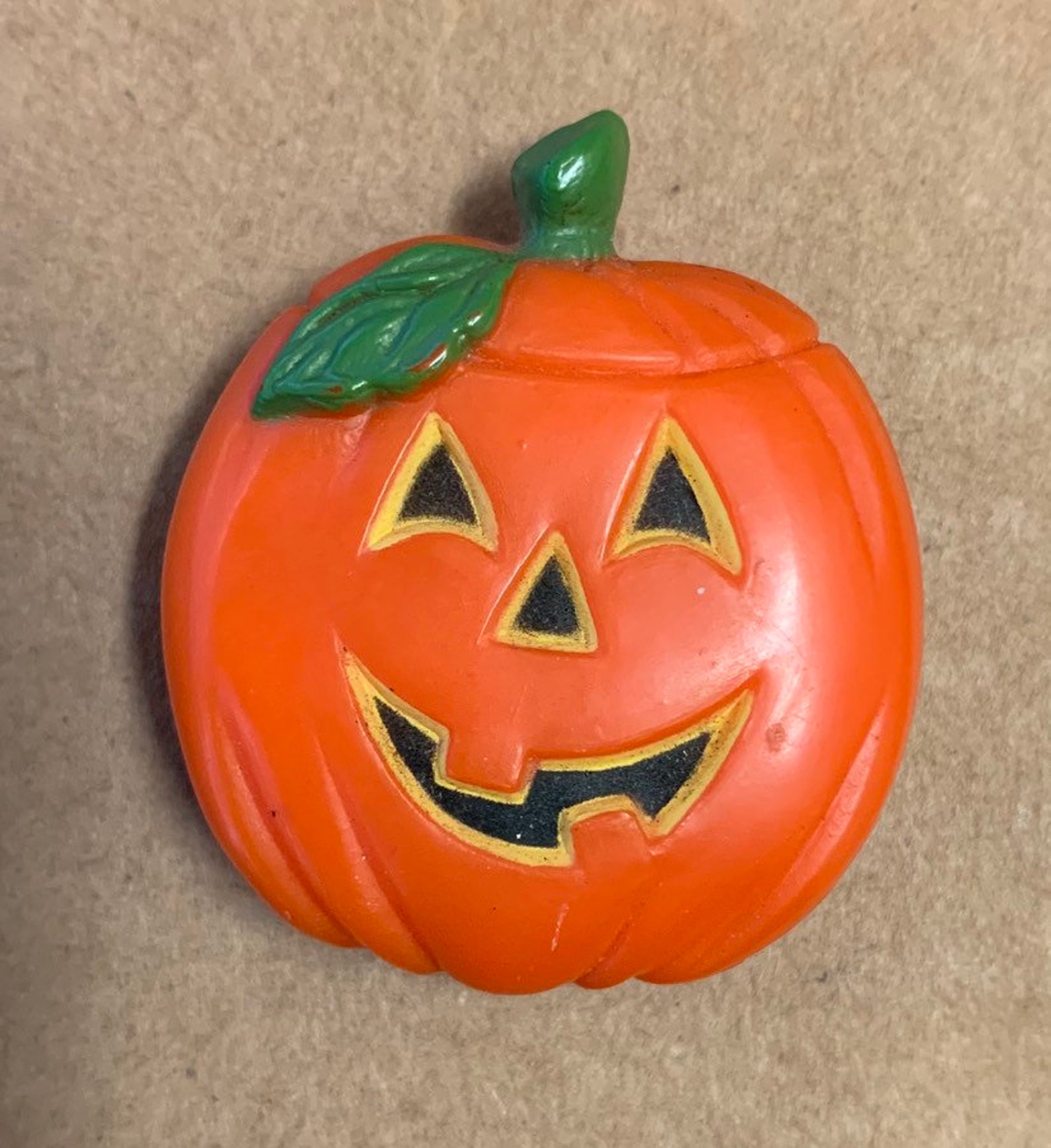 Halloween Jack O Lantern Pumpkin Pin
Length: 1 3/4 Inches; Width: 1 1/2 Inches
Description
Very Good with light signs of handling and age. Nice sharp straight pin, fits tight, clasp works great.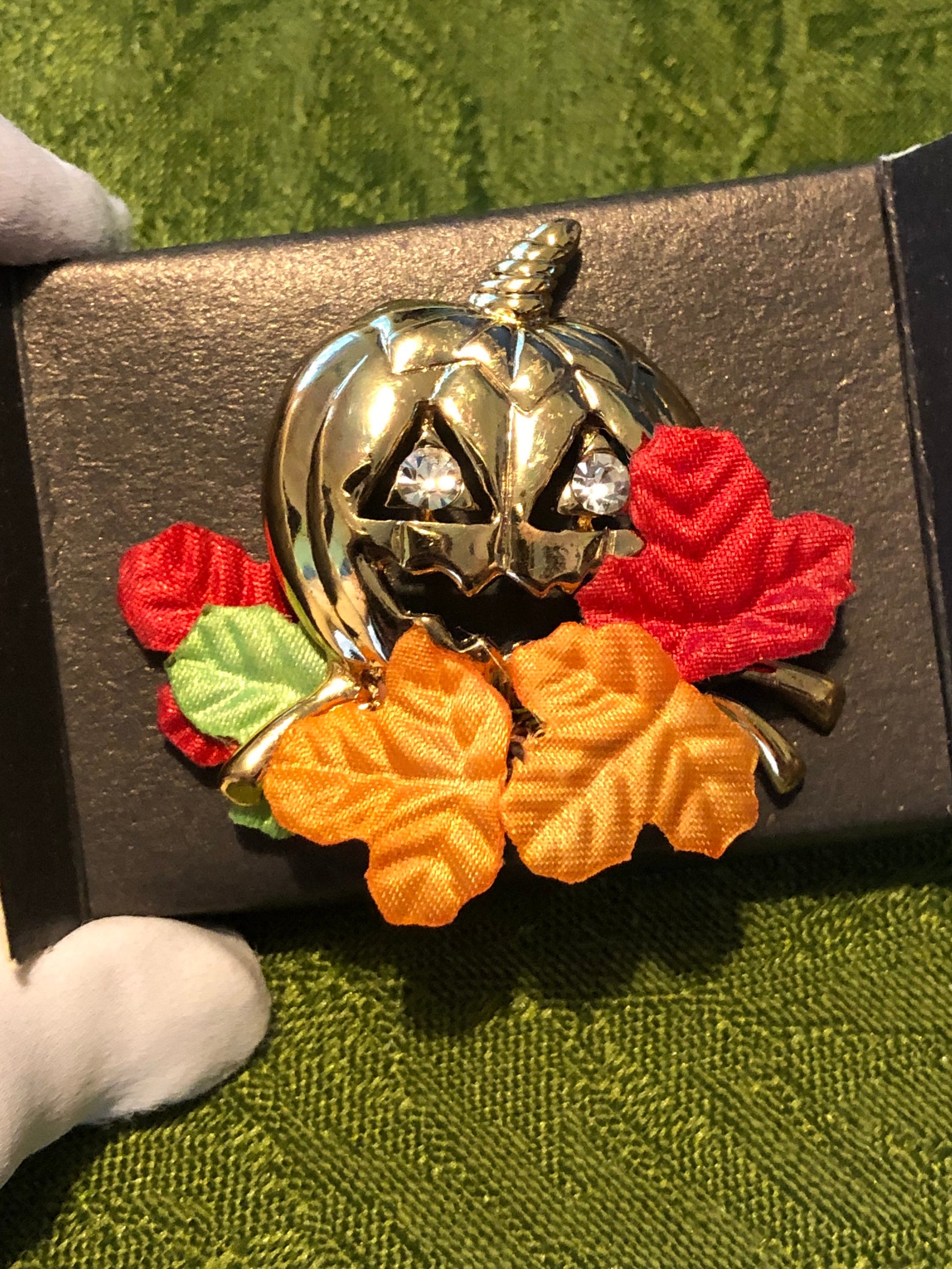 Never Worn Vintage Deadstock AVON Golden Pumpkin Pin With Rhinestone Eyes
Her listed we offer you an absolutely stunning vintage never worn AVON Golden Pumpkin Pin! This beautiful pin comes to you in the original box and has never been removed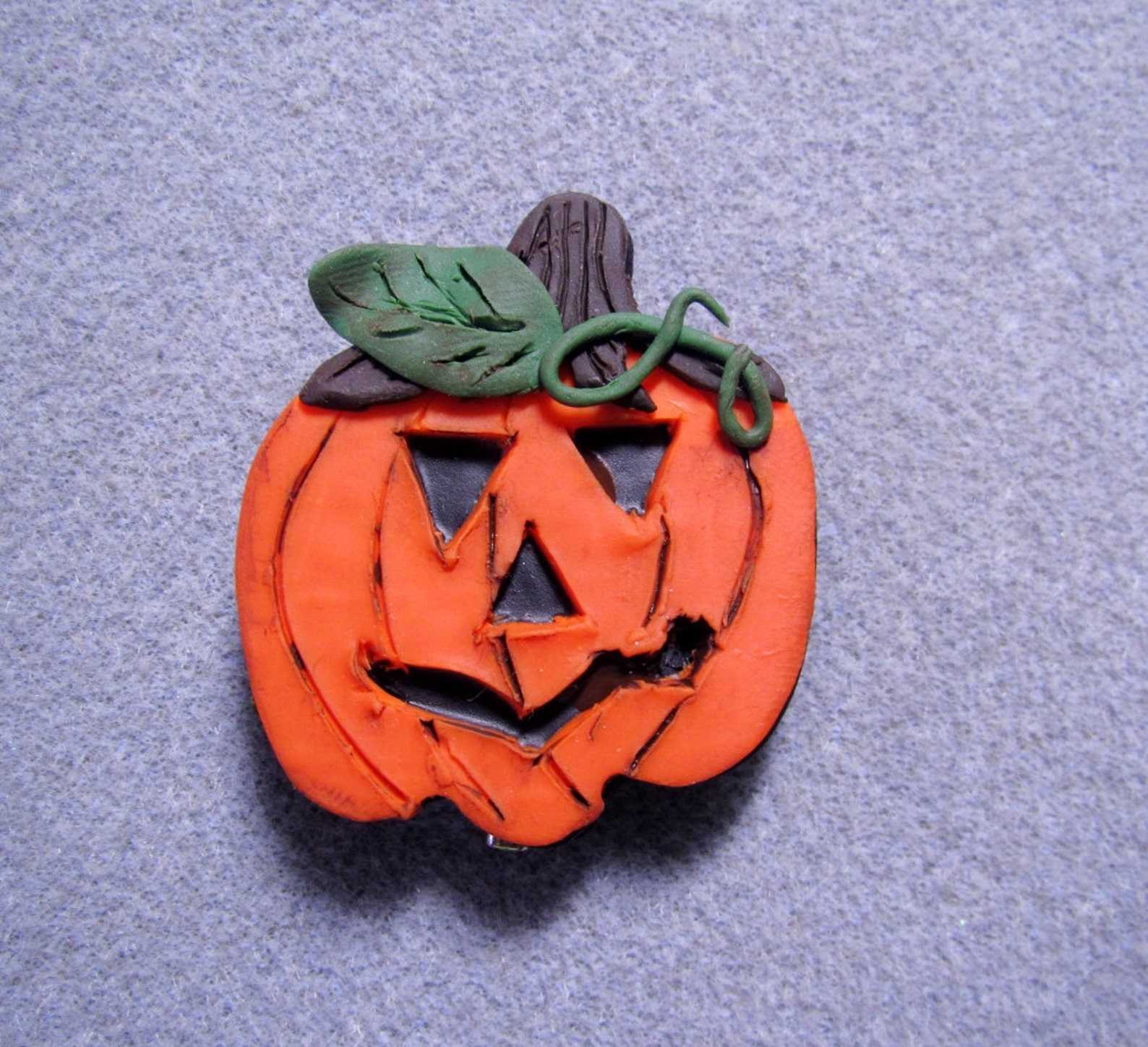 Halloween Carved Pumpkin Jack O'Lantern Polymer Clay Brooch Pin Prim Handmade 2
This adorable brooch was created by me out of polymer clay. I hand-sculpted and carved the pumpkin out of raw clay, then baked it in an oven until cured. The pumpkin was treated with an antiquing medium to give it a primitive look. The pin measures approximately 1 1/4″ wide by 2″ in length.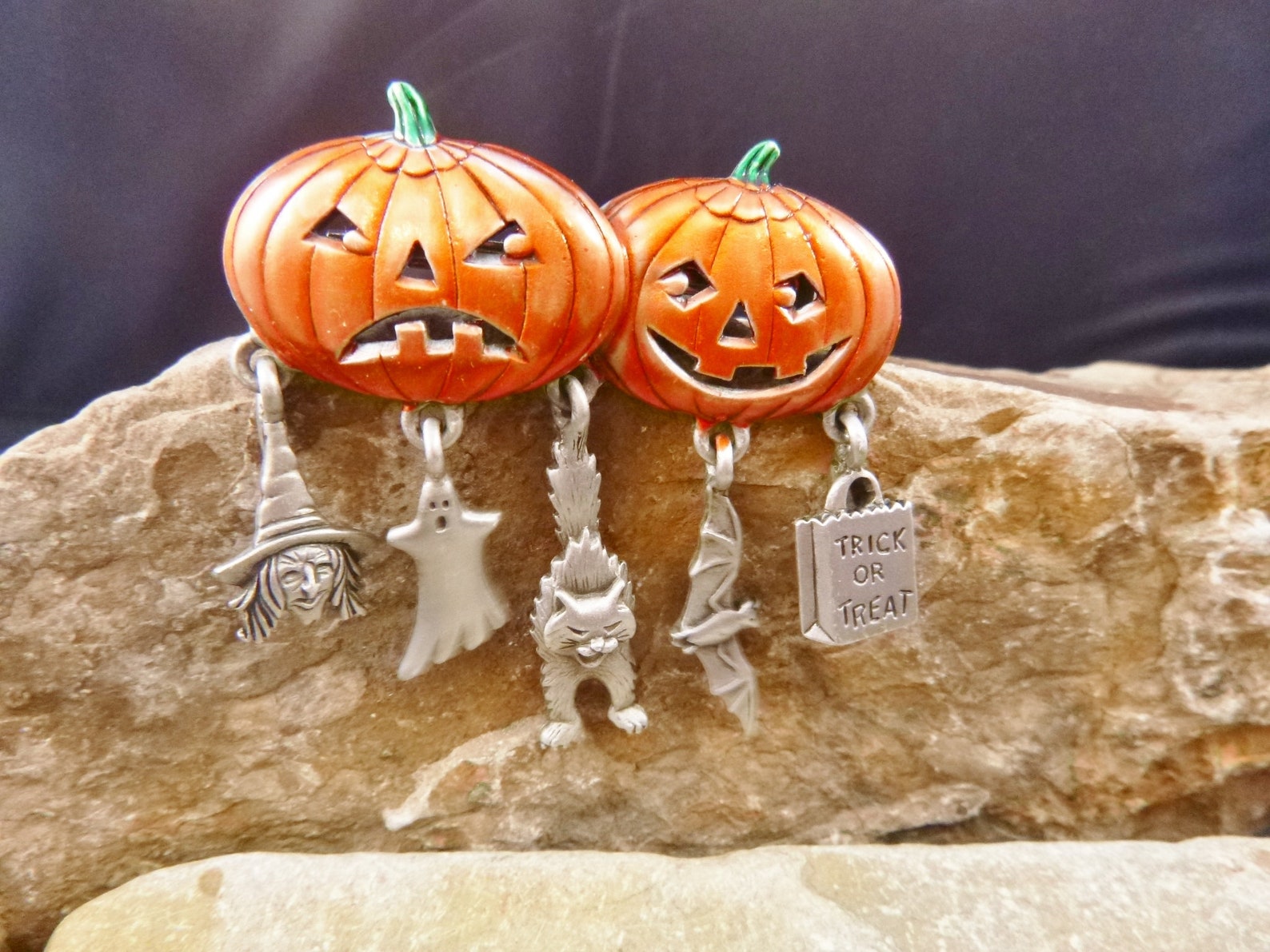 Halloween Vintage Pin JJ Signed | Jack-O-Lanterns with Dangling Witch, Ghost
Most likely from the early l990s, this Halloween pin with Jack-O-Lanterns and charms pin is spooky fun. On the back is the maker's mark "© JJ" in a cartouche shape. That copyright designation of the Jonette Jewelry company was used beginning in the mid l980s.
The two pumpkin Jack-O-Lanterns have a enamel wash orange coating and very different expressions; the charms are a silver tone pewter. The pin is in very good vintage condition, showing gentle signs of wear; plus there are a few enamel drips along the edges.
The pin itself is a little over 2" in length and 1 7/8" from the pumpkin stem to the toes of the screeching cat. The body of the pin has a substantial feel to it; the pin and clasp are strong and secure. The pictures offer greater perspective on the condition and spooky-fun nature of this vintage Halloween pin.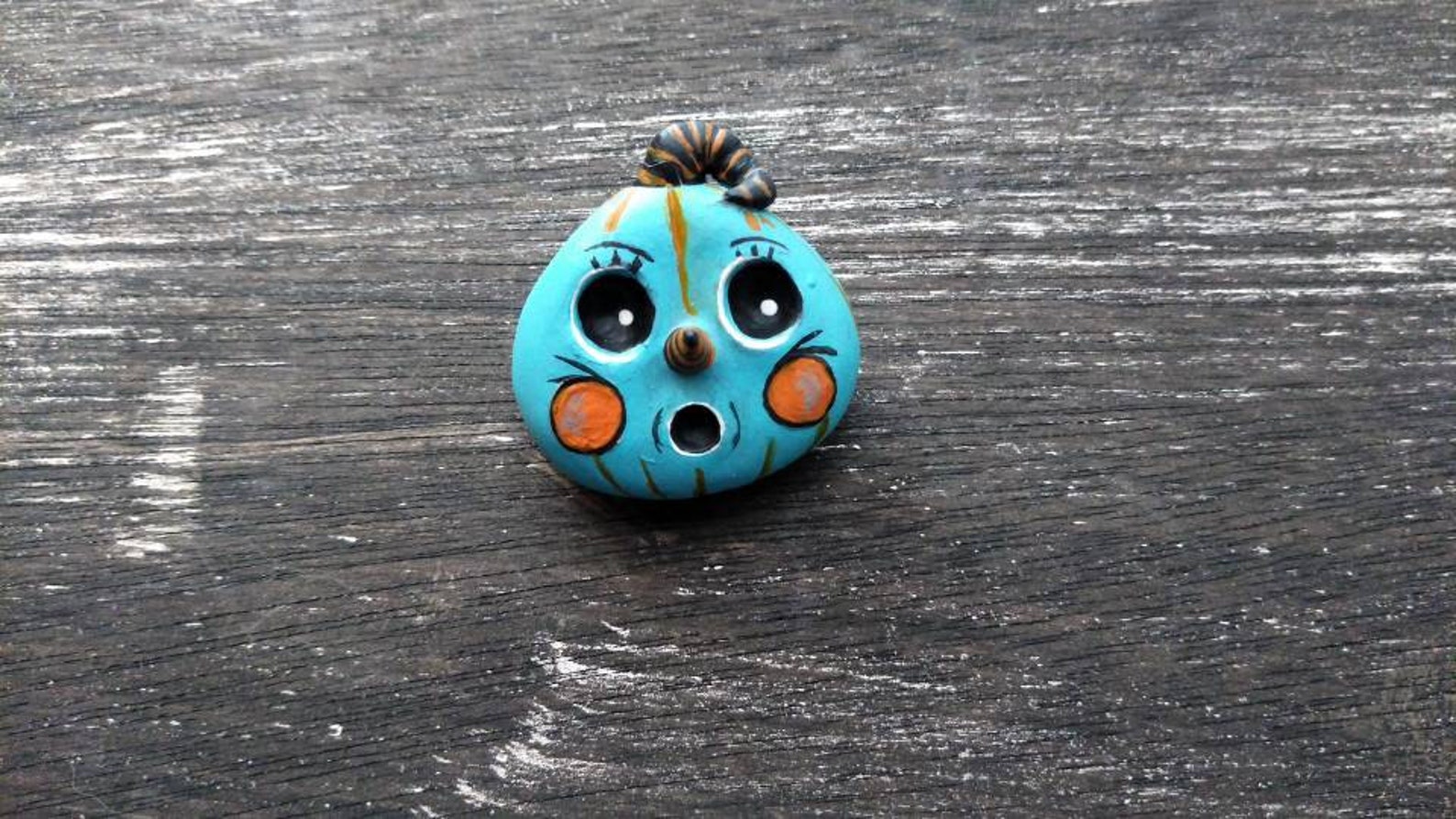 This Teal pumpkin pin was inspired by the wonderful Halloween styles of the past. It's made of baked polymer clay and has been hand painted and sealed to prevent any paint from wearing off. The pin back is a standard push pin with a pinch backing.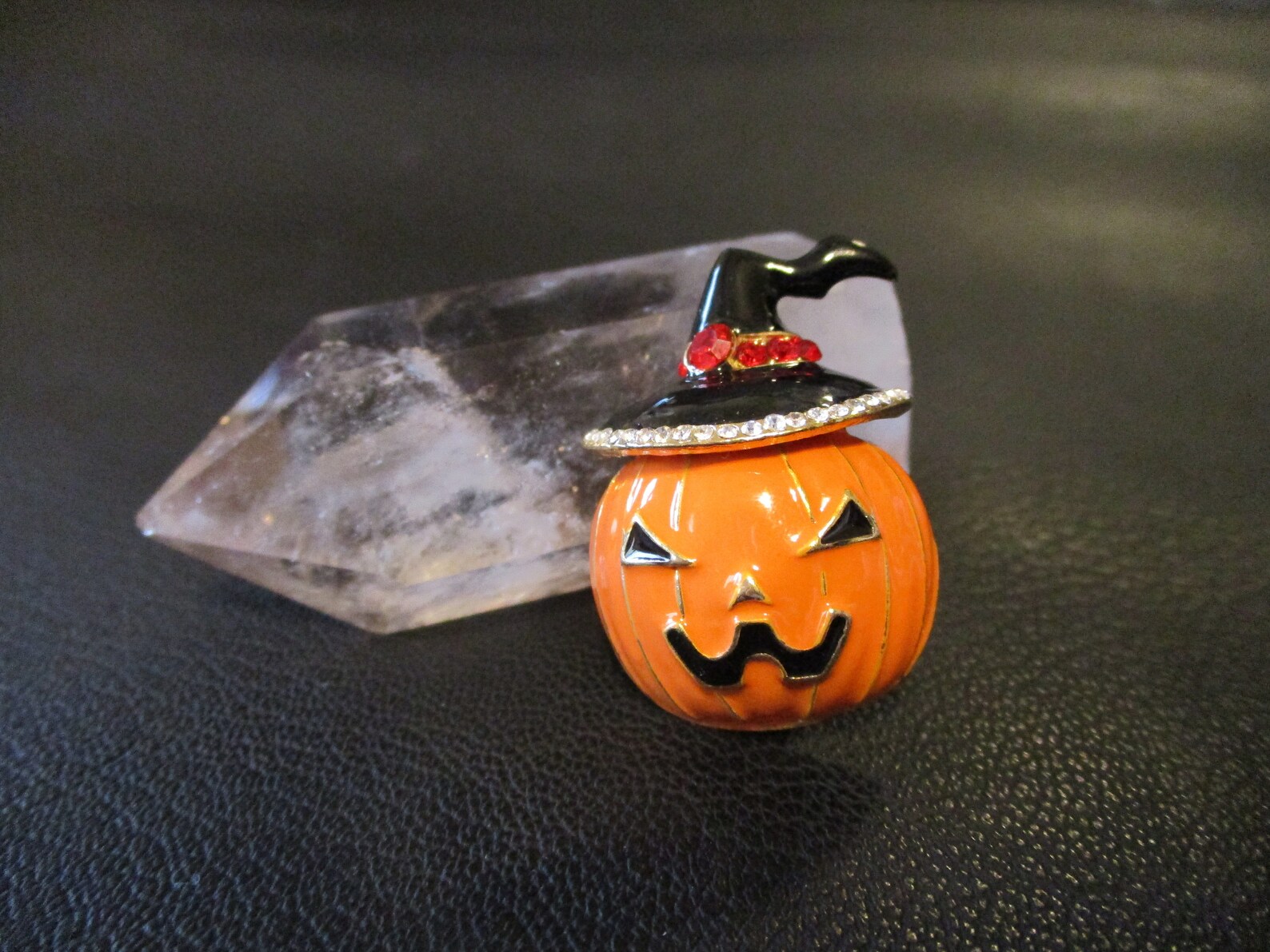 Length: 1 1/4 Inches; Width: 1 Inches
Description
Fun and festive Halloween costume brooch.
Enamel over gold tone base metal accented
with sparkling rhinestones. Smiling orange
pumpkin wearing a black withes hat. Measures –
1-1/4″ x 1″ perfect lapel size. Excellent, like new
condition. Seasonal.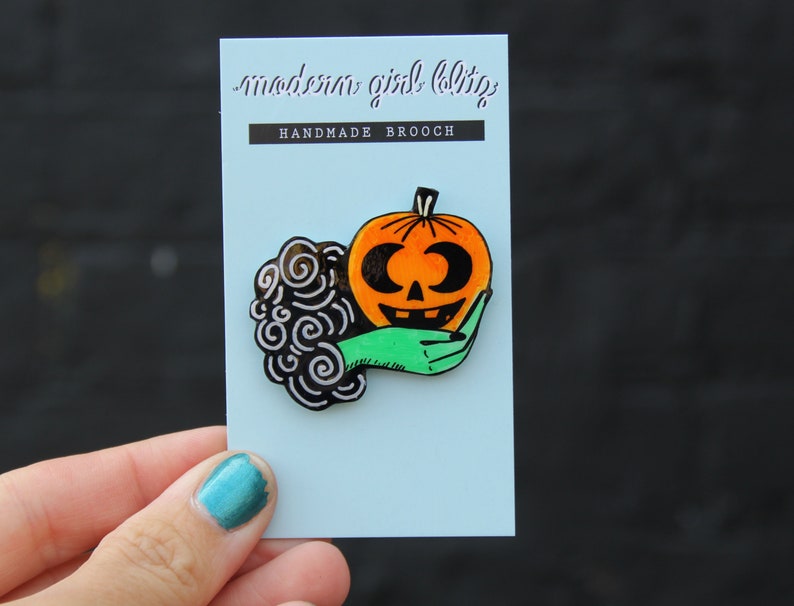 Halloween// Ace Of Pumpkins Brooch
Made from durable shrink plastic, each piece is hand illustrated. Two tack pins with rubber backings secured on back. Since every piece is hand drawn by your truly, there may be very slight variations in the piece you receive.
Measures 2.5 inches wide. Protected with a heavy glossy coat of varnish. This lovely piece will be shipped to you in a decorated cotton filled cardboard box to ensure it arrives to you safely.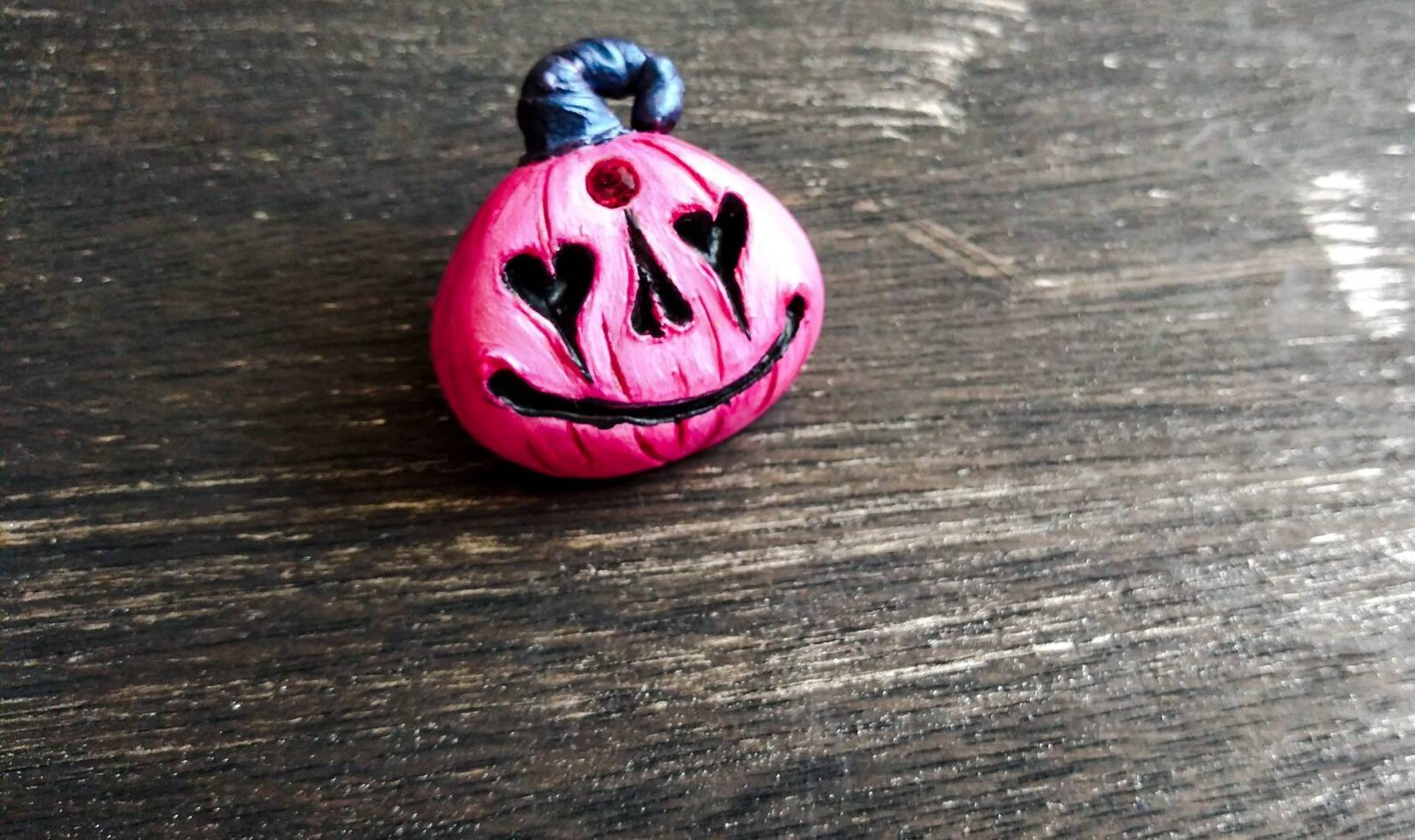 This Jack-o'-lantern pin is made from Sculpey clay (polymer clay). It has a bright/neon pink color and carved heart eyes. A Ruby crystal accents this love sick pumpkins forehead, and the stem is a deep sparkly black. The pin has been sealed to protect the paint from scratching off. The pin back is your average pinch pin/tie tack.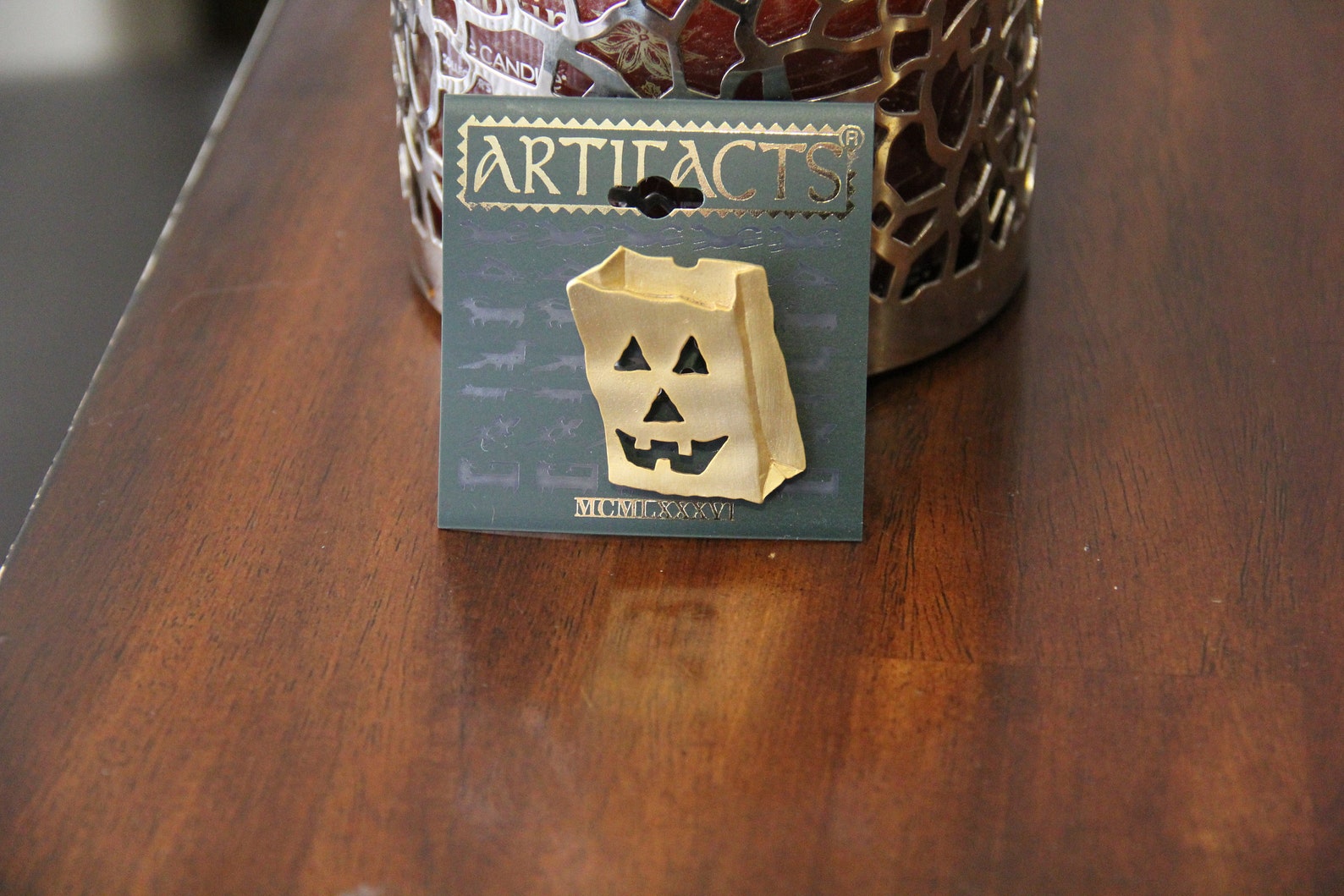 JJ Jonette Pin Halloween Jack o lantern paper sack Gold tone Signed vintage New So Cute Halloween for your denim jacket
JJ Jonette Pin Halloween Jack o lantern paper sack Gold tone Signed vintage New So Cute Halloween for your denim jacket Unique and RARE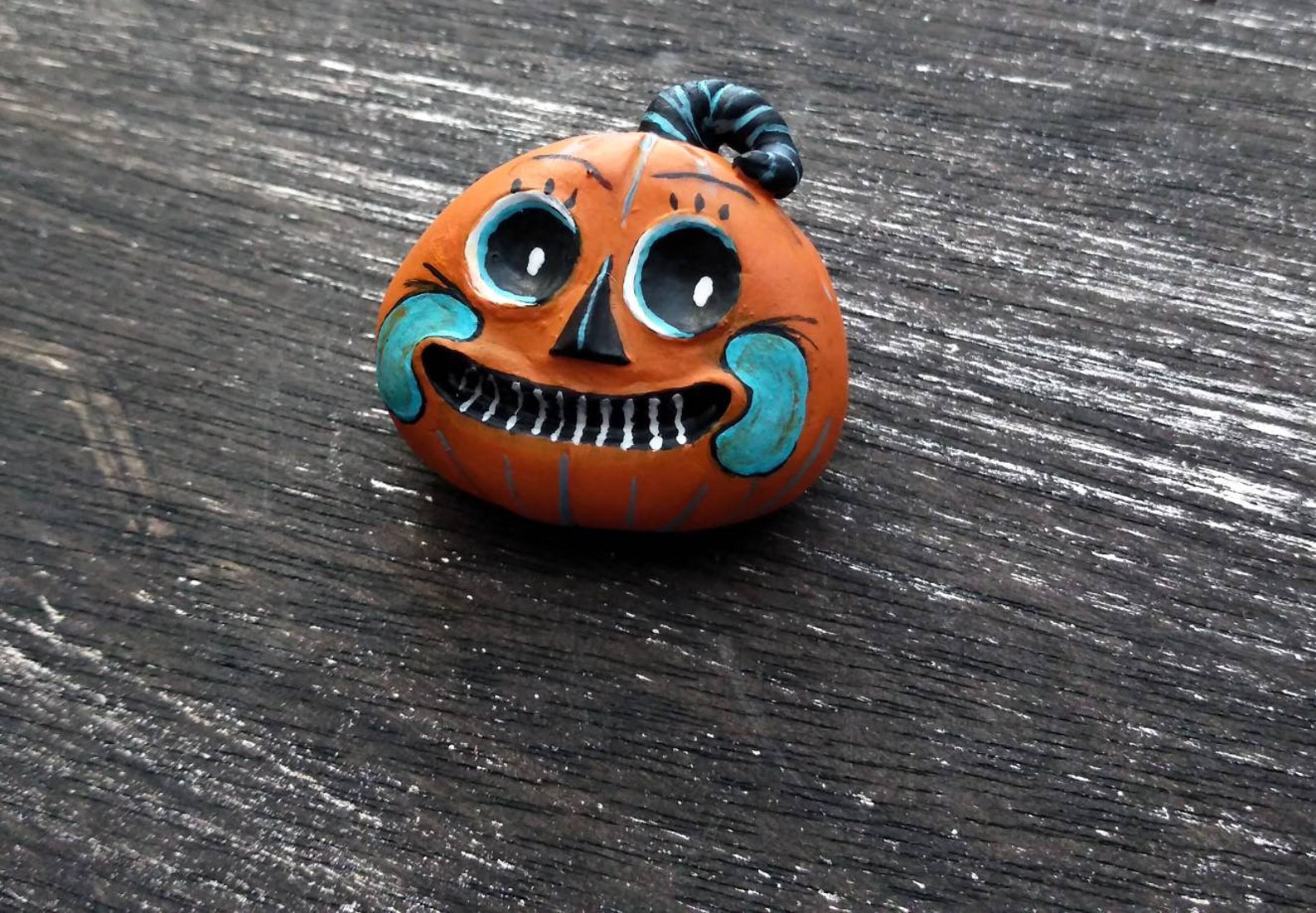 This retro orange pumpkin pin was inspired by the wonderful Halloween styles of the past. It's made of baked polymer clay and has been hand painted and sealed to prevent any paint from wearing off. The pin back is a standard push pin with a pinch backing. If you notice in the photos my shop also has a teal pumpkin pin made in a similar style, in a separate listing. Both of these retro pumpkins pair wonderfully together.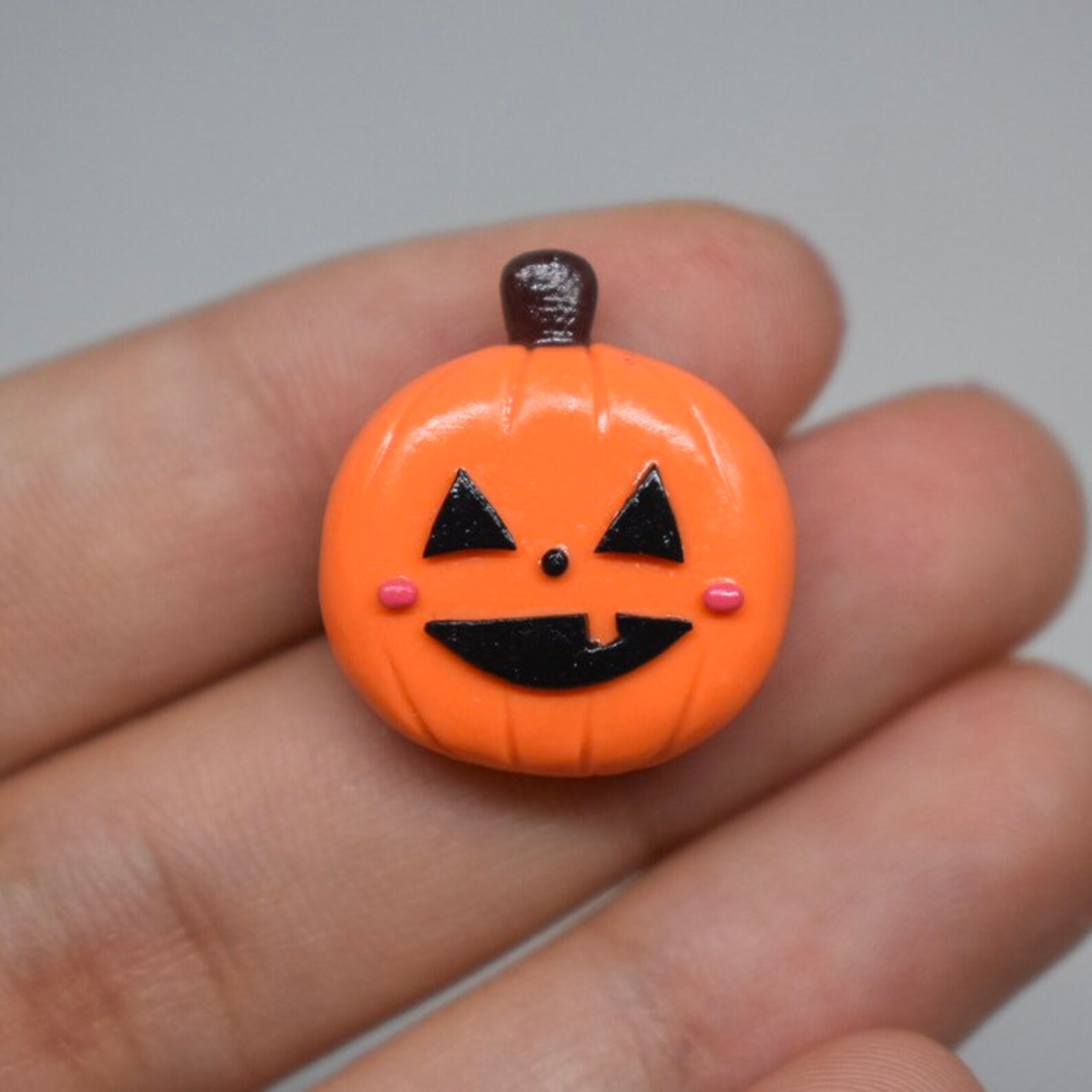 Jack-o'-lantern Pin Brooch, Polymer Clay
Celebrate the Halloween season with this jack-o'-lantern pin brooch. They are handmade with care and are glazed to add a touch of shine. All of my charms come with lobster clasps for easy attachment to almost anything! It is ready to be packaged up and sent off to a new home!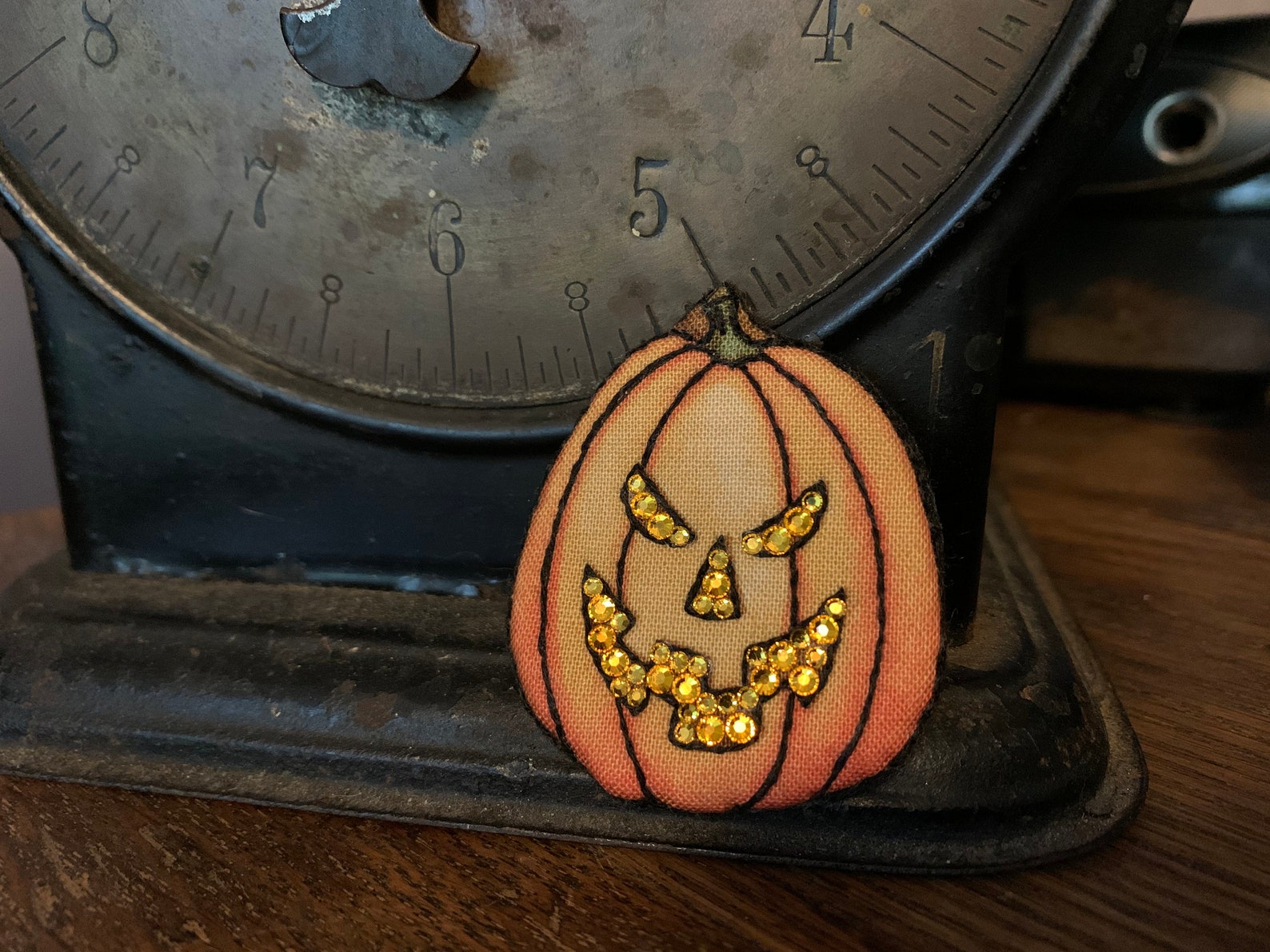 Pumpkin, Jack-o-lantern, Pumpkin Pin
This spooky jack-o-lantern magnetic pin is super for the fall season and Halloween. It's been hand quilted and it's eyes, nose and mouth are aglow with "sunflower" Swarovsk crystals. We are featuring it on a black lace infinity scarf, but you can wear it on almost any garment, hat, scarf, bag and more. All of our magnetic brooches affix like a magnetic name tag without holes to your clothing and accessories. See lots more Swarovski holiday and other themed magnetic brooches, jackets, and hats in the Loveywear Shop!
SIZE: 1 3/4″ x 2″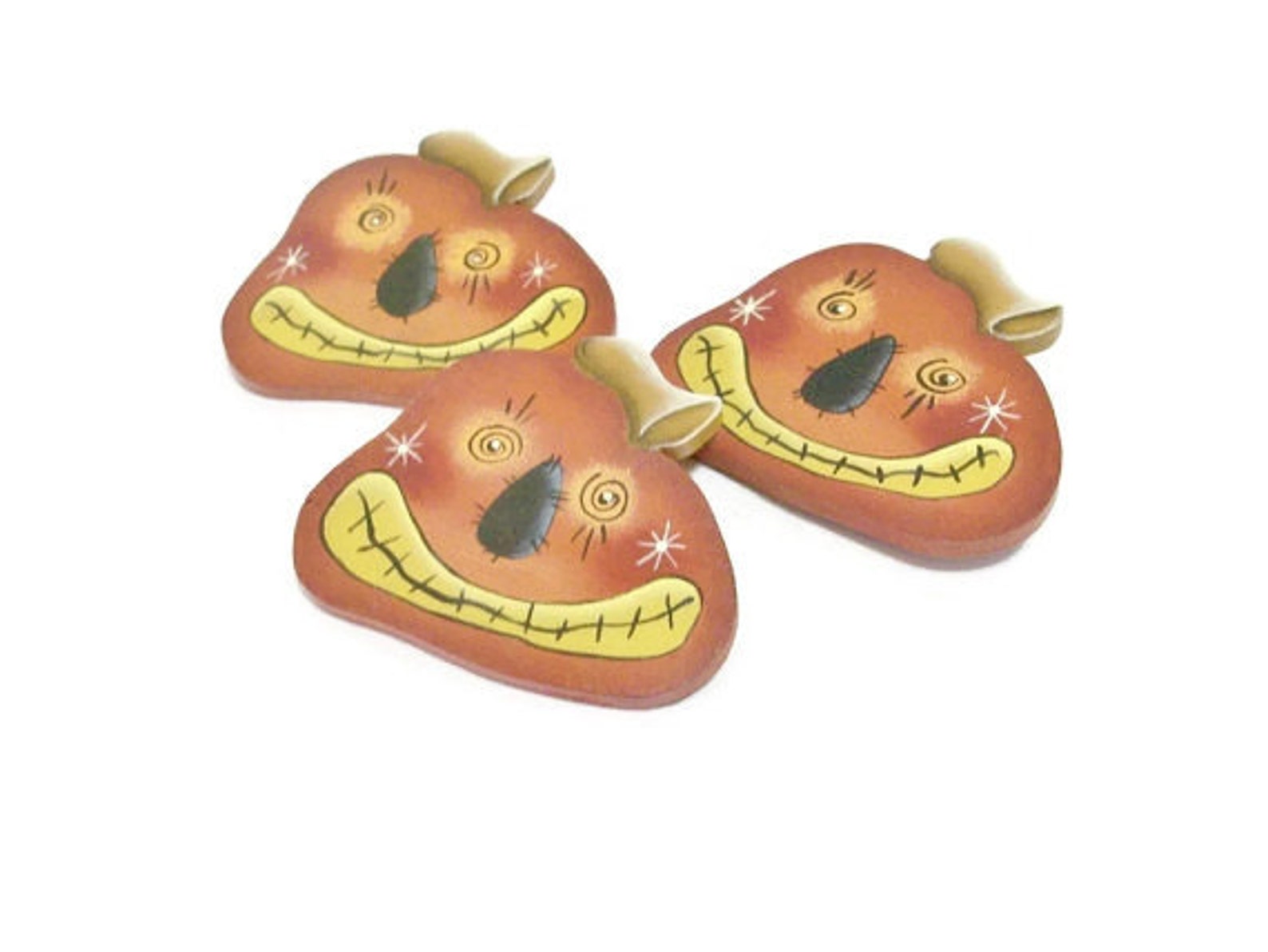 Hand Painted Halloween Lapel Pin
Hand painted Halloween lepel pin. I've painted this cute little pumpkin pin just in time for Halloween! It's made from wood that I've cut myself and painted in a cute prim Jack-O-Lantern design with acrylic paints. It has a pin clasp on the back. Proclaim your love of Halloween by wearing this funny little pumpkin on your chest (or lapel!). There are several designs, as seen in the last photo. This listing is for one pin.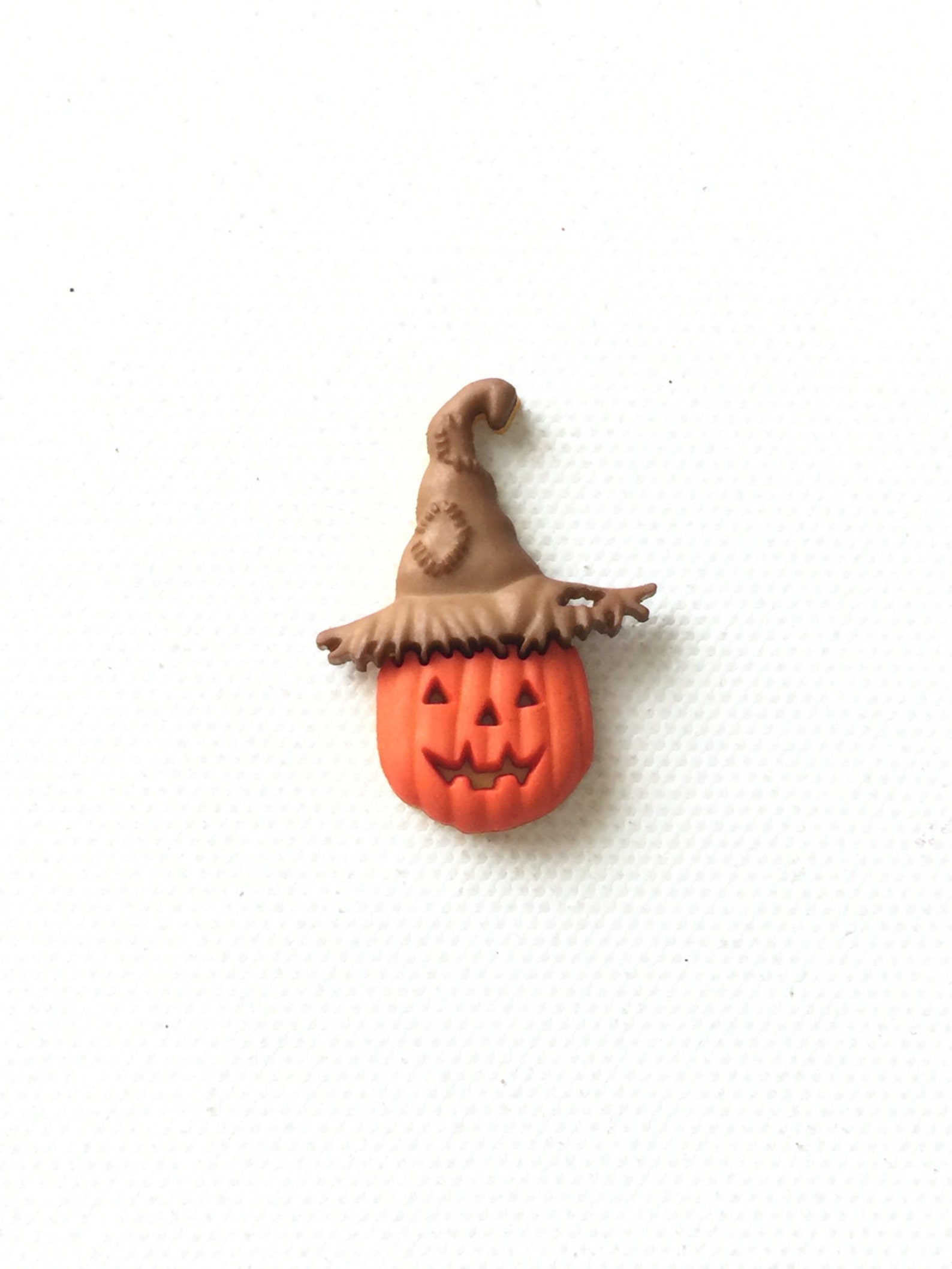 Pumpkin with Scarecrow Hat Pin, Jack O Lantern Pin
Pumpkin with Scarecrow Hat Pin, Jack O Lantern Pin, Pumpkin with Scarecrow Tie Tack, Jack O Lantern Tie Tack, Halloween, Brooch, ID Badge
A cute Jack O Lantern dressed up for Halloween. perfect to be worn as a pin on clothes, a hat, apron, backpack or just anywhere that you can imagine.
🌸Measurement: Approximately 1.25 inches tall by 1 inch wide.
🌸Material: Shaped nylon cabochon and a tie tack pin.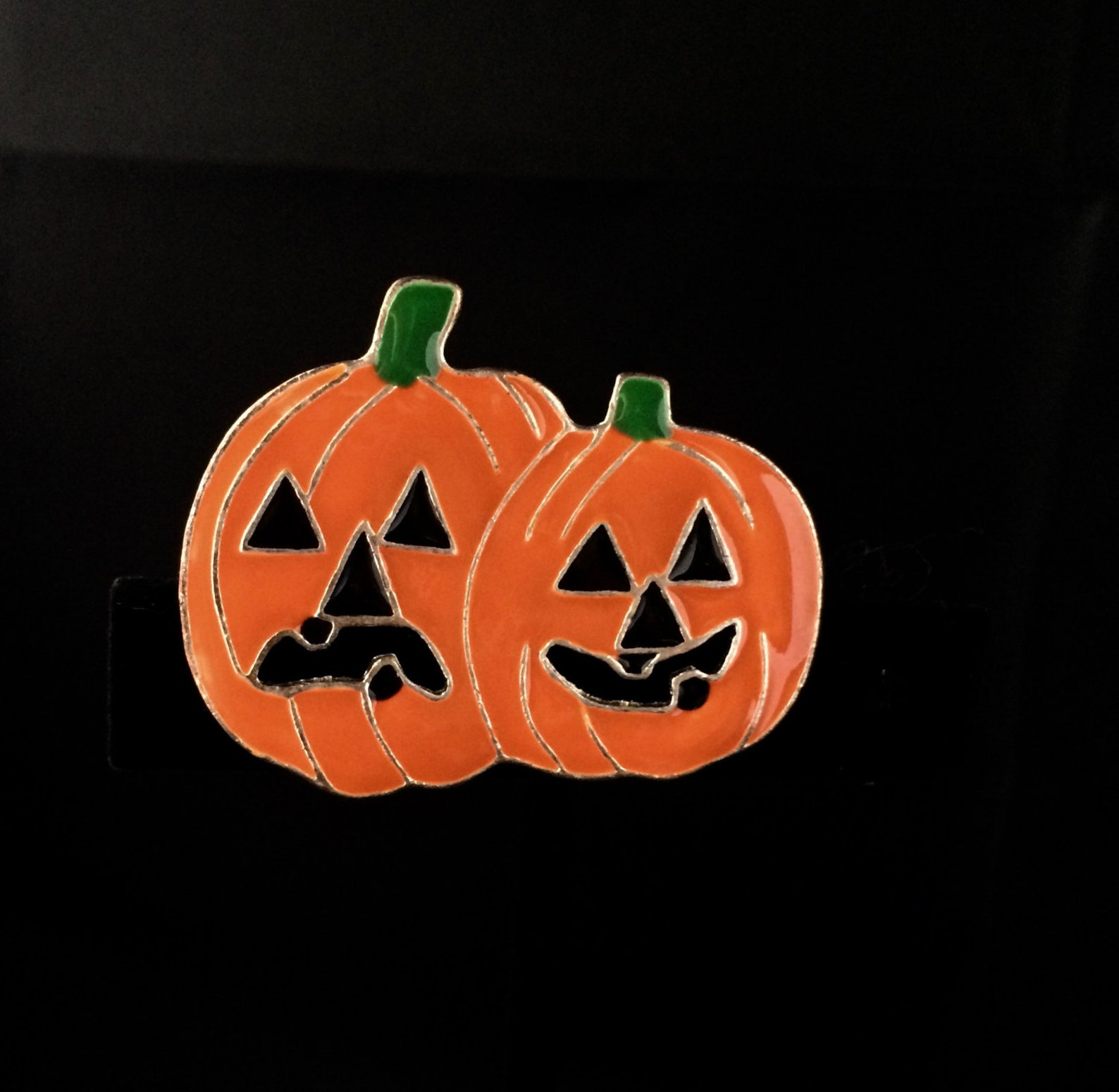 Vintage Silver tone Brooch & Pendant Orange Enamel Jack-o-lanterns/ Pumpkins
Who loves to celebrate Halloween? These guys do! This vintage 1980's silver tone brooch made by MJ has a secret… it's a pendant too! Wear it on a shirt or on a chain around your neck and show everyone your Halloween spirit!
This silver tone brooch is covered in a rich orange enamel, both pumpkins/ Jack-o-lantern's feature cut out mouths, black enameled nose and eyes, and a green enameled stump! These guys are too cute and full of the spirit of Halloween!
Get them soon before they're gone!
MEASUREMENTS:
Reference #073H&T
Approximate Size: 2″ x 1 1/2″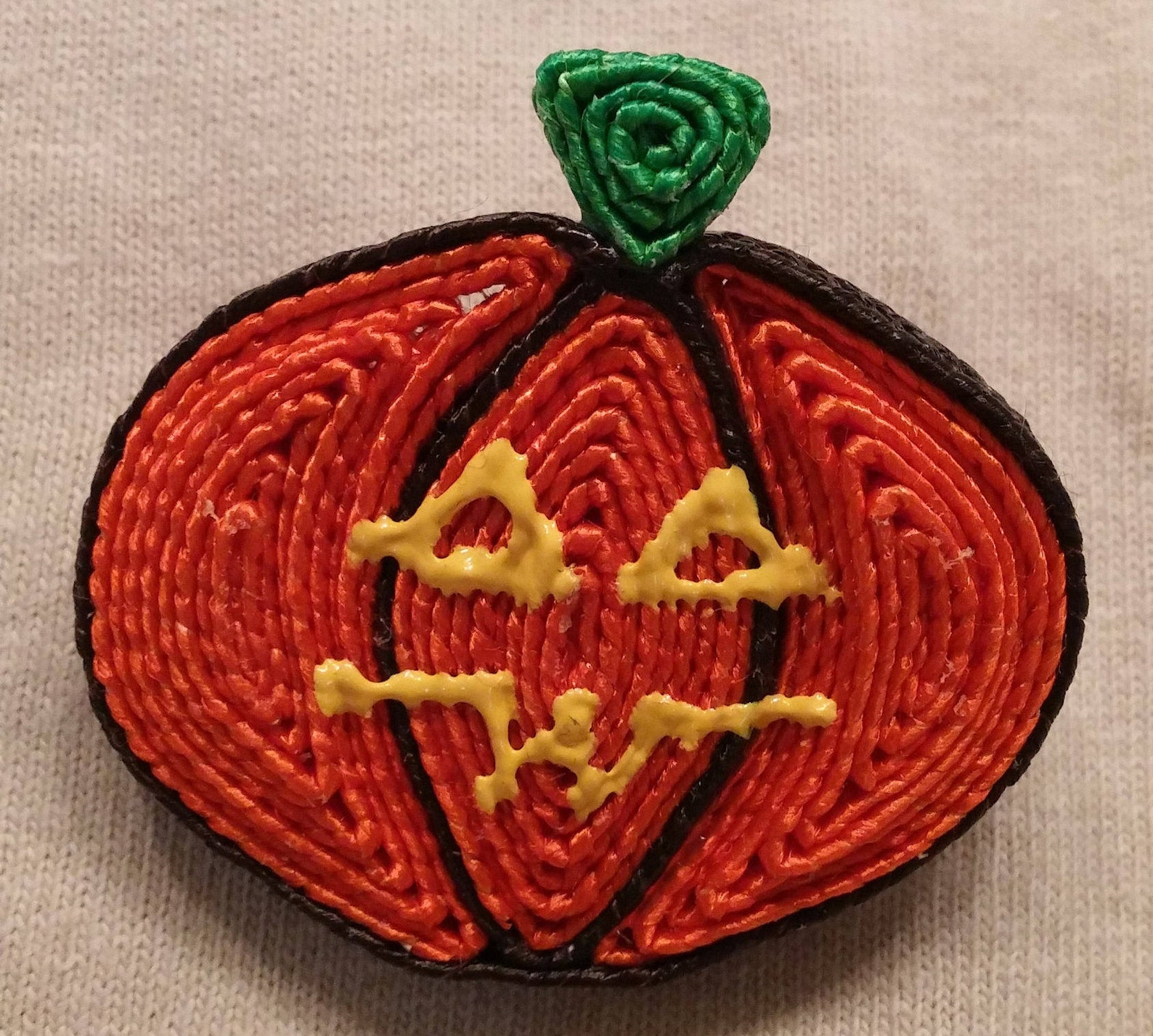 pumpkin pin, Jack o lantern pin, Halloween pin
Made from braided straw – kinda like a shoe lace and the method used to craft the braided straw shapes is similar to quilling.
Accessorize your coat, sweater, or any garment with this holiday pin, or give as a gift.
Orange braided straw pumpkin with black braided straw outlined segments
Green braided straw stem
Yellow acrylic painted eyes and mouth
Dimensions – 1 1/2″ x 1 5/8″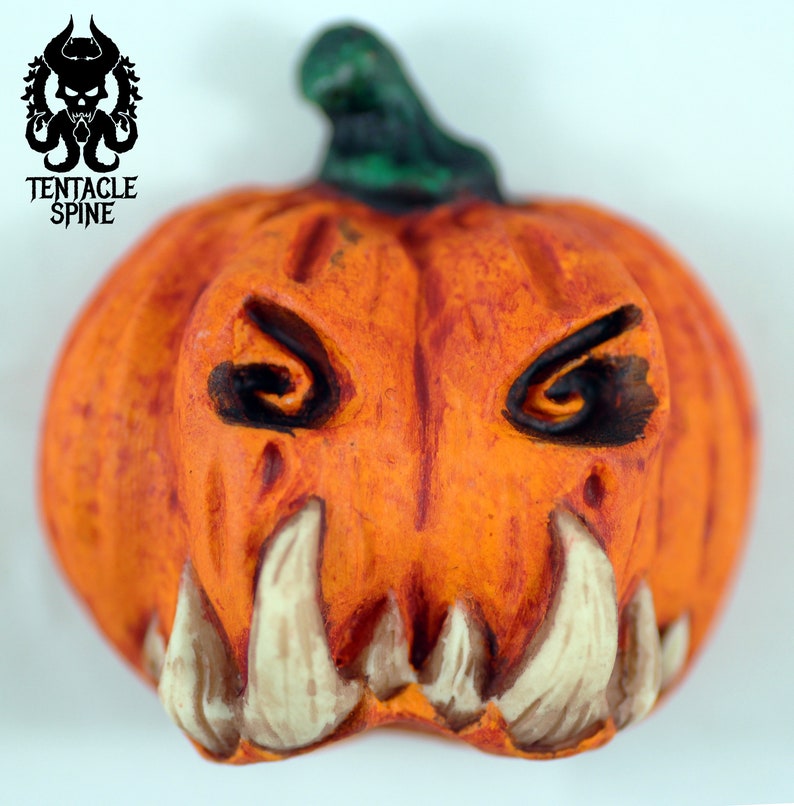 Everyday is Halloween with our spooky Jack O'Lantern badges! Whether you need to scare off spirits who come a'knocking or gussy up your gothic attire for a absinthe night, we have a Jack O'Lantern for you
The entire making process is done in house at Tentacle Spine Studios. Each piece is sculpted completely by hand, moulded, cast, cleaned and hand painted by our principal sculpting artist. Our finished brooches are then sealed with a strong industrial varnish to prevent scratches and wear, all whilst keeping them highly durable.
Each brooch is painted by hand, so there may be slight inconsistencies between photos and actual product received, however we endeavour to get as close to pictured as possible.