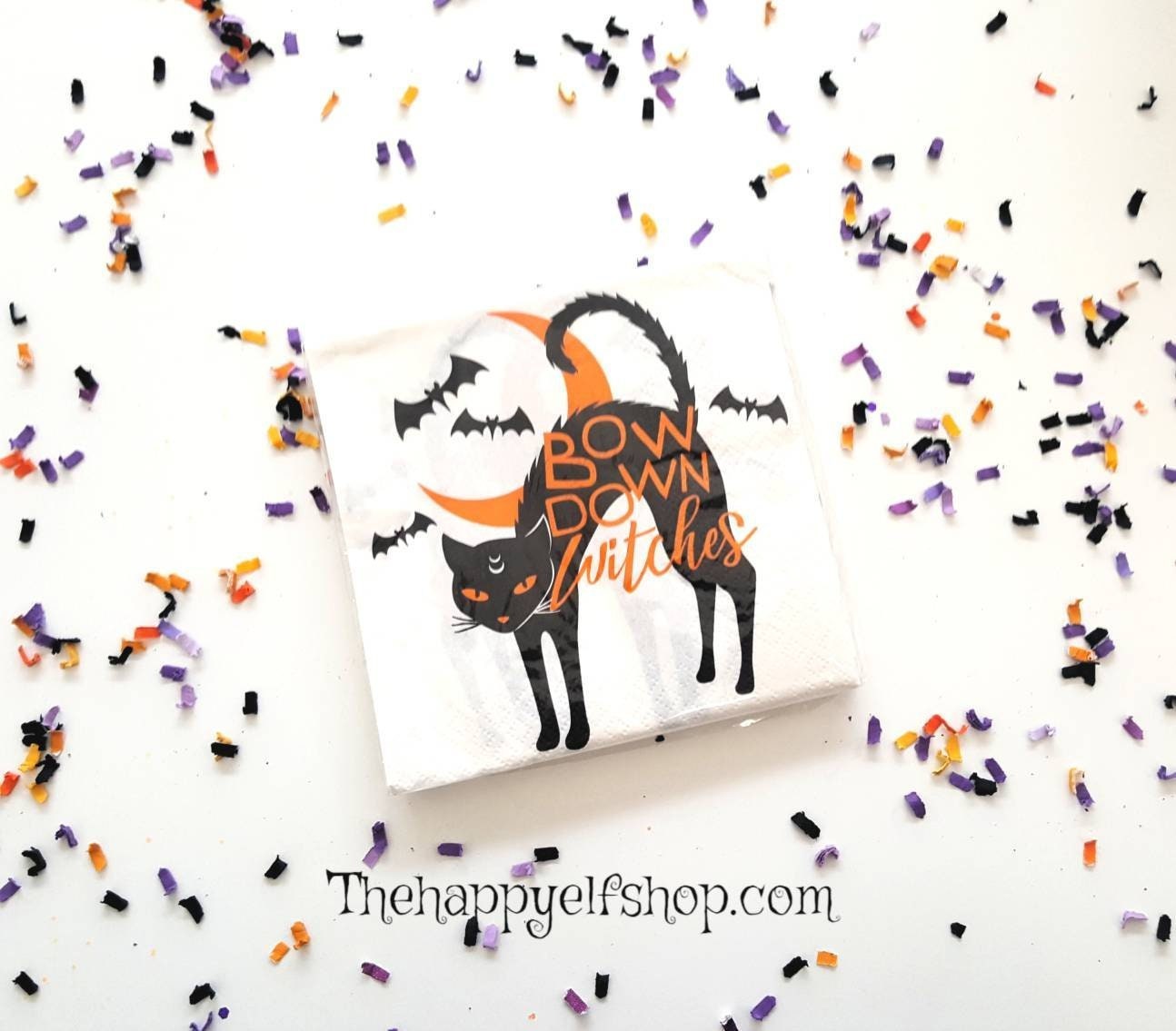 Cat napkins. Halloween party napkins. Halloween napkins
(10 pack)
Napkin size: 5 x 5 inches.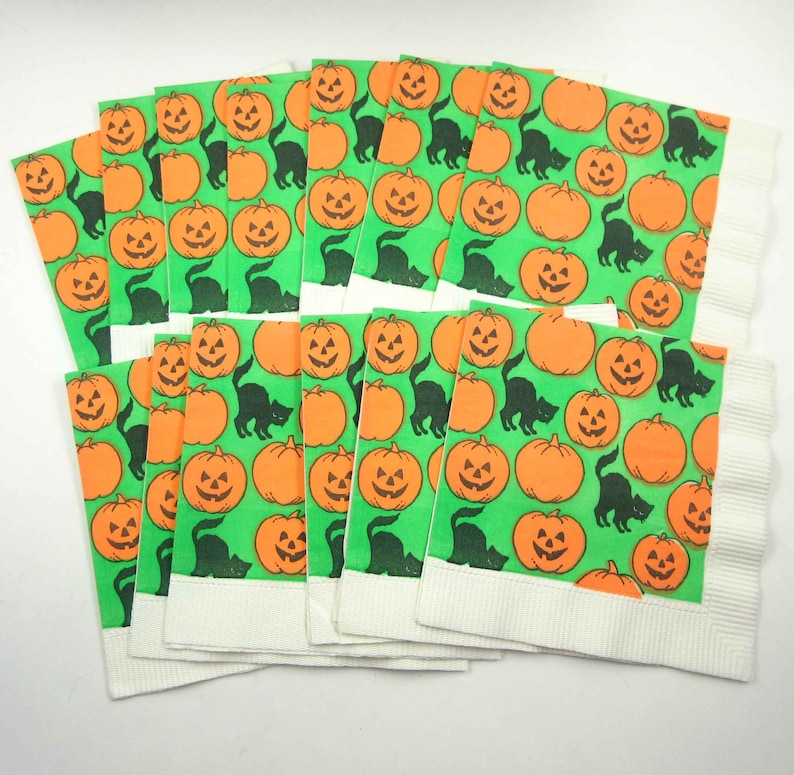 Vintage Halloween Paper Party Beverage Napkins with Jack O Lanterns Pumpkins Black Cats Set of 13
What a find! A great set of 13 vintage Halloween napkins with jack-o-lanterns, pumpkins and black cats! Measure approx. 5″ square each.
Very slight wear possible. Super cute! Sold as is.
Perfect for your holiday decoration, collection or stash of ephemera for collage, assemblage, mixed media or altered art projects!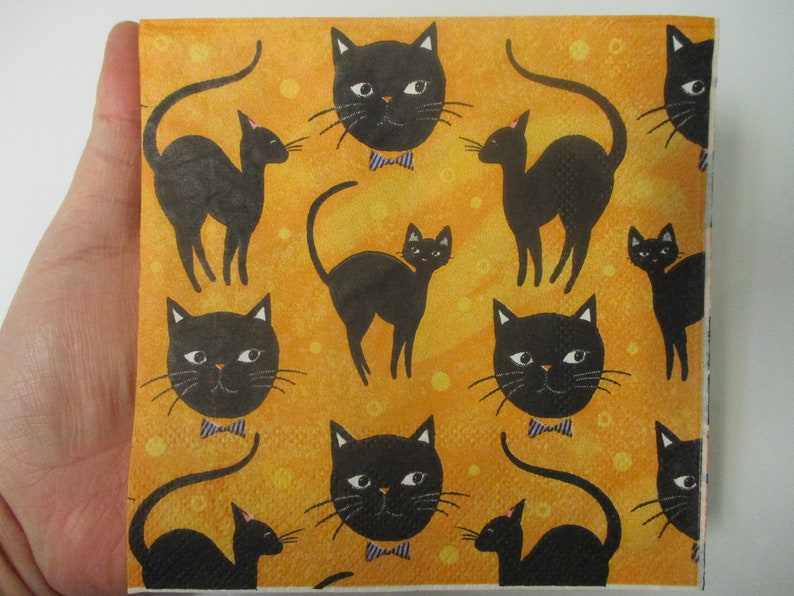 2-Black Cat Cocktail Decoupage Napkins
2-Black Cat Cocktail Decoupage Napkins! Great for Any Crafting Project! 3 Ply. you will receive 2 napkins.
Measures 5″ x 5″ Folded
10″ x 10″ Unfolded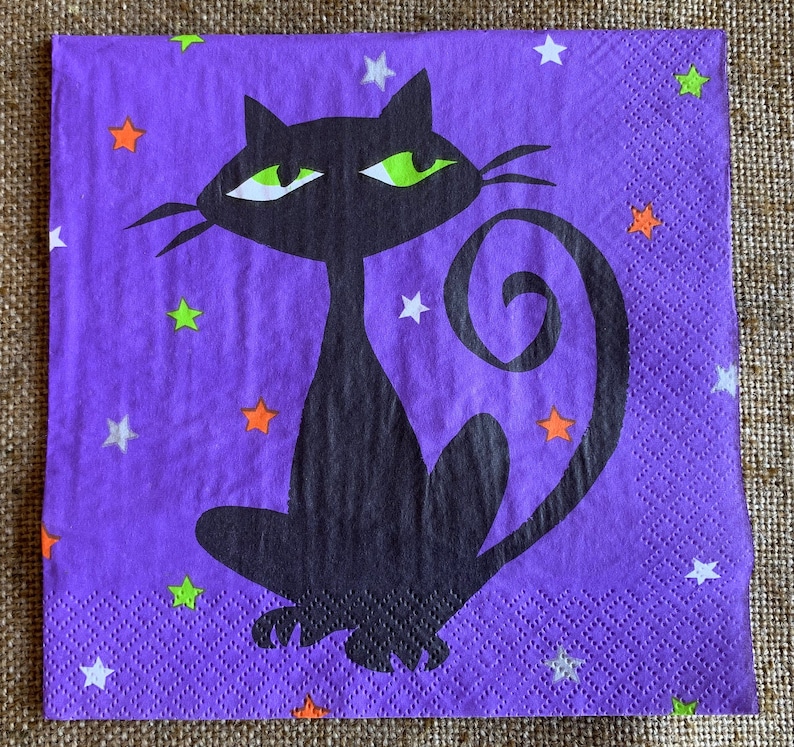 DOLLAR DAYS NOS Unused 6 1/2″ Hallmark Halloween Party Crepe Paper Napkin,Groovy Cat Green Eyes Vintage Style Decoration to Frame,Repurpose!
* Great for framing or repurposing!
* Vintage style crepe paper Halloween party napkin.
* Colors bright
* 6 1/2″ by 6 1/2″ when folded
* Marked Hallmark. These have been stored for a while but do not know exact age. They are 1960's style cats.
* Unused and well cared for through the years
* Vintage condition as shown in the photos
* This will be shipped in plastic and cardboard to prevent damage so it needs to be shipped
as a parcel and not a letter envelope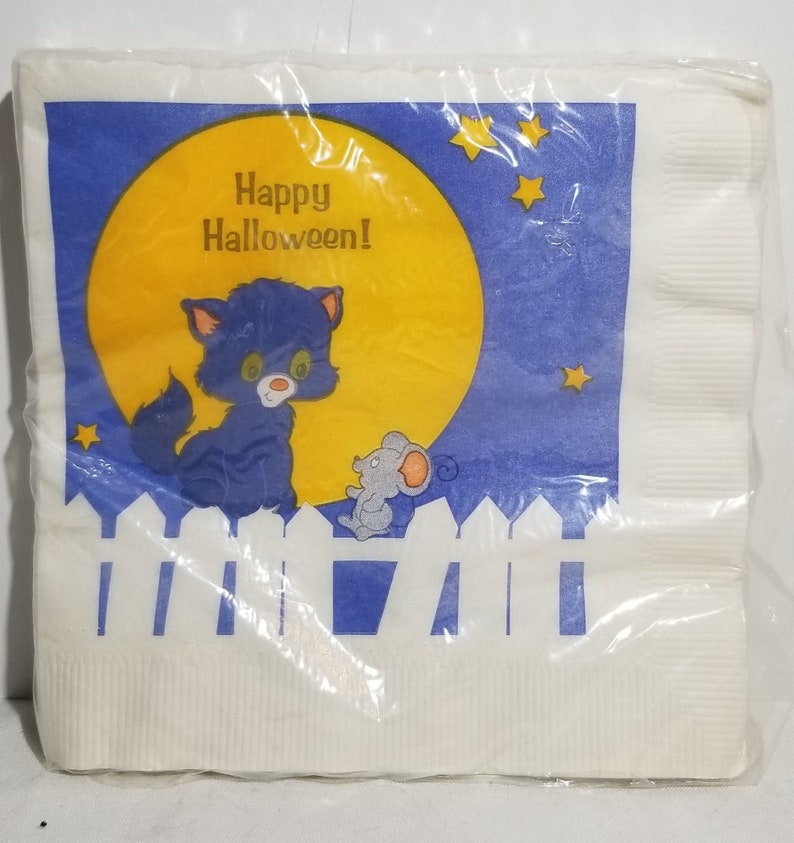 Retro 1982 American Greetings Happy Halloween Black Kitty Cat Kitten & Mouse in the Moon Paper Luncheon Napkins
This Halloween, party like it's 1982 with this mint, sealed set of Halloween luncheon napkins. American Greetings brand. The pack contains 16 3-ply napkins that measure approximately 13 1/2″ X 13 1/2″. They have an adorable design of a black kitten and mouse with a Happy Halloween moon.
Great to use for a party or decoration.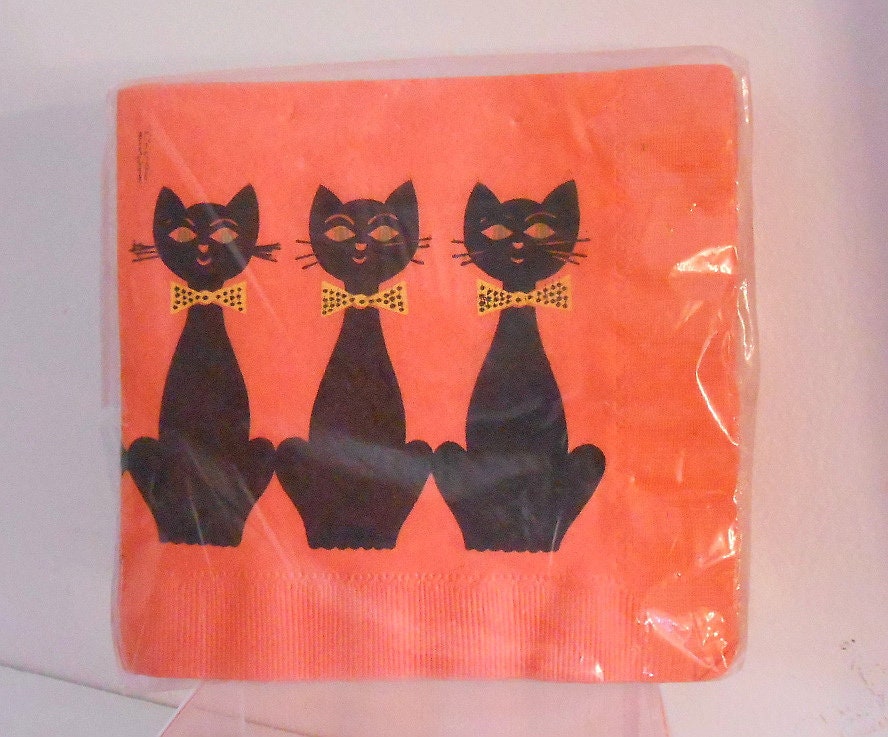 Vintage Halloween Party Napkins- Mint in Package – Reeds- Black Cats
REEDS REMBRANDT NAPKINS- in the original package. Mint in Package, contains 20 napkins measuring 13 1/2″.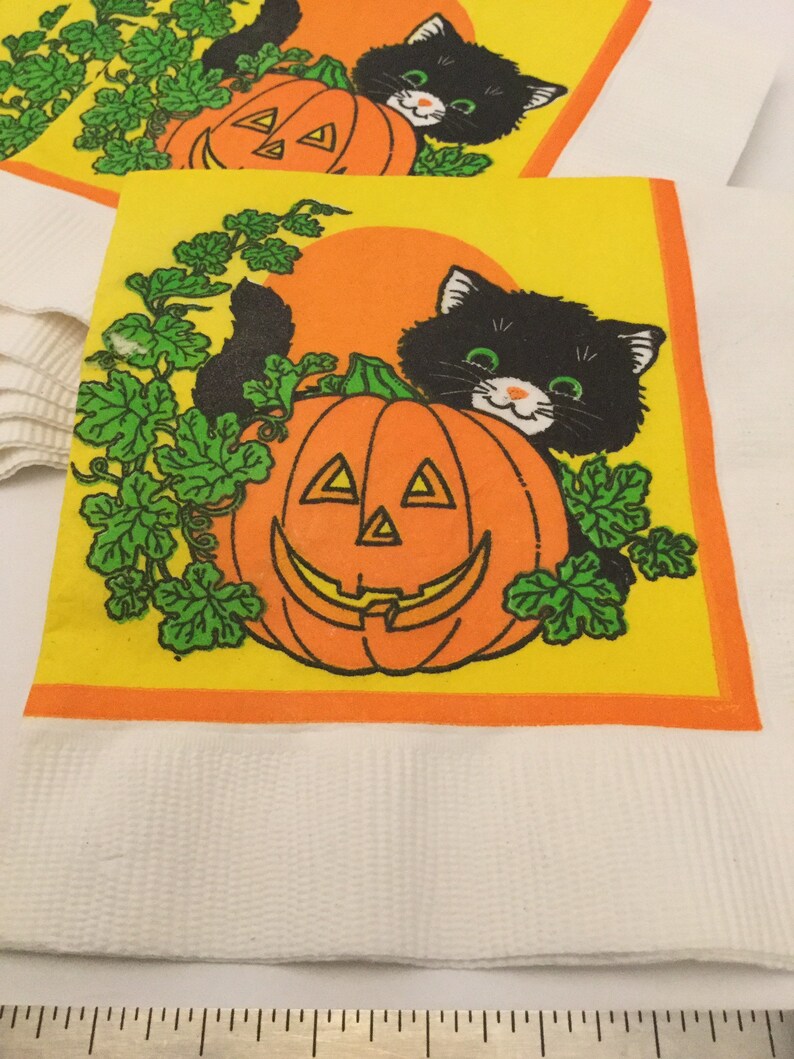 Vintage Halloween, Paper Napkins, Napkin Set
These wonderful vintage Halloween Napkins are really nice!
They have not been used and feature a cute black kitten holding a Jack O Lantern in a pumpkin patch with an orange moon in the background. There is printing on only one side of the napkins and only on one square. This set includes 7 clean, matching napkins.
They are approximately 5" x 5" when folded and they are in great condition.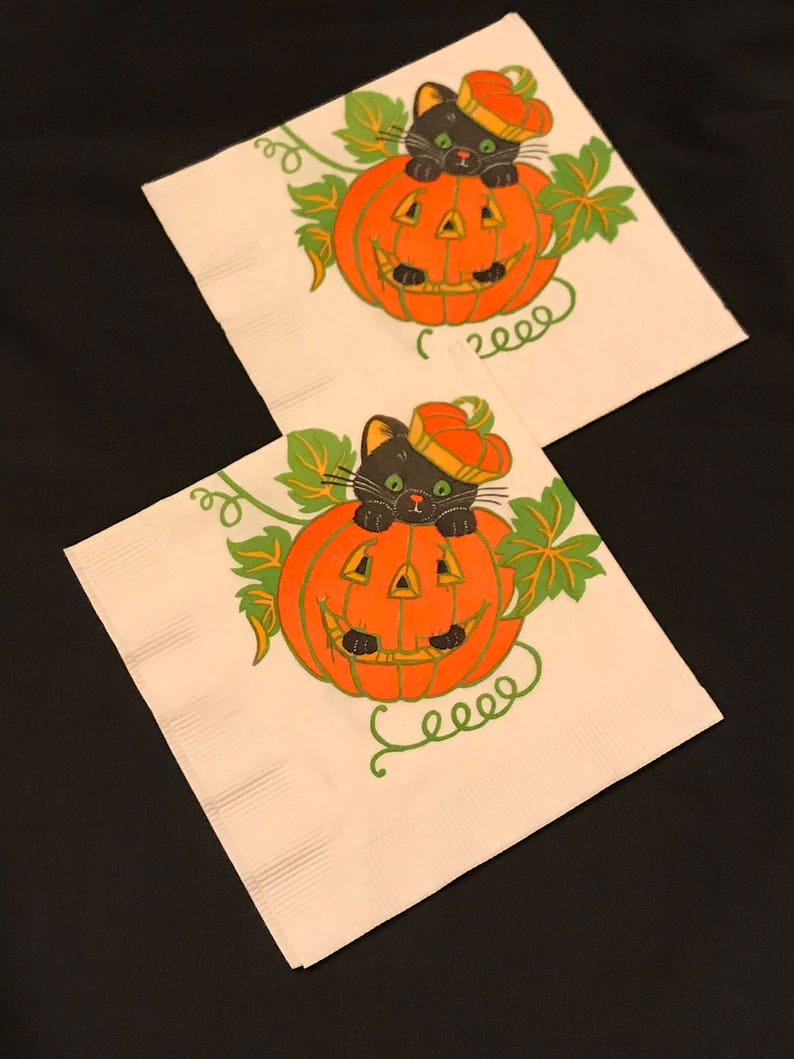 Two American Greetings Halloween luncheon napkins black cat in pumpkin JOL jack o' lantern
These two American Greetings Halloween luncheon napkins measure 13 1/2 by 13 1/2 inches. They are in good condition.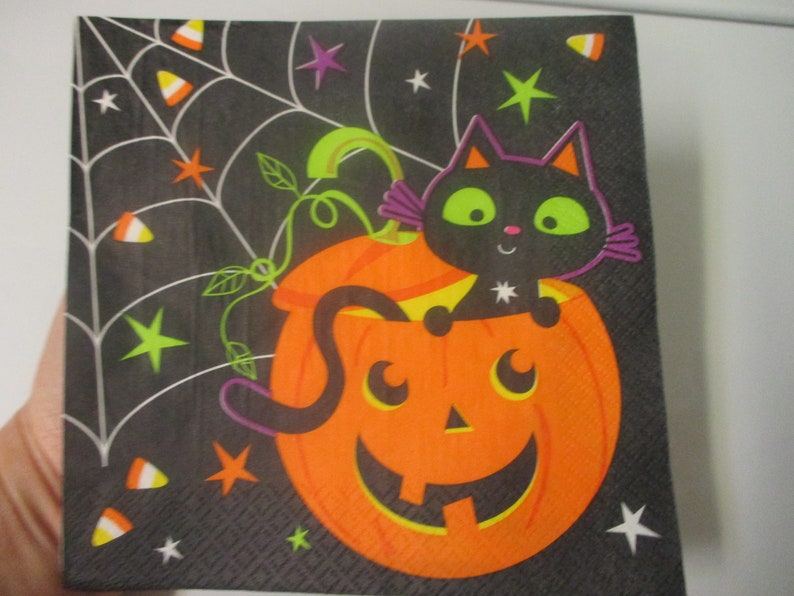 2-Cat In A Pumpkin Halloween Luncheon Decoupage Napkins-Halloween Decoupage Napkins
2-Cat In Pumpkin Halloween Luncheon Decoupage Napkins! Great for Any Crafting Project! 2 Ply
Measures 6.5″ x 6.5″ Folded
13″ x 13″ Unfolded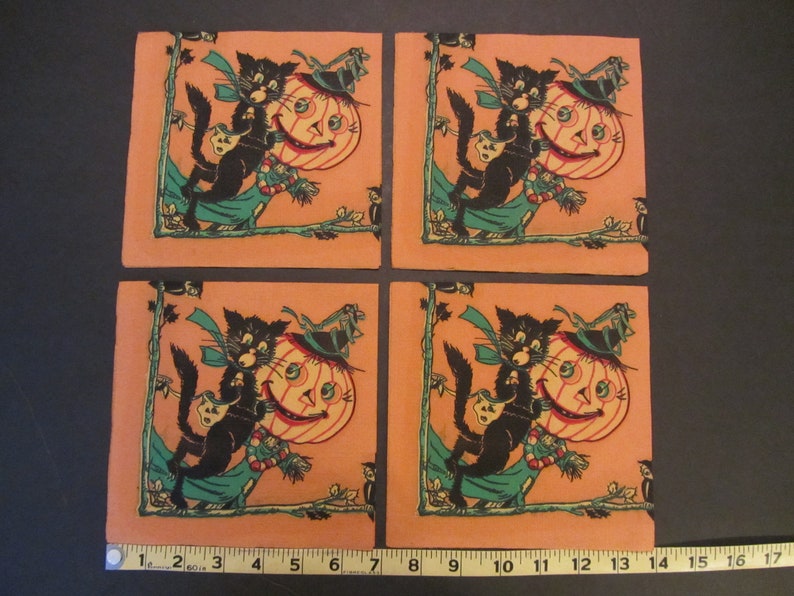 Halloween Party Napkins (4) Set Black Cat, Jack O'Lanterns, Owls, Bats, Vintage 1940 Paper
Height: 6.75 Inches; Width: 6.75 Inches
This is a set of four Halloween party paper napkins (6.75″ square), circa 1940, opened, but in like-new condition. I have 4 sets of four napkins, each, available separately (happy to combine orders/shipping!).
The yellow, red, green, and black colors pop like new on the still vibrant orange paper, and the circa 1940s art is quite charming and vivid!
The intricate artwork runs on all four panels of each napkin.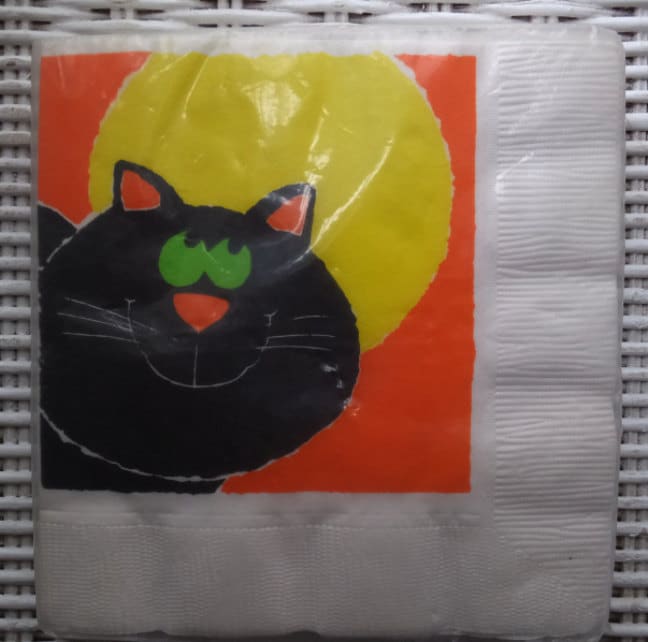 16 Vintage Hallmark Halloween Big Black Cat Moon Paper Napkins
This is a vintage unopened package of 16 Hallmark Halloween napkins…a big smiley black cat! They are in excellent vintage condition.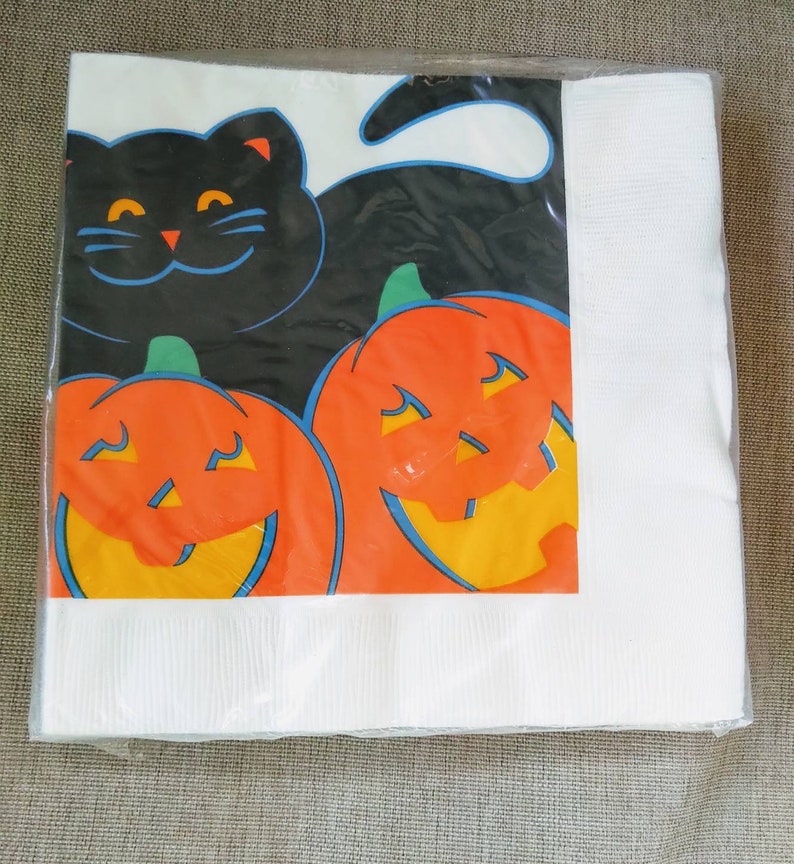 Hallmark NOS Black Cat and Jack O Lantern 3 Ply Large Paper Napkins, Halloween Party
Cheery pumpkins and black cat adorn this 16 ct. package of Hallmark Halloween party napkins, luxurious 3 ply paper towels measure 7 inches by 7 inches. This will be carefully packaged and mailed out the same day payment is received. Check out the 5 star reviews of other happy customers. Vintage smalls, hand crafted gifts and rare, vintage collectibles are added to this shop daily so please stop by again soon! Items sold as is, all sales final. Get a free "Thank You" gift with your purchase!
Hefty Black Cat and Pumpkins Napkins
Hefty halloween napkins
30 2 ply napkins
Black cat, orange jack-o-lanterns decorate the green napkins
12 7/8″ X 12 7/8″ square
Ready to ship today!
Black Cat Themed 40 Pack 3 Ply Orange Novelty Halloween Paper Cocktail Beverage Drink Party Napkins
3 Ply Cocktail Drink Lunch Party Napkins
5″ x 5″ Folded Size Opens to 10″ x 10″
Theme: Black Cats on Orange Background
40 Napkins in Package
Molly & Rex a div of Punch Studio Set of 40 Cocktail Beverage Paper Napkins ~ Cat Witch Hat
Set of 40 Cocktail Beverage Paper Napkins
3-ply Tissue
5" x 5" unfolds to 10" x 10" / 25 cm x 25 cm
Bow Down Witches Napkins 20 napkins
[ebayfeedsforwordpress feed="http://rest.ebay.com/epn/v1/find/item.rss?keyword=halloween+cat+napkins&sortOrder=BestMatch&programid=1&campaignid=5337153418&toolid=10039&listingType1=All&descriptionSearch=true&feedType=rss&lgeo=1″ items="25″]