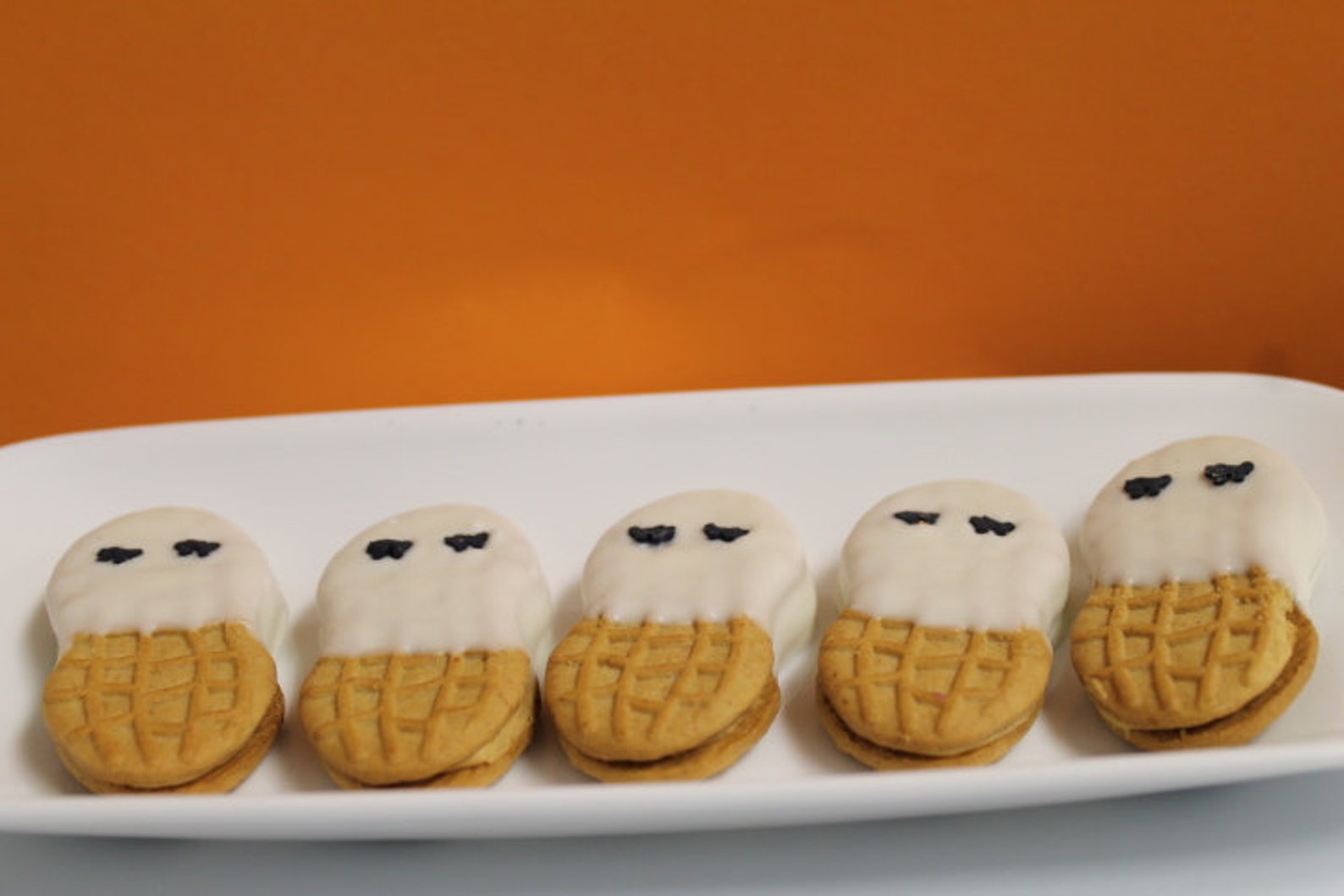 Halloween Ghost Chocolate Covered Peanut Butter "Nutter Butter" Cookies – 1 Dozen
Our legendary Nutter Butter cookies feature our original and oh so decadent peanut butter cookie recipe shaped as ghosts and then hand dipped in white chocolate for the perfect peanut butter and chocolate combination. These cookie treats are perfect for a Halloween party! Be sure to mix with our other Halloween theme treats in the shop. Our one dozen Nutter Butters ship fresh, made to order, from our Kentucky bakery. Shelf life of 5 days; do not refrigerate. 1 dozen. Handmade in the USA.
Here Are More Halloween Cookies!
Halloween Cookies
Bat Cookies
Eyeball Cookies
Frankenstein Cookies
Ghost Cookies
Halloween Cat Cookies
Halloween Witch Cookies
Haunted House Cookies
Jack O Lantern Cookies
Skeleton Cookies
Skull Cookies
Spider Cookies
Zombie Cookies
Halloween Oreo Cookies
Halloween Oreo Cookies
Brain Oreo Cookies
Eyeball Oreo Cookies
Halloween Oreo Cookies
Ghost Oreo Cookies
Halloween Cat Oreo Cookies
Halloween Witch Oreo Cookies
Jack O Lantern Oreo Cookies
Mummy Oreo Cookies
Skeleton Oreo Cookies
Skull Oreo Cookies
Halloween Fortune Cookies
Halloween Fortune Cookies
Eyeball Fortune Cookies
Skull Fortune Cookies
Halloween Cookie Pops
Halloween Cookie Pops
Ghost Cookie Pops
Jack O Lantern Cookie Pops
Mummy Cookie Pops
Skull Cookie Pops
Halloween Nutter Butter Cookies