General Mills is celebrating their 50th Anniversary this year and they have a spooky product that will rival Dr. Frankenstein.
General Mills has been producing a line up of Monster Cereals since 1971. The cereal boxes are fun and colorful with cartoon versions of classic Halloween Monsters.
The most recent seasonal cereal lineup has been Count Chocula, Franken Berry, and Boo Berry. Frute Brute and Yummy Mummy have both been discontinued since 2014.
Count Chocula is a cartoon vampire with the tag line, "I want to eat your cereal".
Frankenberry is a cartoon Frankenstein
Boo Berry is blue cartoon ghost
Fruit Brute is a cartoon werewolf with the tag line, "The Howling Good Taste of Frute"
Yummy Mummy is a cartoon mummy with the tag line, "Fruity Yummy Mummy makes your tummy go yummy! Heh, heh, heh!"
THIS YEAR, 2021, General Mills has been working hard in their dark lab to produce a horrifyingly spooktakular Mash Up of all 5 Cereals in ONE cereal Box – and they have named it Monster Mash
This is what the Monster Mash cereal box design looks like:
The Mother of all Monster Cereals, Monster Mash Cereal—a 50th anniversary reunion of all five monsters—has newly discovered box art! Thanks to Mikey H for sharing pic.twitter.com/jHef0HBE8A

— Cerealously 🥛🥣 (@cerealouslynet) May 9, 2021
Monster Mash Cereal Time Line:
1971
Count Chocula (chocolate flavored).
Franken Berry (Strawberry Flavored)
1973
Boo Berry (Blueberry flavored)
1974
Frute Brute – (fruit flavored cereal with lime-flavored marshmallows)
1988
Yummy Mummy replaced Frute Brute. (Frosted fruit-flavored cereal with vanilla-flavored marshmallows)
2013
Frute Brute was relaunched with a different flavor (Frosted cherry-flavored cereal
with marshmallows)
Yummy Mummy was relaunched with a different flavor (Frosted orange-cream flavored cereal with marshmallows)
2014
Frute Brute was discontinued
Yummy Mummy was discontinued
Walmart will be selling the Monster Mash Cereal at this link: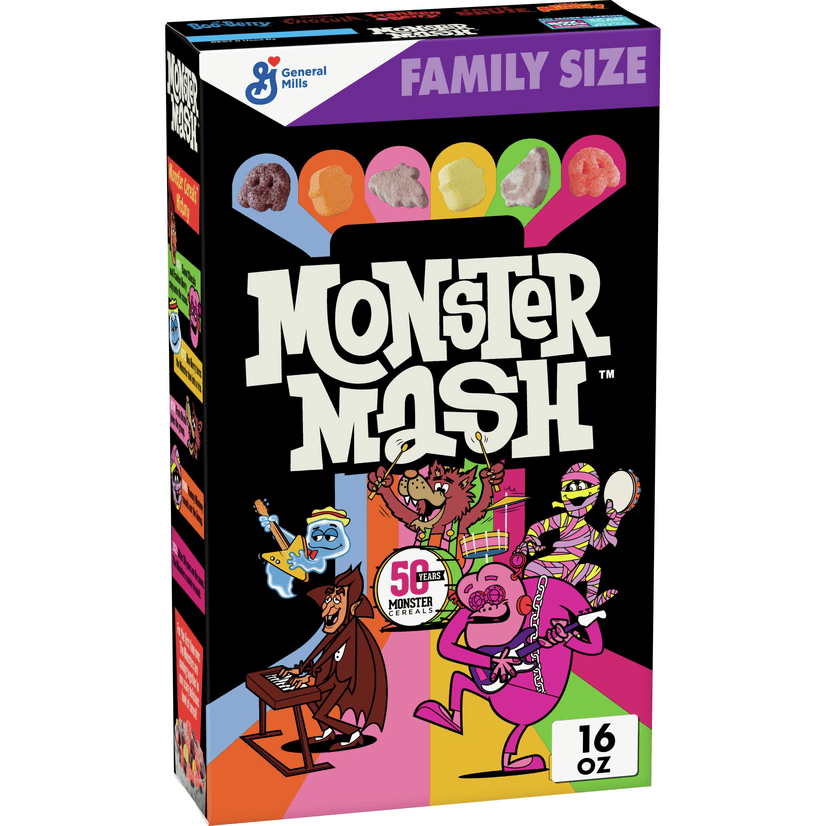 Monster Mash Marshmallow Breakfast Cereal, 16 oz

The world's most Monster group is back together for a limited-edition cereal, andto record their own version of the greatest monster anthem of all time!Monster Cereals(TM) History1971: Count Chocula and Franken Berry step onto the scene.1972: Boo Berry turns the Monster duo into a trio.1974: Frute Brute joins the group.1988: Yummy Mummy rounds out the lineup.2021: After 50 years on the scene, The Monsters reunite to mash.For the first time ever, The Monsters are coming together in one scary delicious bowl of cereal!
CEREAL: Berry-flavored frosted cereal with frightfully-fun marshmallows.
MASH-UP OF ALL MONSTERS CEREALS: For the first time ever, pieces from all Monster Cereals are together in one bowl.
RETRO DESIGN: Classic character designs to celebrate the 50th anniversary of Monster Cereals (including the return of Yummy Mummy and Frute Brute).
MONSTER MASH EDITION: Special edition box that takes you to the Monster Cereals remake of the Monster Mash song.
MONSTER CEREAL HISTORY: Learn when all the Monsters stepped onto the scene and rocked the world.
CONTAINS: 16 oz